No other system is currently as popular as WordPress. In connection with WooCommerce, a WordPress online shop is possible. The most important thing is to use the right and best WooCommerce theme right from the start. With more than 100 active Woo online shops, we have gained a lot of experience to be able to select the "Best Theme / Template":
Probably the best WooCommerce theme / template for WordPress online shops
WooCommerce is the most popular ecommerce platform in the world, powering small and large ecommerce websites around the world. WooCommerce is an open source ecommerce plugin for WordPress. You can use it to get the most powerful Content Management System (CMS) use and operate an online shop. Due to its open-source nature, you can customize every aspect of your store and create custom extensions. Extensions are plugins (modules) and themes (templates).
UPDATE October 2022: Insanely new and good functions with extreme performance and really very good optimization options. One more reason to use this theme now!
The layout and design of an online shop is a decisive factor in its success or failure – sales or losses. With the right one WordPress Store Theme define the basis of everything in the shop right from the start. No matter whether pages, posts, products, categories, custom fields or landing pages.
WordPress WooCommerce Theme are therefore most important for your success with your own online shop. There are countless WooCommerce Themes to create beautiful online stores. But most of them are not well programmed, inflexible, have bugs or are not very extensible. Because "just beautiful doesn't sell!"
to our favorite = WoodMart theme *
NEW: WoodMart in German with translation file (click here)

Best compatible with WpBakery Page Builder and Elementor:
---
---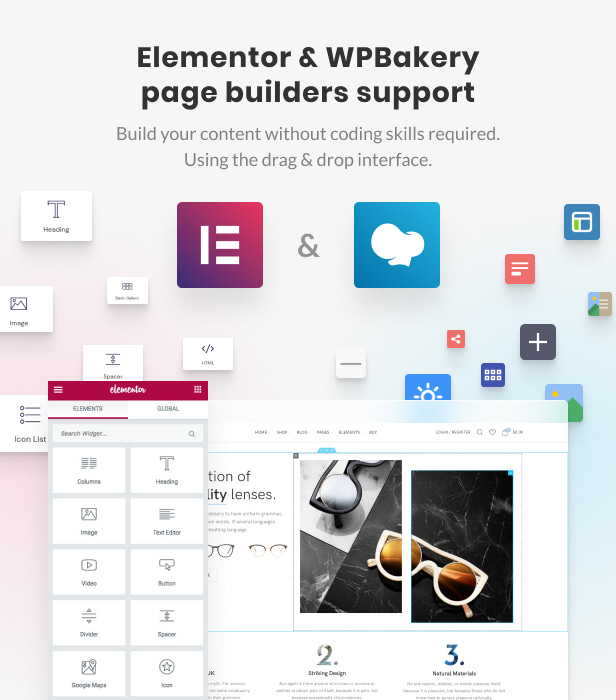 More than 70+ demos which can be imported with just one click either as Wp Bakery or Elementor structure:

Maximum speed thanks to extremely good PageSpeed ​​optimization and an intelligent engine in the theme + compatible with WpRocket: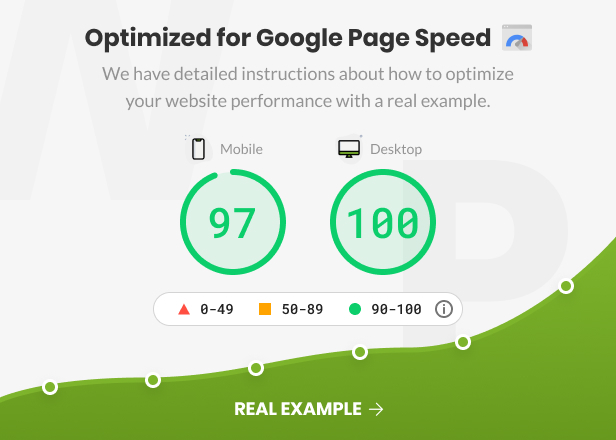 ---
The question of all questions: How do you choose the best theme for your own WP WooCommerce online shop?
As already described in detail in the video, the Topicality, Flexibility and Customization most importantly. Your shop has no future without regular updates. Without an easy way to respond to user needs and customize the site, you can't Conversion = achieve sales.
An online shop WordPress theme for WooCommerce must therefore always bring the following conditions with it:
Updates must be regular and a child theme must be supported
The Theme Options must be simple and offer many customization options (Multi Purpose)
Responsive design for mobile devices (smartphones & tablets)
Shop design and product template must be individualized separately from each other
Easily customize header and footer
Interactive shopping cart symbol and easy navigation (if necessary, mega menu can be expanded)
Visual editor (page builder) and slider directly integrated (preferably WP Bakery or Divi Builder and Revolution Slider)
Possibly included premium plugins
Customized checkout (shopping cart & checkout)
Compatibility with all browsers
The loading time must be short (max. 3 seconds) - caching can be used with the theme without any problems
WooCommerce Germanized compatible (alternatively also MarketPress)
Technical SEO-optimized for structured data (SVG support)
Active support from developer or agency
WooCommerce Themes access the functions of the WooCommerce plugin and use WordPress internal functions for all content. This makes the structure particularly flexible and clean in terms of programming.
Start small with one or just a few products, or offer your customers thousands of items. A webshop based on WooCommerce grows with your success and is always expandable. Therefore, using the right template and theme is extremely important.
Our recommendation: WoodMart theme *
---
The Woocommerce Shop Design and Product Template
The shop design is one of the basis and probably the most important part of a successful online shop. The entire design must be easy to adjust. The product page should follow the standard structure and also be individualizable – i.e. move, hide and add new elements (e.g. under the shopping cart symbol).
---
---
A good WooCommerce theme thus enables a high conversion rate. This is how you turn prospects, customers and, if necessary, regular customers with a long lifetime (customer life time) for your brand and products. The better, simpler and clearer the online shop is structured and based on large shops and marketplaces such as Amazon, the more sales you will achieve.
What should be considered with free "free WooCommerce Themes"
Of course, WordPress + WooCommerce Shop Templates are also available free of charge. But what you want to earn money with should not necessarily be free of charge. Although you save 50-70€, you get massive problems afterwards and experience limitations that force many to change the layout later. This is doubly expensive, annoying and very time-consuming.
However, not all responsive designs are created equal. And if you don't test responsiveness, you're set for error from the start. Mobile commerce is on the rise, mobile eCommerce is increasing year by year. Many theme developers also claim that they are compatible with all browsers, offer excellent design support, and ensure a beautiful blog. Having these features is important. But it depends on the execution, because this is usually inadequate or even bad.
So test each one WooCommerce theme on responsiveness, browser compatibility, blogging flexibility, and how easy it is to make quick design changes. A demo + listing of all functions are usually available for this purpose.
Unfortunately, the product pages and the checkout are mostly still close to the standard and therefore not really sales-optimized. The result is few sales and therefore little turnover.
WordPress Help and WooCommerce Support
All themes vary but the best WooCommerce themes and templates contain the elements mentioned above. If you find a suitable theme that's perfect for your brand and products, but doesn't have a feature or two of the features you need, you can always use a plugin to fill in the missing element. But we always recommend that WoodMart Theme to take because it is simply best.
If you have any questions on how to find the best WordPress/WooCommerce theme, let us know. Write in the comments below or contact us by email.
WordPress agency help and support
---
POS system for WooCommerce shop wanted?
We offer a POS system in German for WooCommerce for seamless integration. This is suitable for all industries and even offers an option for restaurants.
Learn more about the WooCommerce POS system (POS Kasse) in German