Creating a true WordPress Members Area with a WordPress Membership Plugin has never been easier. By default, the CMS does not offer any real member management. There are some examples where user roles etc. are then played with to make a kind of internal area, but that's not half and not the whole thing. One Create a website with a members area The easiest way is via a so-called WordPress Membership Plugin what from the existing page in parts one closed member area allows.
Enabling member management for free is almost impossible and the effort is many times higher and a tinkering without any sense or reason. On a free solution as a plugin should be avoided here, because as the operator of the member area you also have a responsibility for your internal and protected area. Many free plugins are no longer available after just a few years and support for errors is often poor or non-existent. As a rule, you can then hardly do anything yourself and at the latest then you have to switch to a paid version of a WordPress member plugin. With the presented plugins you can create a internal area with login easy to create.
Create a real WordPress Members Area (Member Area) with a WordPress Membership Plugin
You wonder with which oneWordPress membership plugin we can create your own membership page? Choosing the right platform to build your membership site makes a world of difference when it comes to growing a business and making more money online. In this article we present THE best membership plugin with all the features you could wish for. It is that Ultimate Membership Pro – WordPress membership plugin* and costs less than 50 euros once!!!
More than 10.000 have already been implemented worldwide with this WordPress Membership Plugin.
NOTE: At the bottom of the article we report on this Official WooCommerce.com Memberships Plugin*. » Jump to the article
First of all, a few important things you should pay attention to and what considerations you should make beforehand, i.e. right now:
What to Look for in a WordPress Membership Plugin
Here are the criteria we used to create our list of what we think are the top things to look for in a WordPress membership/members plugin:
Ease of use
Compatibility
Properties
Each type of membership site requires specific features to get the job done.
---
---
Let's take a look at the most common types of member sites/members areas:
Online courses / eCourses with interactive projects, documents such as PDFs and video content
Service-based memberships, where customers have to pay to access services you provide, such as coaching or consulting
An all-in-one site that gives paying customers access to everything for a monthly subscription
Online communities with forums, live chats, articles to read and other resources not available to unregistered users
Product-based memberships, where physical or digital products are sent to members on a regular basis
Temporary memberships, where members have access to blocked content for a set period of time
Drip-feed models where blocked content is displayed as members progress through a program
And that is just the beginning. Luckily, most of the best WordPress membership plugins on the market today can help you create the type of membership site you want.
However, not all membership plugins are created equal. Below are some of the most important things to consider when choosing a Members Area Plugin for WordPress.
By the way, you can also use the plugins WordPress online learning platform . make
---
The best WordPress membership plugin to create a website with a members area for less than 50€!!!
You can turn your website into an income source with a closed area for members (members) by protecting your valuable content or just a part of it.
Protect your: Pages, Products, Categories, URLs, Content Sections, Images, Menus, etc. and set a content redirection or replacement rule.
Key Features: Restrict Content , Member Management , Private Content , Restrict Access , WooCommerce Membership , WordPress Membership , Member Page , Paid Membership Pro , Member + GDPR GDPR Compliant ready and integrated with WordPress 4.9.6
With Membership Pro you can You an unlimited number of users and levels create in a simple registration process and the users with WordPress users synchronize . So the users can also use the WP for WooCommerce purposes.
To the WordPress Member Plugin*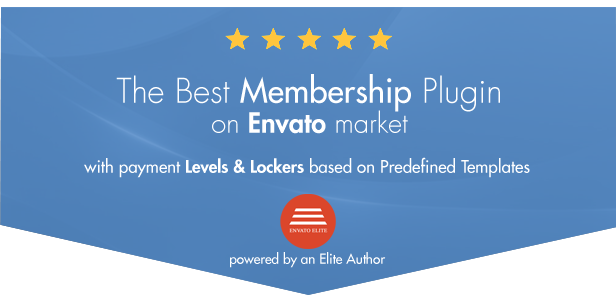 ---
---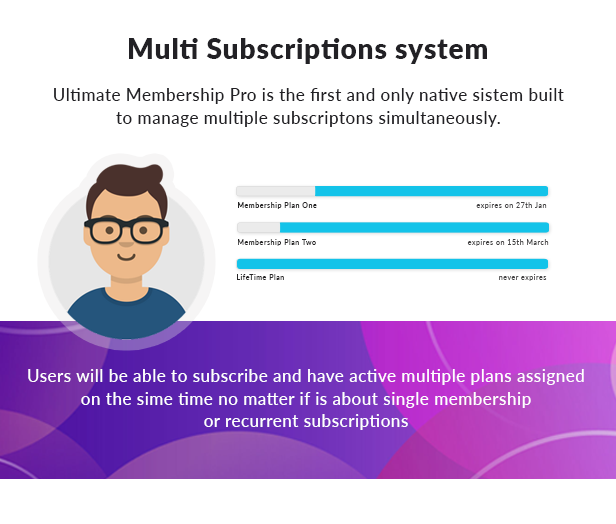 Key Features of Ultimate Membership Pro:
multi- Level
Unlimited Paid/Free Membership Levels
Protect content lockers
Payment gateway: PayPal , Authorize.net , Stripe , 2CheckOut ,
BrainTree , Payza , Bank Transfer
Sell ​​subscriptions through the WooCommerce platform
Free / Paid probation
protection of drip content
Restrict pages or any URL
subscription plan
multipayments Option
Login Predefined templates
Register predefined templates
menu protection
9 email marketing platforms integrated
Visual Composer integrated
Keywords Restrictions
Social Login with 7 social networks:
Facebook , Twitter , Google ,
LinkedIn , Instagram , VKontakte , Tumblr
5 predefined social button layouts
duplicate E-mail confirmation
Dashboard Statistics
Unlimited Registration / Profile Fields
Restricted fields based on levels
Redirect or replace content page
Sync WordPress users
member list Showcases
Search option in member list
Pagination settings in the member list
Custom Currencies
coupon codes Discount
Bulk Coupon Builder
Customizable email notification templates
Custom Inside Content Locker
Special custom fields: Profile Image , upload files, multiple selection
Registration form for conditional logic
Check the Code/Question field
Professional account page – Custom content, subscription promotions
(Renew, Cancel, Delete)
Custom Redirect Links
Several predefined shortcodes
Custom dashboard access
Taxes related to user country
Country specific custom field
BuddyPress account page integration
WooCommerce My Account Integration
Download Monitor AddOn
WP social login integration
on account about orders with custom templates
List of access items available for current users
Once will be one individual page created for each user account
Pushover notifications for mobile notifications alongside regular emails
User reports available only for admins to improve user tracking
Subscription delay also allows you to schedule when to start the subscription.
Dynamic price – The user decides the price paid between certain limits
Security login to avoid brute force attacks.
Membership Badge with Custom Images.
Limiting WordPress workflow based on tiers/subscriptions.
filter and Search options in the member directory
Pagination in the directory of members
Predefined templates for the public profile page.
Synchronization of Gravatar and BuddyPress Avatar.
MYCred Integration for reward points based on subscriptions.
API module for external calls
Menu tabs for custom account pages
Predefined templates for the public profile page.
Restrict comment submissions based on assigned subscription
Restrict post delivery based on assigned subscription
Integrated into Ultimate Affiliate Pro
Flat & modern design
once ready for user Is installed
Multiple reminders notifications
Offers discount for Woo products based on purchased levels/subscriptions
Notifications about drip content
Import users and levels via a CSV file
Sell ​​SubSites based on Levels/Subscriptions in the WP MultiSite environment
---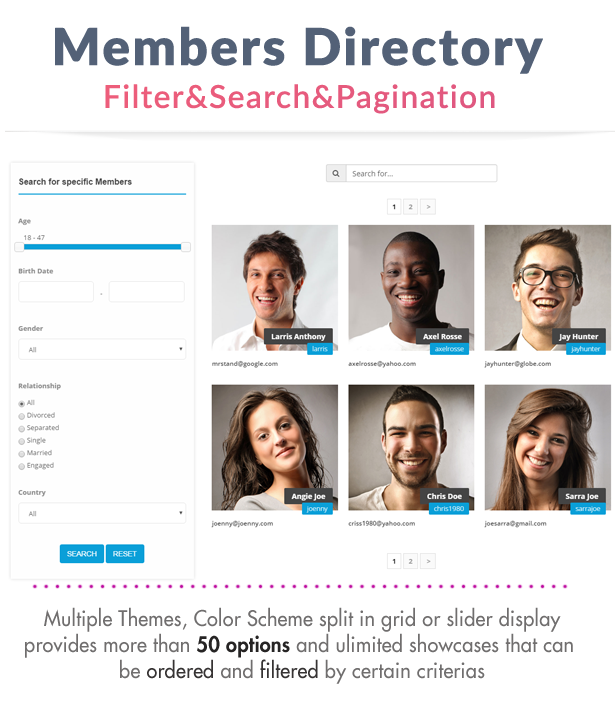 ---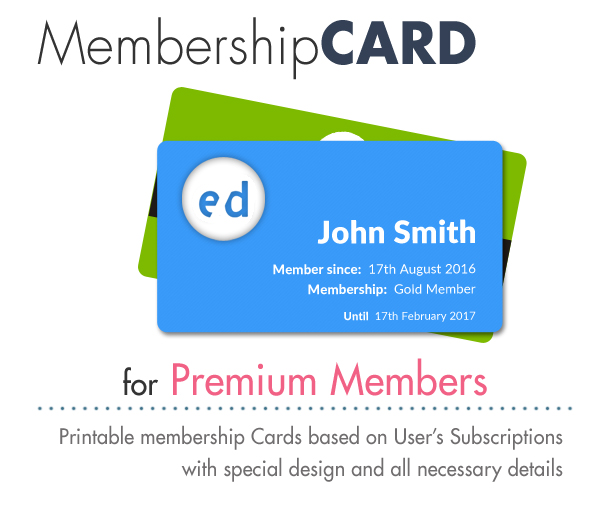 ---

social login? A better way to register/login for customers available on 7 social networks: Facebook, Twitter, Google, LinkedIn, VKontakte, Instagram, Tumblr
---
drip content means you have content in publish at regular intervals. Ultimate Membership Pro allows you to do this very well, setting each page/post when to be available based on subscription time or tier and when it ends.
You can share content:
Sofort
A specified time after the user subscribes
On a specific date
You can stop viewing the content:
never
A certain time after the release
On a specific date
You can target your content to specific subscribers like this to plan that users can't log in and record everything at once
---
The account page for logged users will be complete customized, including separate sections, custom welcome message and summary text. Overview section can be set as custom content for any user who assigns a regular page/post content to view.
The main section divided into tabs is:
Overview – with custom content for each user
Profile – with form " Profile edit" based on custom fields
Social Plus – Connections to social accounts
Subscriptions – with subscription tiers and renew/cancel/delete options
Orders – User's order history.
Transitions - Contains payment history transactions.
Membership Gifts – Gift codes purchased by the customer.
membership cards – available printable maps.
Help - Complete the customization section.
Logout
---
Ultimate Membership PRO with new updates provides the complete solution for a registration process with multiple templates, options and especially with all custom fields , that they need.
In addition to the standard fields (Text, Number, TextArea), the new special fields are:
Profile Image - Date picker - Upload files - DropDown - Multi select - Checkboxes - radio box
---
Ultimate Membership PRO offers several options for the level Access :
live time – Users have long-term access with no end time. Very useful for basic level or standard level
Limited - Users have a fixed time based on days/weeks/months/years before access expires. The limited period starts once the user has gained level access. Very useful for test levels or small fee levels
date rage Users only have access for a limited period of time, regardless of when they are registered. Very useful for promotion levels like during the holiday season.
Regular Period – Users have access based on regular time as days/weeks/months/years when access is to be renewed. Very useful for recurring subscription tiers.
After the stage expires - The current tier can be automatically replaced with another tier if necessary.
---
Based on Access Ultimate Membership offering PRO different billing options :
one time – A one-time payment is requested to the subscribed user
Ongoing – Long-term recurring payments are requested to the subscribed user. The recurring period is based on the "regular period" set in the "Access" section.
Limited - Limited recurring payments are requested to the subscribed user. Very useful for promotional access available for multiple periods.
Trial period – A specific period of time or a few recurring cycles can be provided as a free trial or for a small fee.
Upon expiration of access, existing customers may be given a "grace period" to renew/pay for the current subscription level
---
Ultimate Membership PRO can any item/product or any dedicated page from WooCommerce and forms or subjects of bbPress block or restrict
Ultimate Membership PRO can:
Restrict access to WooCommerce products
Restrict access to WooCommerce category using products URL Blocks module
Restrict access to shop, cart or other WooCommerce pages
Restrict access to forms from bbPress
Restrict access to themes from bbPress
Limit access to one custom post type from the WP website
---
Ultimate Membership PRO syncs the membership users with ALL WordPress users with different types. Users from other platforms or scripts like WooCommerce, bbPress or BuddyPress can be managed to restrict access based on assigned level.
The users can register and log in using any form provided by Membership Pro or other scripts.

---
Email Subscription
Provides the best ways to store and manage your registration emails in a dedicated marketing platform for further purposes. There are 10 email marketing platforms available: MailChimp, MailPoet, AWeber, Campaign Monitor, Constant Contact, Mailster, iContact, GetResponse, MadMimi, ActiveCampaign .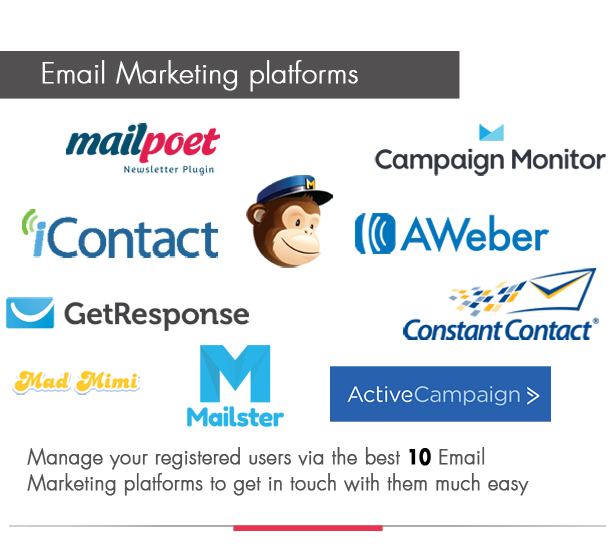 ---
Easy to style and customizable member areas with Visual Composer Wp Bakery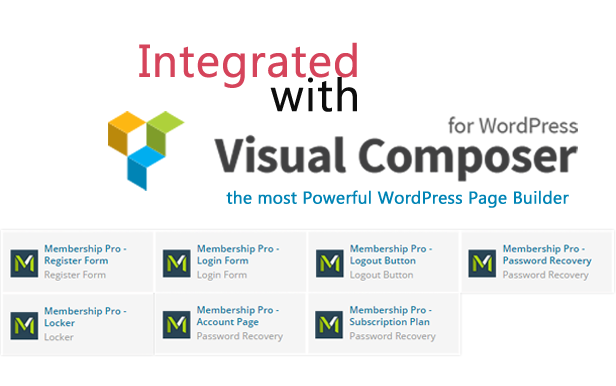 Visual Composer Page Builder is one of the best page builders for WordPress on the web. If you use it, you can now yours membership forms , Member Pages and content lockers Play and manage directly in Visual Composer.
---
Create your own WordPress website with a member area and use Ultimate Membership PRO

With Ultimate Membership PRO you can achieve everything you need for a proper membership workflow or directory space.
With a great intuitive dashboard, you can complete your settings in minutes and your site is ready to protect your content.
And now quickly buy the WordPress plugin for your own member area:
To the WordPress Member Plugin*
---
Here is an explanatory video / tutorial for the Membership Plugin:
---
Empower your member association, online magazine, e-learning sites and more with content/product access controls and member discounts.
A WooCommerce Members Area that is 100% integrated with your content and products.
WooCommerce Members isn't just another plugin for restricting your site's content: it's an easy-to-use, site-wide membership solution that brings your content, shop, and memberships together.
"This is maybe one of the easiest and cleanest plugins when it comes to configuration… it's super clean and easy to manage.
You will love this plugin." – Chris Lema
With memberships you can create a complete membership system , which is seamlessly connected to your shop.
You can limit your content to members, but you can also "drip" that content over time to schedule when members have access. Sell ​​membership access, include memberships with product purchases, manually assign memberships, and fully integrate member benefits into your store.
---
Sell ​​or assign memberships
Memberships are not a specific type of WooCommerce product; Instead, membership plans are created independently of products. This allows you to customize how access is granted to to ensure maximum flexibility . You can assign 0 or more products (of almost any type) to a membership plan to support different types of memberships:
Sell ​​a membership as a standalone product - create a product for the membership and then bind the plan to that product to sell
Grant access to a membership as part of a product purchase - ie buy a meal box subscription and get access to the recipe section for free
Grant access to the same membership from multiple products (e.g. an annual purchase or a monthly subscription)
Manually assign memberships for an invite-only members area
---
Grant content access strategically
You've put a lot of work into your members-only content, so memberships let you schedule when you want your members to access it. You can content dripping , which means you can schedule when you want members to have access to your content. For example, you can require customers to be a member for a week before they can access certain posts or pages.
This gives you more control over how members begin using your site and allows you to introduce members to your content at your own pace.
If you use this with subscriptions, you can even determine what content is included in a free trial period with content dripping rules.
---
Turn your shop into a shopping club
Memberships allow you to create members-only products, allowing your site to become a shopping club, or make certain products exclusive to members.
You can the product view Restrict to members, which means these products will be hidden from non-members in your shop. You can also limit the purchase , which means products are public but only members can buy them.
You can also throttle product access so members don't get immediate access to products.
---
Offer members better shipping options
Members should be your most loyal customers. So if you offer them perks that encourage them to buy from you repeatedly, they'll keep coming back. Memberships extends your free shipping settings so you can offer free shipping directly to your members, while non-members must meet other criteria (such as a coupon or minimum order).
---
Reward members with special discounts
Since you may want to grant certain benefits to your members, you can Member Discounts grant for all products, some products or specific product categories.
---
Automatically show members their benefits
While member management should be easy for you, it should be easy for your members too. Members can find all information about their membership in the Members . Members can access the section for each membership from the My Account page by clicking View.
You can enable any or all sections of the members area to show members a list of accessible content (posts and pages), products, discounts and/or public membership notices. If a member will have access to content in the future, the member can also see the access date.
---
Import or export members
You have many tools for managing members in WooCommerce, but you may also want to connect to other services, e.g. B. to import a list of members into an email tool. With memberships you can Members into a CSV file the exportier , so you can pull member data from WooCommerce and into other tools.
You can also Members via CSV import to add new memberships, create new users, or bulk update existing members by merging your file with existing data.
---
Simplify communication with members
If you run a membership site, you spend a lot of time with that Customer service and the Membership management . We've tried to make this as easy as possible with memberships. We've added "Membership Notes" so you can track membership information for a client, add your own notes for reference, and even easily communicate with a specific member by emailing them a note.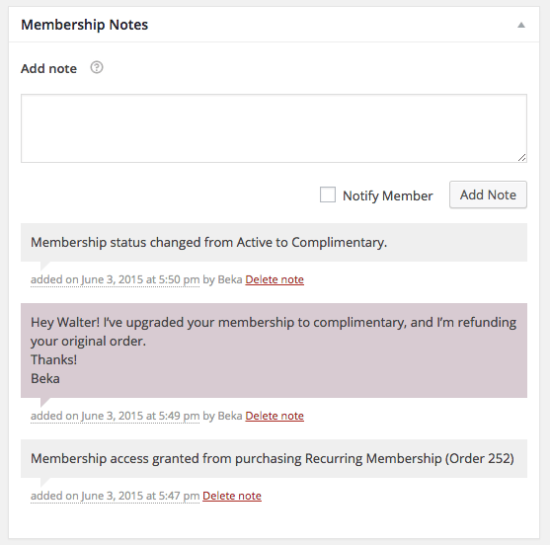 You can also Reminder emails Expiry and use for renewal to notify members about the end of membership and prompt them to renew or upgrade.
---
Memberships + Subscriptions
Memberships is fully functional as a standalone membership solution, but works very well with the most advanced eCommerce recurring payment solution available: WooCommerce Subscriptions .
When both plugins are active, memberships can leverage some features of subscriptions to give you more flexibility in membership billing (see our documentation for more details):
Memberships may use recurring billing (i.e. monthly payments) for the membership instead of a fixed term (e.g. one year).
Memberships can use subscriptions as a payment plan, but control access duration to support installment payments
Free trials can be used for subscription membership
Content Limiting and Dripping can include or exclude free trial periods, giving you control over what content is available in trials
Members can pause their own memberships by suspending a subscription
Members can upgrade or downgrade their memberships by switching subscriptions
Upgrades and downgrades can use the subscription portion to ensure membership cost is correct
Even if you don't want to use recurring billing, you can take advantage of the other features of subscriptions by setting the subscription length to a billing cycle, allowing you to take advantage of upgrades and downgrades or trial periods.
---
Sell ​​memberships to companies or groups
Need to sell memberships to teams, businesses, or groups instead? Look at the extension Teams for WooCommerce memberships (available seperately). This plugin extends WooCommerce memberships and allows selling access to a group of users instead of an individual.
How to get started with WooCommerce & Members Plugin:
Ready to create memberships for your clients? You can get started with these steps:
Buy this extension
Download and install memberships on your WooCommerce store
Create your membership plans and members
Check out our extensive documentation for help with advanced setup
That's it! Sit back and enjoy your fully integrated membership site!