A WordPress + WooCommerce product configurator or designer is commonly used to design and customize custom products in online stores like your WooCommerce store. Customers can design their desired product, design it freely, configure it and receive the corresponding price for their individual product. In this article we have Top 5 WooCommerce Product Configurator & Designer Plugins listed, because there are no more good ones 😉
WordPress configurator for your own shop – WooCommerce product configurator plugins & explanation
Although there are also a few Free configurators for WordPress plugins, but it quickly becomes clear that they only offer a few functions and want to sell their Pro version. In our article, we therefore go into the best paid but inexpensive plugins and extensions for WordPress and WooCommerce variable products.
The following notes in advance:
All plugins can be translated in the settings in the backend or easily translated via Loco Translate, i.e. also possible for several languages ​​(multilingualism)
All plugins and configurators are suitable for web-to-print. That is, the data can be converted into various output files and suitable for printing
The variety of possibilities is almost endless. It is worth taking a close look at the demos and, if necessary, comparing 2-3 plugins directly. The investment is manageable at mostly $40-60
The configurator software is installed as an extension and requires a good hosting package for WordPress + WooCommerce. Cheap hosting will cause problems here
The configurators are mostly theme-independent and work with all templates
The documentation is in English, but many developers offer examples and videos for replication in addition to the text documentation
We deliberately refrain from listing external providers with API interfaces, as these are often very expensive for the initial connection and then cause ongoing costs of several hundred or thousand euros.
All WooCommerce configurator plugins listed here are installed on your server with licenses that belong to you alone without any follow-up costs.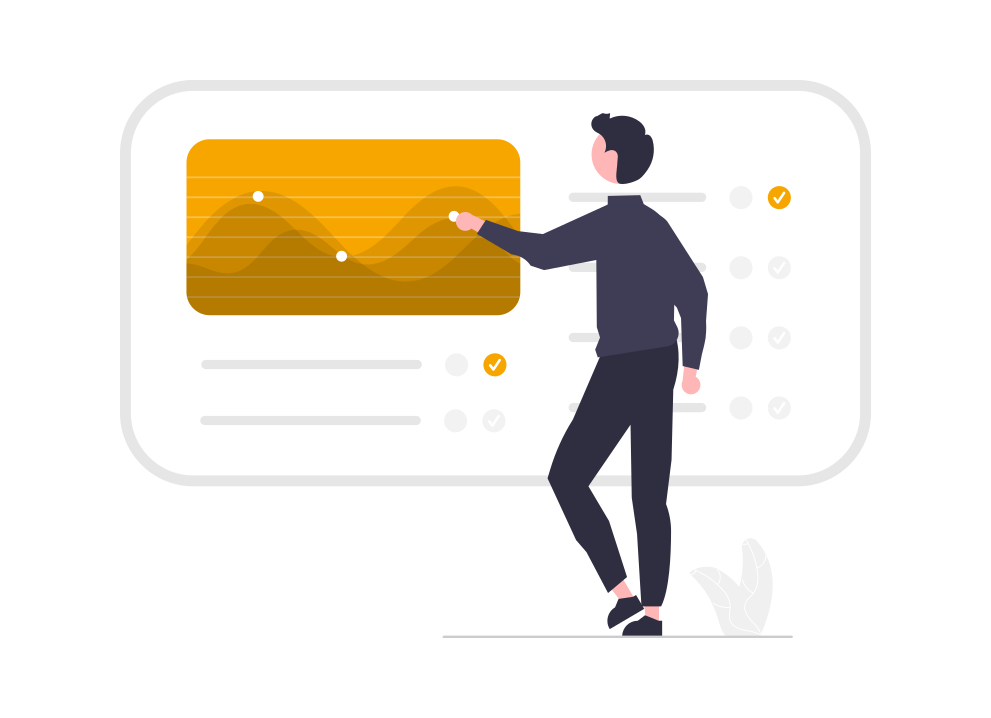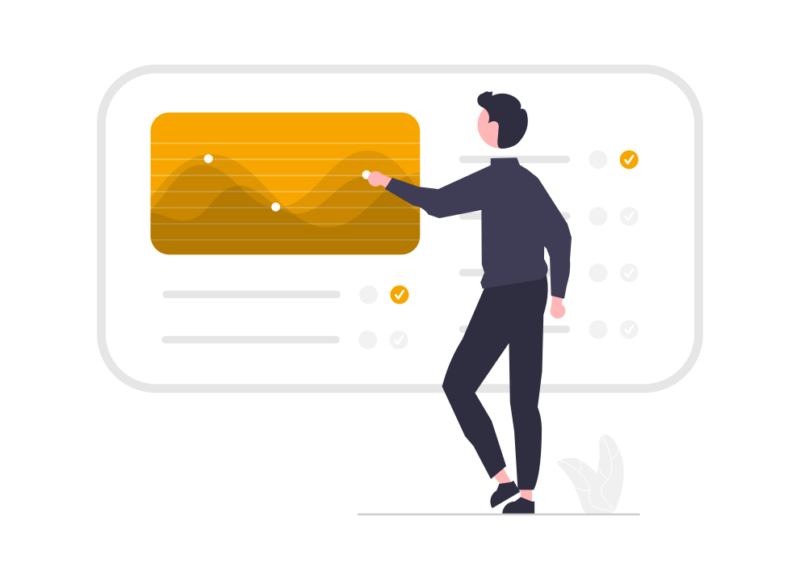 WooCommerce product configurator plugin for all kinds of custom products and designs
Many online shop and web shop owners wish to have a flexible configurator for their products in the shop. It's often about different variants of articles or around individual designs and optics for eg Web-to-Print Products, which are printed according to customer requirements. Most configurators are used for the following areas of application:
T-shirts, blouses, textiles of all kinds
Business cards, plastic cards, postcards to simple flyers
Promotional items and advertising technology such as banners, flags, beach flags, displays, etc.
Mobile phone and smartphone covers (cases) with printing
Jewelry, bracelets, engravings
Products made of wood with branding
Bicycle configurator, e-scooter/scooter, car + accessories
Breakfast muesli or your own bread mix
---
Information and background knowledge on configurators and designers for individual shop products and product variants:
With a WooCommerce configurator there are 2 main differences in configuration variants for a (variable) product with visual representation. These differ significantly technically and optically in the configuration settings or configuration options:
Configurators with layers = planes
Levels offer the best basis for all possible configurations, since these offer infinite variants. A background and then countless levels are layered on top of or next to each other (sometimes also using drag & drop) until the finished product is configured. Layers can be images and graphics (various formats), vectors, 3D models, text modules or a combination of all with the additional option of using HTML + CSS. The principle is similarly complex as with Photoshop or other graphics programs, just as a web configurator (web application).
Examples: automotive industry, business cards, flyers, photo books, plastic cards, etc.
Configurators with images = images
A fixed image (JPG/PNG) is displayed for each selected configuration and dynamically displays the appropriate image based on the product properties. In this case, the user cannot necessarily simply move elements himself with the mouse, but a predefined static image is always loaded using checkboxes, radio buttons or selection fields. WooCommerce offers this in a simple form as a "variable product" consisting of the properties (product features such as brand, size and color) and variants (properties in combination) of a product right from the start, which makes it very easy with little choice.
---
First of all, a reference to another article where so-called extra options can be selected on the product page and work similar to a configurator, but without visual representation:
---
---
---
Fancy Product Designer is a premium plugin developed by radykal. With it, you can design any type of products without limitation and customize your products in various ways [Advanced Color System, Text Transformation, etc.].
Some outstanding features of this plugin are:
You can set flexible prices for products and items
Tracks all applied themes
Images and graphics can be modified with various options such as position and size
You can compose your own user interface using different layouts
It can be used on any device and in any language
To the plugin (demo & download)*
---
WooCommerce Custom Product Designer is a premium plugin developed by dangcv. It allows drag and drop, resize and position the UI, and set up layers for each product.
It offers the following functions, among others:
You can add text, change color, font, style, etc
You can save and reuse your design
It supports all device format
It supports any printing method
To the plugin (demo & download)*
---
The Woocommerce Products Designer – Online Product Customizer for Shirts, Cards, Lettering & Decals) is a premium plugin developed by orionorigin. It helps your customers to design/customize logo, shirt, business card and all prints on your WooCommerce store before ordering.
A powerful WooCommerce web to print plugin, which allows your customers to design or customize logos, shirts, business cards and any prints, custom signs, custom lettering, boat lettering, vinyl decals and many others in your woocommerce store before ordering.
Some of the features offered by this plugin are:
Unlimited fonts to use by adding or removing any web font of your liking
It includes some image editing effects like grayscale, sepia 1 & 2, invert, blur, etc
It helps you create unique designs
You can define a custom color palette that can be used for any text, shape, or vector
Social network integration supported
You can use this extension as:
Woocommerce t shirt designer
Cup custom editor for wordpress
Woocommerce Phone Case customizer
WordPress Stickers, Canvas or Decals Designer
Online Business Cards, PVC Plastic Cards, Postcards and other Printable Products for WordPress
custom labeling tool for woocommerce
…and much more.
UNLIMITED FONTS
Easily manage the fonts that can be used by adding or removing any web font.
---
---
CLIPART LIBRARIES
Unleash your customers' creativity by giving them access to stunning clipart and graphics organized in libraries. Each clipart can also be priced to increase the final design price if needed.
USER UPLOAD CONTROL
Woocommerce product designer gives you complete control over your customers' uploads by defining the minimum allowed dimensions and file extensions.
IMAGE FILTERS
Woocommerce Product Designer includes some image editing effects like Grayscale, Sepia 1 & 2, Invert, Blur, Sharpen and Emboss.
TEMPLATE SYSTEM (Templates)
Creating the perfect design from scratch can be exhausting. Woocommerce Product Designer allows you to create unique designs for your customers to browse and start from.
INTEGRATION OF VECTORS
Vector graphics have become a standard in the web-to-print industry. Woocommerce Product Designer includes an SVG file editor that allows your customers to use and modify their vectors directly in the editing area.
CUSTOM COLOR PALETTE
Don't want your users to use a color for their design? Woocommerce Product Designer allows you to define a custom color palette that can be used on any text, shape or vector.
SOCIAL NETWORK INTEGRATION
Social networks are a part of everything today. Woocommerce product designer knows it and lets your customers extract and use images from their Facebook and Instagram accounts.
ADVANCED DESIGN AWARDS
Woocommerce Product Designer takes product pricing to a new level by allowing you to define your own pricing rules based on the elements (images, text, shapes…) your customers use in their designs.
CONTRACT PLANTS
Do you have clients who don't necessarily need to go through the design phase? Woocommerce Product Designer has enabled them to send you files as attachments to their orders.
ADVANCED PDF GENERATION
Most printers are more familiar with PDF files. Woocommerce Product Designer generates up to 140 landscape or portrait PDF formats.
HIGH QUALITY PERFORMANCE
The Woocommerce product designer allows you to configure the dimensions of your output file and generate not only files up to 15000px wide for flat files but also SVG files.
DESIGNS AND ORDER HISTORY
With Woocommerce product designer, your customers can either access their previously ordered designs and create new ones from them or save their designs for later.
To the plugin (demo & download)*
---
Lumise is the professional product designer tool built with HTML5 + JavaScript technologies. It's a product of King-Theme, an elite contributor on Envato. Focused on the user experience, Lumise offers a breakthrough all-in-one solution for your print service provider. In addition, it comes with numerous powerful exclusive features and top-friendly interface to help your users to easily come up with ideas.
High UI / UX
Lumise works as an easy-to-use application. We're theme providers before, so we know what's best for customers. Let's rock with Lumise!
Ready-made design templates
Create amazing design templates that fit any type of product. Set the price for it and users can use it with one click.
Unlimited number of cliparts
Worried about clipart resource? Let us do that for you, you can do other things you love. There are 2+ reosource cliparts for your customers to use: Pixabay and Openclipart with 120.000+ items. Amazing stocks!
Export / import designs
Your customers can export the design and import it from another device to continue working or checkout. You can export the design to create a new template or even save it in personal data. That's really flexible!
Multiple languages
Lumise supports language switching. All languages ​​have been automatically controlled and translated from the admin panel and you can put your translation text there.
Mobile & tablet supported
Lumise runs on mobile and tablet devices as a true native app, which is very popular with customers. Your website can receive the order from any device
Draft ready to print after review
Lumise supports multi-output for printing like PDF, SVG, JSON, PNG… All are rendered with high quality and compatibility with all printing devices.
Social media
Your customer can already get pictures from social accounts there. We support Facebook, Instagram and more.
Special trolley to work with any system
Lumise provides a separate shopping cart system that allows you to add and edit an item. Your CMS then takes care of other steps at the checkout.
Undo & Redo
Working on an app looks like having an application on the desktop would be the perfect spot to attract your customers. Lumise allows you to redo/undo any action after designing.
text effect
Make the text more curvy, fisheye, skewed, convex-concave are one of many things you can do with text.
Filters effects
The Lumise Filter is a versatile tool that allows you to make local adjustments to your photos. However, the filters, which are named for a type of filter that darkens the sky in landscape photography, have uses far beyond that.
Crop / Editable photos
Whatever your object, Lumise has many ways to make it more personal. Crop images, highlight objects with filter colors, remove effects or even background.
mask layers
Do your customers want to see the text? No problem, the mask layers will help you with that. It's so amazing to have this feature!
QR-Code
Personalizing design with QR code is not a bad idea. Customer friends receive their message with a small QR code scanner.
Auto Snap (automatic guides and alignment)
When you move a shape or a layer, it snaps to the nearest center line intersection, or snaps to another image or layer, even if the grid isn't visible.
Flexible processing zone
With Lumise you can simply select the editing zone with the mouse. You can also set the radius of the area.
Support multi product type
Whatever your product, you only have one place to print, then Lumise can allocate the print area for that product. Phone case, sticks, mugs, posters... Lumise can handle all things.
Calculate Ultimate Printing
Pricing basis for text, color or clipart. The most popular are calculations for printing services. So are we. It's easy for you to configure them.
Set pre-template for product
To sell quickly, you can create a template and assign it to a product. All your users have to do is choose different values ​​for attributes and then buy the product.
To the plugin (demo & download)*
---
WooCommerce Multistep Form & Product Designer is a premium plugin developed by axentmedia. With this plugin you can sell any type of product that needs to be customized / end users need to design for themselves like t-shirts, mugs, print cards etc. or you can sell all types of services. It is fully integrated with WooCommerce and uses WooCommerce cart, product management, payment and shipping system.
Services that have to be selected several times by the customer, such as B. Web design, graphic design, social and SEO services, custom applications, etc.
You can also create relationships between multiple form steps using a powerful conditional system.
This plugin is fully integrated with WooCommerce and uses WooCommerce cart, product management, payment and shipping system. You bind your forms to WooCommerce products and these can be automatically added to the WooCommerce cart in the last step of the form.
At each step, your customers get a calculated price for the product/service they request depending on the features they request or the items they add to their designed product. The final product/service is finally added to the shopping cart with the total price calculated.
Your customers can also design their desired product with your powerful multi-layered product designer, get estimated price of their customized product and finally add it to cart.
Some of the key features of these plugins are:
Powerful multi-layered product designer
Manage multiple shapes, steps and items
Powerful Form Step Designer
Complex product pricing
Simple conditional system for linking steps
Some of the other features are:
Fully responsive design for all devices
Design Items can have Image, Text, and Image Uploaders
Allow fonts from Google Fonts, Generic Fonts, or other fonts uploaded from your computer
Customers can jump from one step to another step using conditions
Customize colors, fonts, text and currency
Supported formats for image layers are JPG, PNG and SVG (vector!)
To the plugin (demo & download)*
---
Have fun with the plugins and enjoy configuring, trying out and editing. We are happy to help you as WooCommerce Agency continue and advise you on the right configurator for your products.
---
General information on using WooCommerce variable products with many properties and variants:
Be sure to check out more than 5 different properties a large number of variants have to deposit. This quickly becomes confusing and also consumes power when loading the product. A vivid one Calculation example for a T-shirt: 3 cuts, 5 colors and 5 sizes already result in a number of 3*5*5 = 75 product variants, because each combination of properties results in a separate product with an individual article number, which must be individually configured with a price, image and description. This can quickly become very expensive!
A good rule of thumb is to say that from 3 combinable product properties, you tend to use a plugin like Product Extra Options switches around, as management is simpler here and more efficient in terms of loading time.
Another alternative for simple additional fields instead of a complex configurator
With WooCommerce Product AddOns* your customers can personalize products while shopping in your online shop. No more email requests - customers get what they want before they're done. Customizing products, from adding a personal engraving to upgrading to premium fabric, can keep your customers coming back. With product add-ons you can offer your customers special options in no time at all. The main benefit is that you don't have to configure each attribute individually as a product variant. Add options via text boxes, dropdowns, text areas, checkboxes, custom price inputs, and even sample images. Add-ons can be added globally or per product on the edit product page.
---
CONCLUSION on plugins for a WooCommerce configurator with (variable) products
Both image-based and layer-based configurators are powerful and versatile tools to make the shopping experience special, easy and flexible. It is important to list the exact requirements in advance, define must-haves and additional wishes and then test test test using the plugin descriptions, examples and demos. The decisive factor is often the number of variants and properties. Almost anything can be displayed using the product extra options and add-ons mentioned above. There is through current web and plugin development almost no limits. However, complete and complex configurators for furniture, automobiles, fitted kitchens or individual 3D models can usually only be implemented through complex and expensive in-house development. The cheapest and usually best way is really to use and, if necessary, adapt your concept to one of the 5 plugins.
Let us advise you as a WordPress and WooCommerce professional.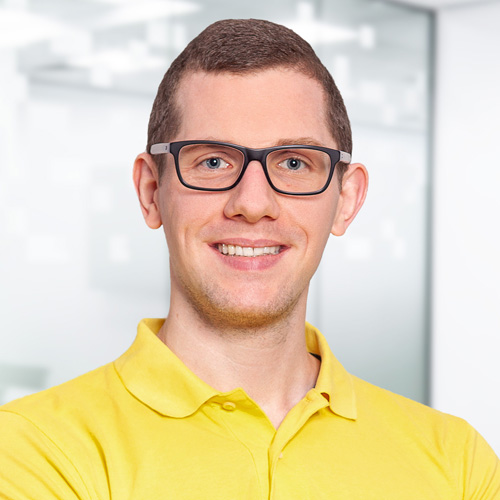 Questions about a WordPress/WooCommerce configurator or you need help? Your direct contact:
Email: fi@pictibe.de

Florian Ibe
---
A complete WordPress theme with WooCommerce Designer & Configurator already integrated
When using the Theme WP Configurator you don't have to worry about limits. The possibilities to make customizations for your products are endless and can be strategically added to your online store for sale. The template for WordPress & WooCommerce + built-in configurator also allows your customers to use simple tools to edit the elements of your product and create personalized elements specific to their needs. Objects with multiple layers, different colors and different textures are supported and can be combined using a simple drag and drop visual artboard.
Offer your visitors a completely different shopping experience and turn them into customers. The Configurator Theme is the perfect opportunity to make your webshop stand out! Just activate and demonstrate the era of hyper personalization!
WP Woo Theme with configurator*
---
For online calculation and calculation of unit prices, areas, dimensions, square meters, cubic meters, volume and weight: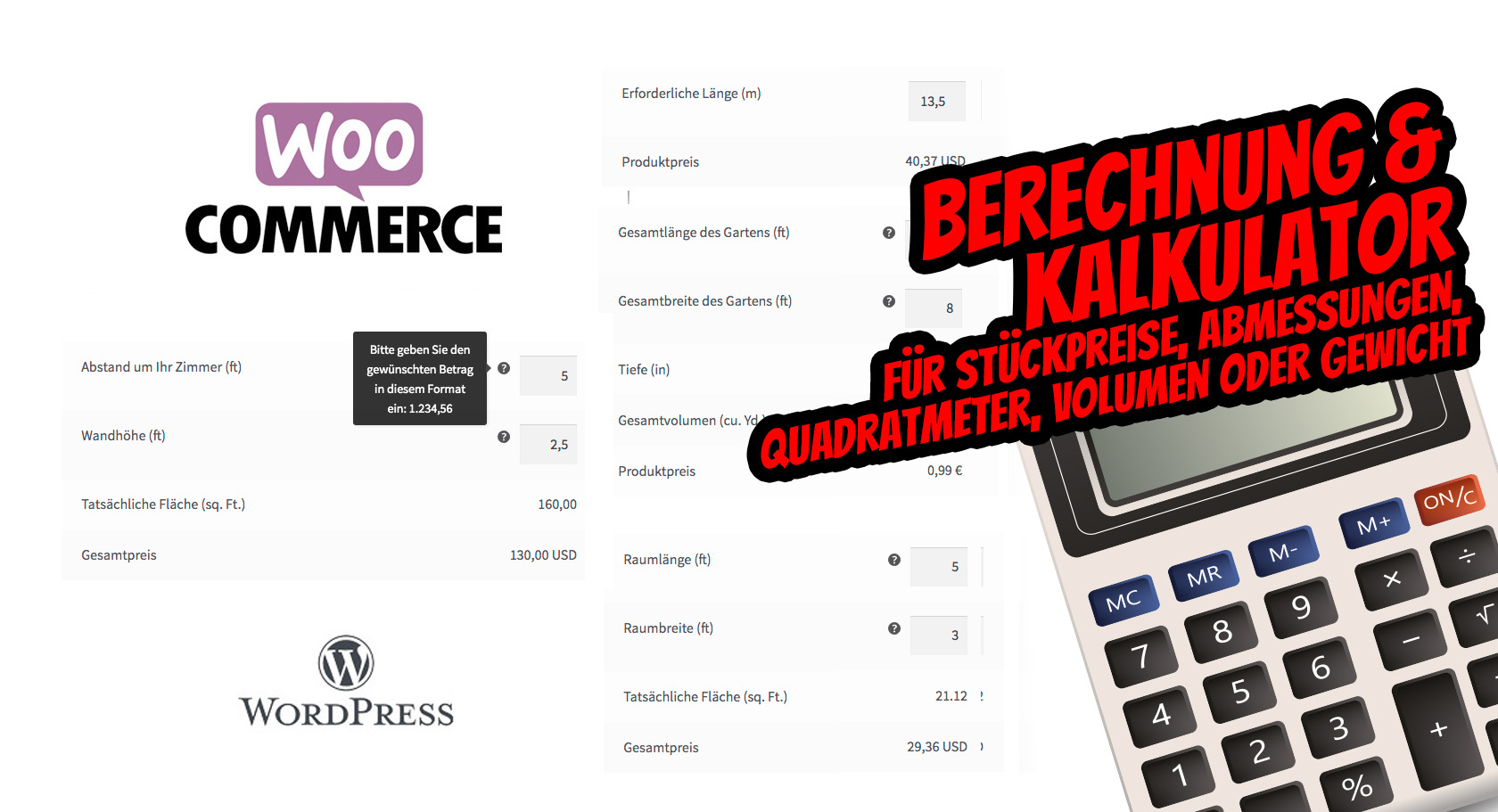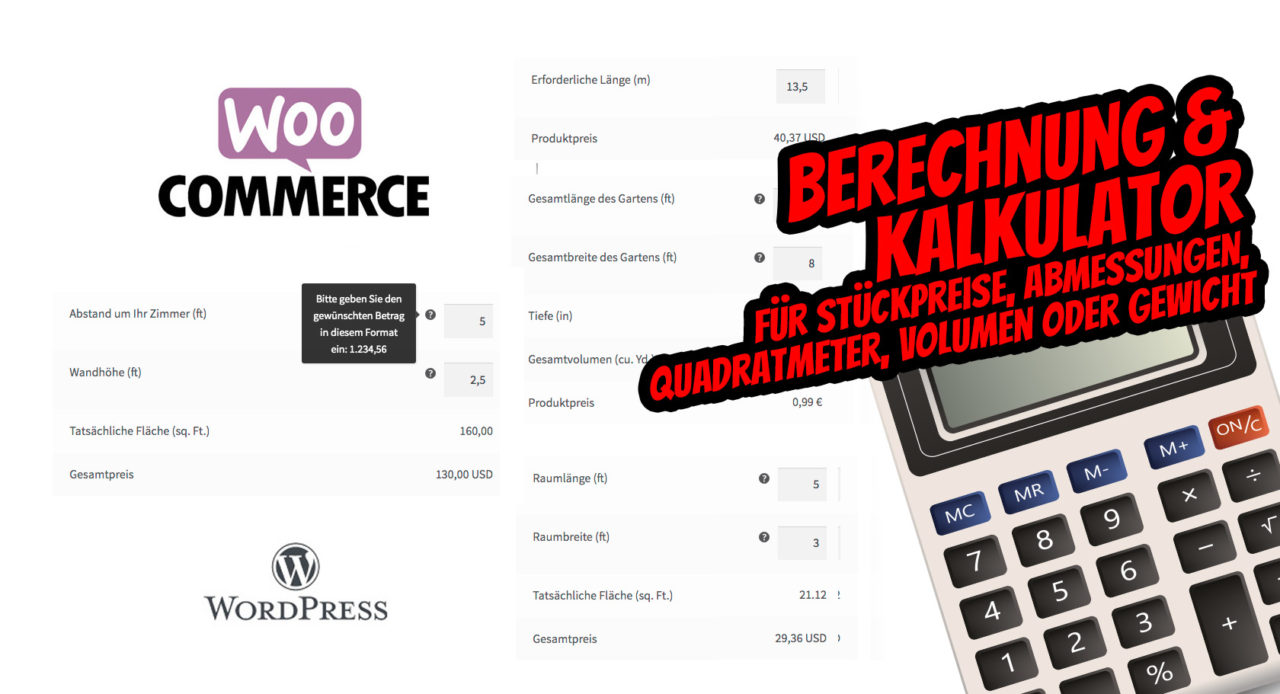 » To the article about the calculation & calculation
---
This article is a comprehensive compilation of our experiences regarding: woocommerce product configurator, woocommerce product configurator, wordpress configurator, product configurator wordpress, wordpress product configurator, woocommerce configurator, woocommerce product configurator, woocommerce variables product, wordpress product configurator, woocommerce product designer