With an open job posting Reach qualified applicants quickly and fill the position in a short time? This article explains how Personnel recruitment even in times of a shortage of skilled workers can work quickly and effectively. LinkedIn is the fastest growing business network here in recent years and is currently at Find staff and also look for active ones LinkedIn Recruiting extremely helpful. That also plays Employer Branding on LinkedIn an important role.
Employees find about LinkedIn – possible within a very short time despite a shortage of skilled workers
LinkedIn is an invaluable resource for employers looking for employees. With over 690 million members, it is the largest professional network in the world and provides access to a wealth of information and resources. employers can LinkedIn to browse profiles and get a better idea of ​​potential candidates, as well as to connect with passive job seekers who are not actively looking for a job. Hiring professionals can search resumes and portfolios, view recommendations from previous employers, view educational background, and view work experience.
About LinkedIn Employees find strategies via direct mailings and employer branding
LinkedIn not only offers employers access to potential applicants all over the world, but also allows recruiters to build relationships with passive job seekers by giving them the opportunity to follow companies, join groups related to the company's industry or specialty, attend events related to their interests, or even engaging in conversations among like-minded people to make more meaningful connections.
In addition, employers can use the powerful search algorithms of LinkedIn Use to find exactly the right talent & employees they need. You have the opportunity, people according to their abilities, hers Location or certain areas of responsibility to search. And once they've identified potential candidates, they can save time by automated tools such as InMail messaging and talent insights services that allow them to quickly send messages or track key industry trends affecting their hiring efforts.
Thus is LinkedIn a powerful and essential tool for any employer looking for new talent - a tool that offers unparalleled access to active and passive job seekers alike. It enables recruiters to quickly identify qualified candidates in any industry around the world - making it a valuable asset when making hiring decisions.
We would be happy to advise you on our success strategy so that you can find suitable employees LinkedIn .
We use the largest professional network of our time – LinkedIn, because here you can reach everyone from interns to CEOs with the right technology. For example the one from The cave of the lions well-known start-p investor Carsten Maschmeyer (of course we didn't recruit them, but as part of a LinkedIn lead generation campaign contacted):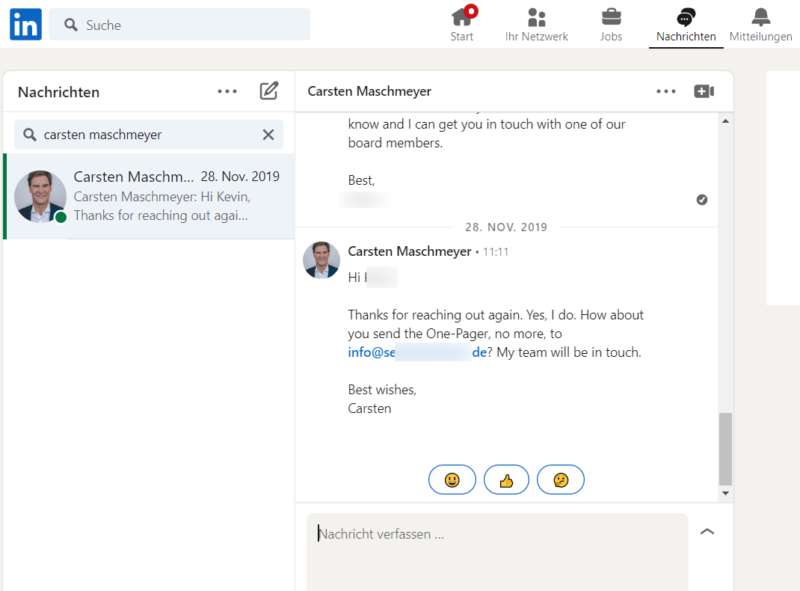 And before you doubt: you have to for this kind of recruiting Weder LinkedIn Jobs create, still on LinkedIn post, do not engage in employer branding and also do not place any advertisements.
---
---
As long as you have a compelling job offer, want to find suitable new employees quickly and are able to contact qualified applicants LinkedIn to exchange this is available to recruitment via LinkedIn nothing in the way.
New employees via LinkedIn in 4 steps – the overview
We find qualified applicants and new employees LinkedIn in five steps:
List potential applicants based on criteria (current job title, industry, company, company size, years in the job etc. etc.). LinkedIn create.
Create a message sequence that qualifies potential applicants and defines the job requirements.
the potential applicants LinkedIn Submit a connection request with a qualifying accompanying message.
Make the requirements profile of the position clear to the people who accept your networking request – i.e. who are interested in the position.
When a person responds to LinkedIn Continue your application process as usual - by phone, video call or in an on-site interview.
The beauty of this process is that the Automate steps 3 and 4 let and The amount of time you spend – with appropriately good preparation in steps 1 and 2 – remains the same, regardless of whether you contact 5 or 500 potential applicants.
This gives you access to a much larger group of potential applicants than in many other recruitment models - and suddenly the shortage of skilled workers is only a problem for other companieswho still write to applicants individually or hope that a job advertisement will attract applications on its own.
"But is this way new employees via LinkedIn not too impersonal for the applicants or does not ensure that they are actually qualified for the position?"
We hear this question every day from our future customers – for them we get the following results:
158 responses to 1 job ad in 2 months - a case study
In fact, if the target group is selected and addressed correctly, it is exactly the opposite and the potential applicants addressed are happy about the reference to the job advertisement. In this case, a whopping 94,62% responded: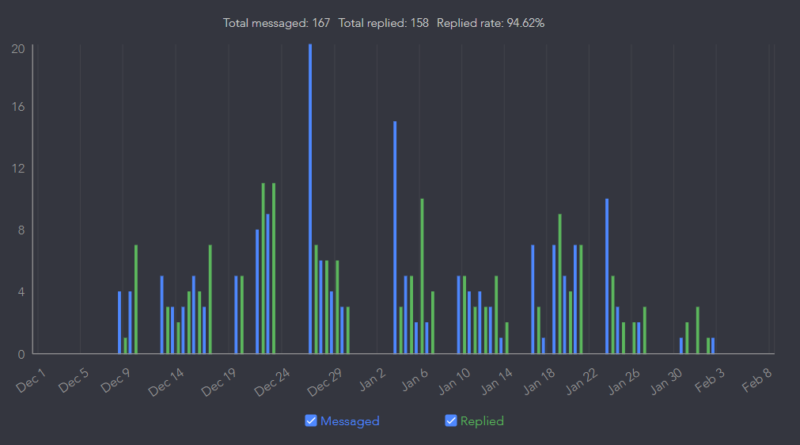 What's more: The 167 messages sent in this campaign were not sent to anyone, only to potential applicants on our meticulously filtered list (just mentioned as step 1 and explained in detail below) who have accepted our networking request and thus signaled that they are interested in the advertised position.
In this campaign, this active filtering (which isn't your job at all, it's done by the potential applicants themselves) saved us from speaking to 542 (755 minus 213) people who didn't seem interested in the position at all: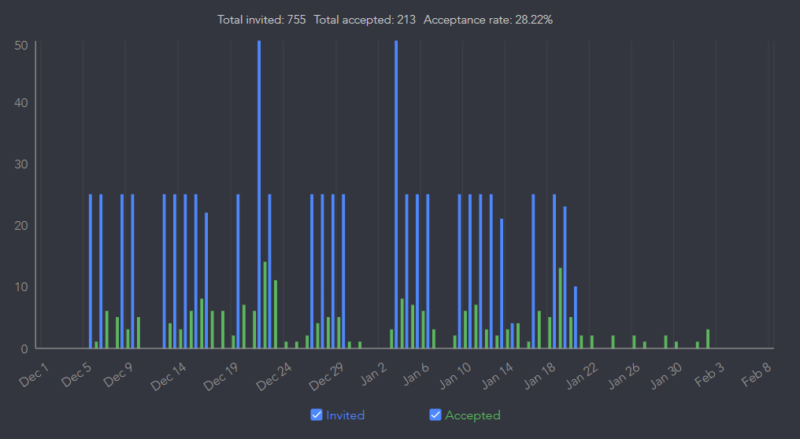 ---
---
A sample address in the campaign looked like this (personal data whitewashed)...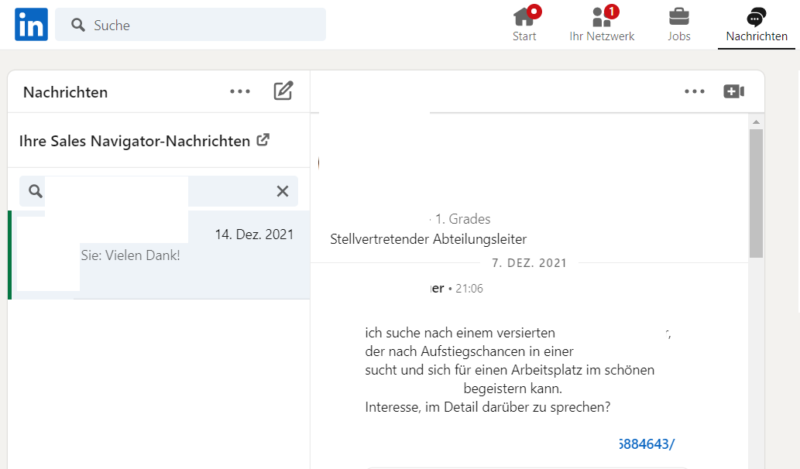 ... and the reaction to it like this (personal data whitened):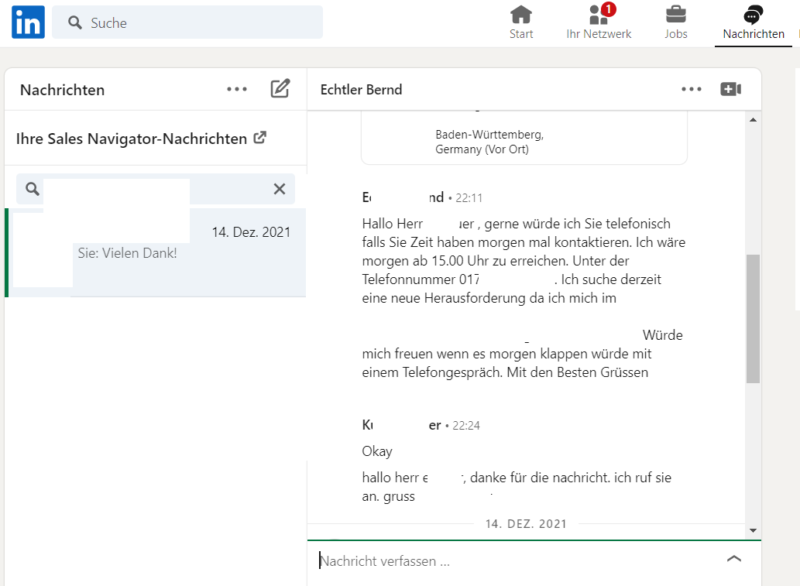 The data from this campaign therefore suggest that this type of recruiting via LinkedIn both large amounts of potential applicants in the shortlist can take, but at the same time filters so well in the first step that only the interested applicants come into conversation with you from the large pre-selection. shortage of skilled workers? Not up LinkedIn!
And yes, we were only talking about one campaign here - but we have dozens more in our database that confirm these conclusions!
But enough of the results; we show you, How to effectively hire employees yourself in five steps LinkedIn can find!
1. List of potential applicants LinkedIn create.
LinkedIn has a lot of information – both about its users and the companies those users belong to. Therefore you can filter when selecting potential applicants, according to such criteria as:
Location of the prospective applicant
Current company
University
Industry
Position / job title
staff in the company
Company type (legal form)
annual turnover of the company
years in the current company
years in the current position
Criteria 1 to 5 are free in the LinkedIn Search available by typing nothing in the search box and hitting enter, then clicking the chip that says "All Filters":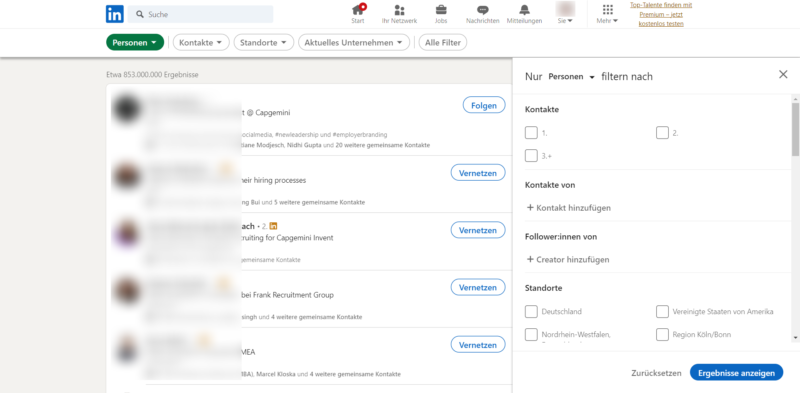 The criteria 6 to 10 are only in LinkedIn Sales Navigator available, an additional module of LinkedIn, its use in the "Core" variant costs about 70 euros per month (Free trial month available at start).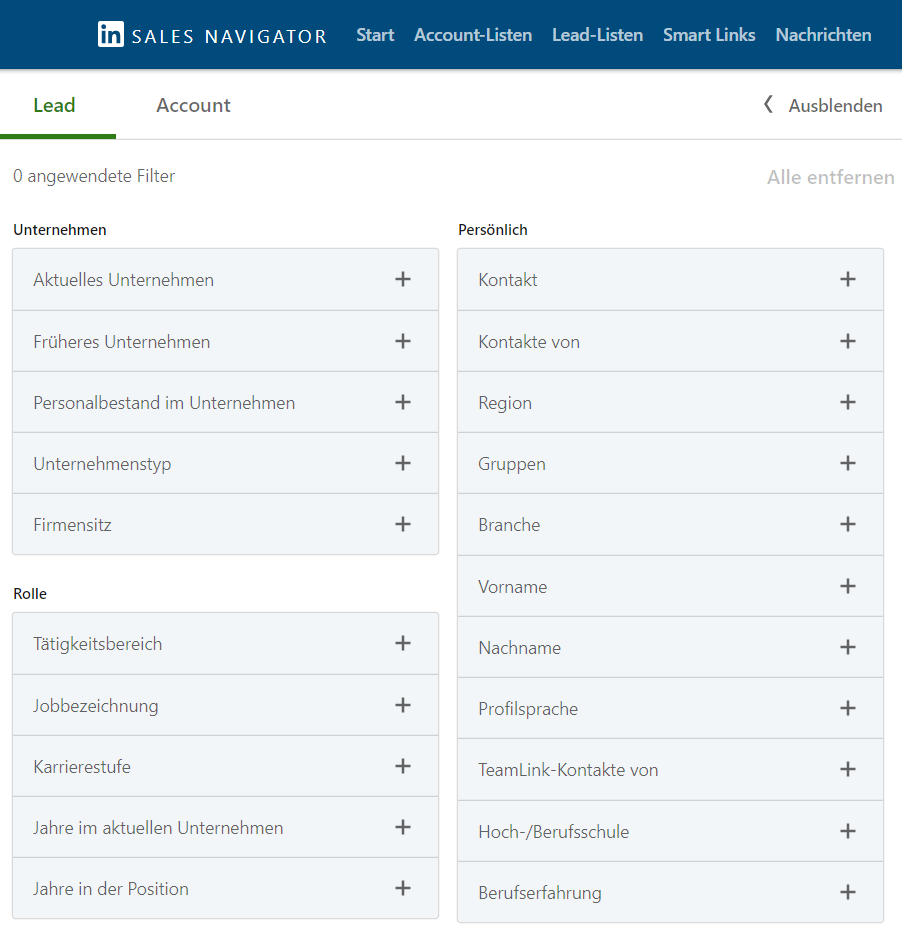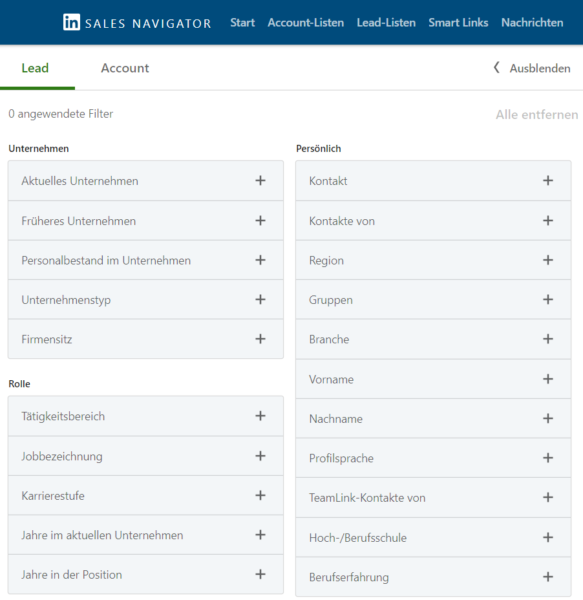 So that you can understand the following without accessing the Sales Navigator, let's stay with the filters of the standard search. Suppose we are looking for a Customer Support Specialist for a bank's call center, we set the following filters:
Contacts: 3+ (this means that we don't want to be networked with potential applicants yet)
Locations: Germany
Previous company: blank / no preference
Current Industry: Financial Services
Profile language German
Clicking "Show Results" with this configuration produces a list of 395 people, the first 5 of which look like this: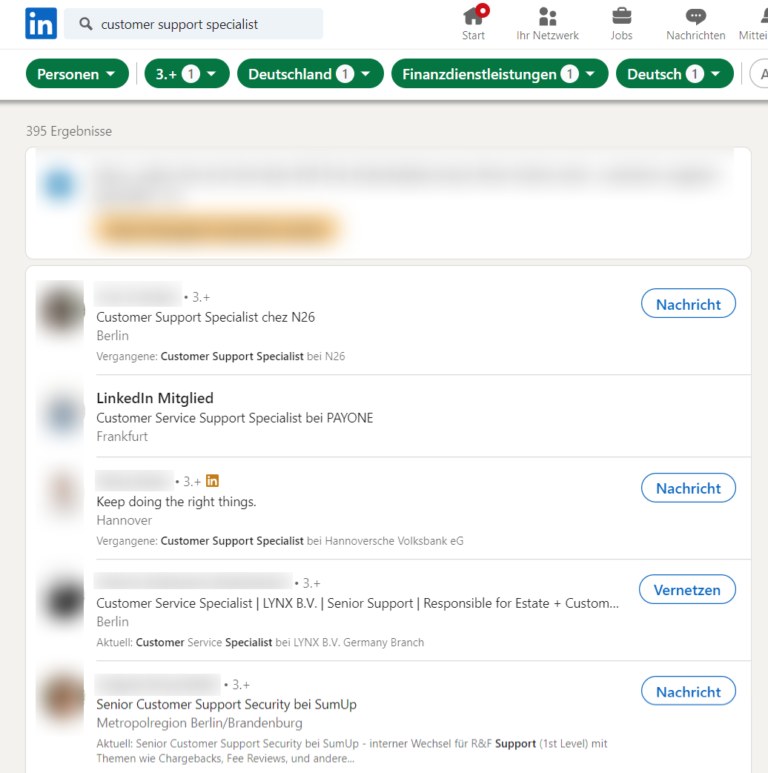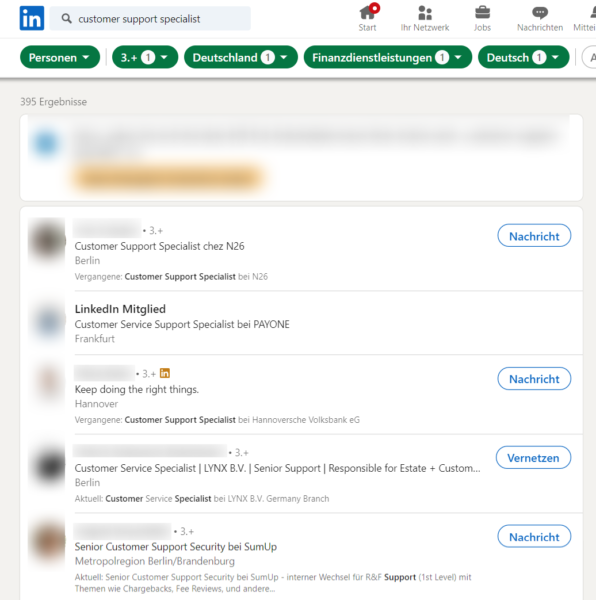 The screenshot shows:
Within a few clicks we found customer support staff from well-known financial service providers / banks such as N26 and SumUp.
The person at list position 2 is called "LinkedIn Member" is displayed, so it is too far away from the contacts in our network to be able to contact them yet.
The person at list position 3 is possibly no longer a Customer Support Specialist, but was in the past at the Hannoversche Volksbank. In the LinkedIn Sales Navigator would not show this person on our list because you can define there that the job title you are looking for should only appear in the current job and not in previous jobs. In the standard search we have to live with such "false positives".
Either way, the example hopefully shows that about LinkedIn potential applicants can be found quickly and easily using the available flood of informationthat correspond well to the general conditions of your job description.
We always recommend filtering in the Sales Navigator to cover more complex recruiting cases; Basically, the whole thing also works – as shown – in the standard search.
2. Create qualifying message sequence
But what if the 5 shown above LinkedIn-Users are considered as potential applicants, but some of the 395 are not?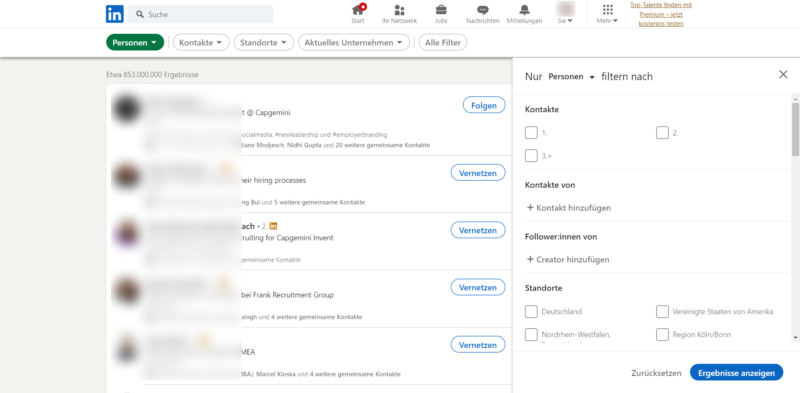 Or what if the potential applicants formally matched the job advertisement based on their job title and industry – but do not meet the content requirements? Or if they meet them, but are not at all interested in a new position?
These are valid concerns that we per LinkedIn can elegantly get rid of! (By the way, these concerns apply not only to this method of recruiting, but to any type of recruiting.)
We do this via a sequence of several messages whose:
Message 1 as Message accompanying the connection request to ensure that the potential applicant only accepts the latter if he or she is actively interested in the position
The rest of the messages – usually 2 to 3 sent a few days apart – serve to provide the potential applicant with more information about the substantive requirements of the position, so that there is only one conversation between him and you , if he or she also meets the requirement profile.
In the overview, a message sequence could then look like this: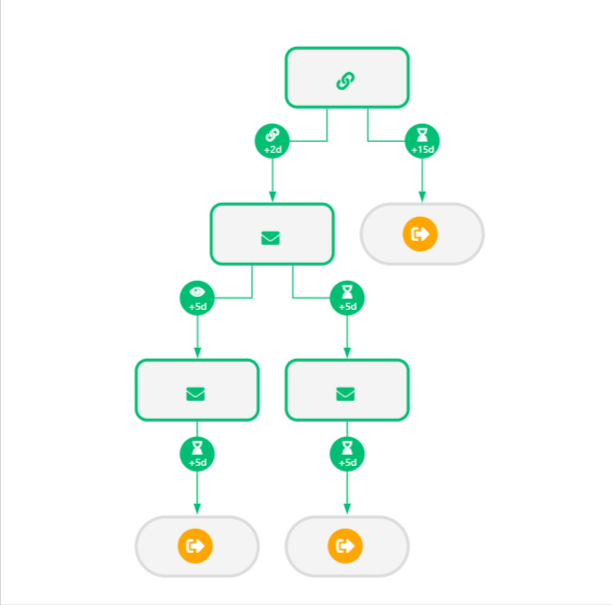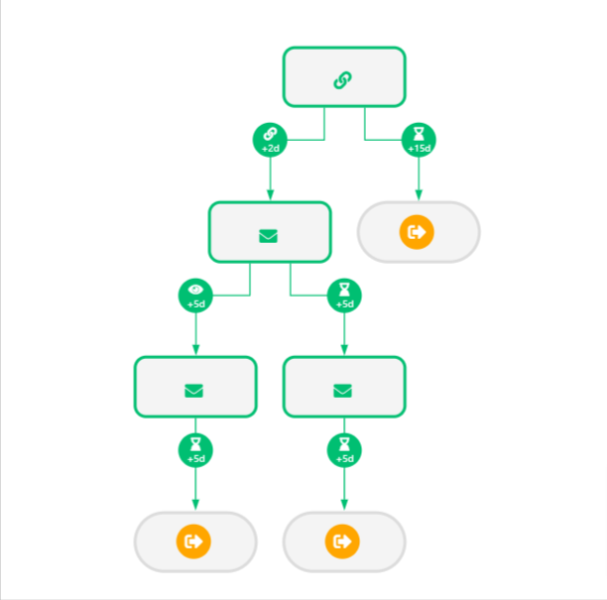 Linking request with accompanying message asking the contacted person to accept it if there is interest in the linked job posting
Since not everyone every day (or even every week if on vacation) LinkedIn uses, we monitor for 15 days whether the contacted person accepts the request or not. If not, we interpret that as "not interested".
If he/she accepts the request, we will send him/her another message 2 days later to clarify whether he/she is not only interested but also meets the content requirements. Exception: the person contacted already replies to our accompanying message for the networking request - then the message sequence stops and you continue with the further application process.
After delivery of message 2, we monitor for 5 days whether the person contacted reads it or not. We can respond to each of these cases with another message after 5 days.
If another 5 days go by without a reply, we will classify the contacted person as "Not Interested".
Depending on the job advertisement, this scenario can of course be expanded or compressed as desired. In recruiting campaigns, however, there is usually no need for complexityto achieve response rates in the region of the 94,62% shown above.
3. Send networking request with accompanying message to contact list
The networking request and the accompanying message appear in yours – if the potential applicant accepts them LinkedIn-message module on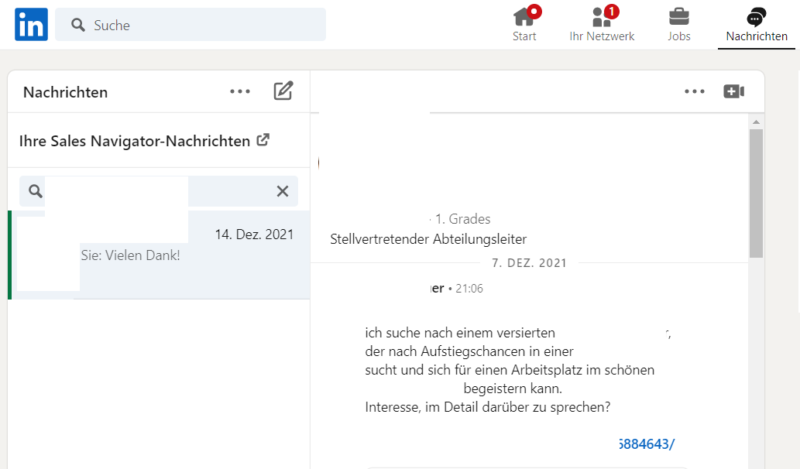 And not infrequently that is enough to evoke an answer: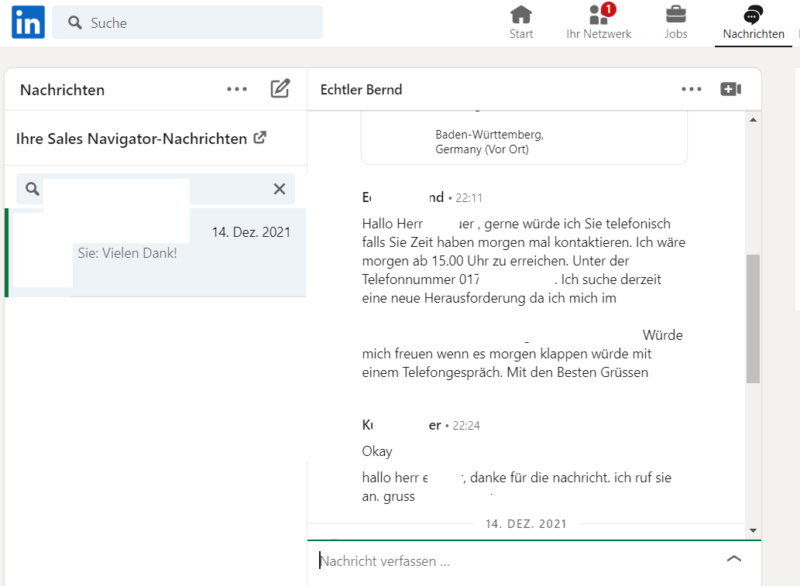 If you are automate the process of requests and message delivery you should make sure that you don't contact too many potential applicants per day. What "too many" is depends a bit on how active you are right now LinkedIn are - but it shouldn't be more than 80 to 100 potential applicants per day.
Another important point in automation is the right software. The market is now rich in so-called "LinkedIn automation software", however, in our tests, almost all of them have improved over time Vulnerabilities become visible. In the best case, these can become one temporary blocking and in the worst case Deactivation of an account on the part LinkedIn .
Feel free to contact us if you have any questions a secure and scalable recruitment solution LinkedIn to have.
4. Send more messages
From the data of our numerous campaigns and thousands of on LinkedIn sent messages we know: in a recruiting campaign, the message accompanying the connection request usually generates the most responses.
Nevertheless, not everyone who is actually interested reacts the first time - because sometimes a message simply falls under the table among many other smartphone and browser notifications.
So in order to reach the applicants who have shown interest in the job posting but have not responded to it directly, you should send more messages. In our campaigns, the trend is towards 2 more messages - after that we usually assume that there is no interest after all.
Like in this case:

5. Continue the application process and recruit employees
After a reply has been received LinkedIn gets its job done by it Added a prequalified applicant to your pool.
From here you can start your usual and further application process - by telephone, video call or on-site interview - and if you use the method presented here If you apply it to enough potential applicants, the probability that you will be able to fill the position with a new employee within a few weeks is very high.
staff up LinkedIn finding is just like with a digital headhunter really easy and very quickly effective. With the right strategy, the tool and a clean strategy LinkedIn marketing for employer branding and e-recruiting for more and better applicants in the long term.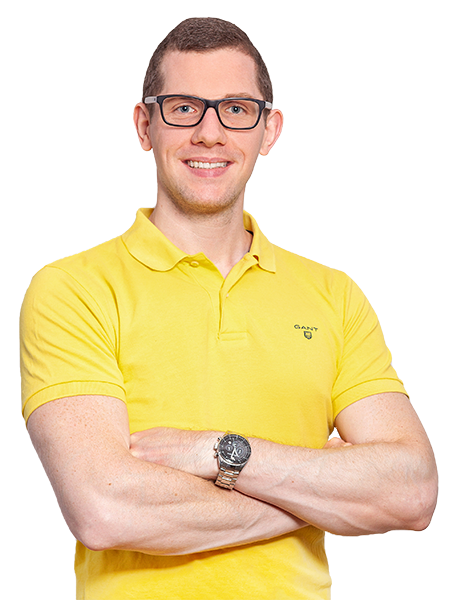 Florian Ibe
Owner
Want more applicants over LinkedIn? Get advice now:
Open contact form
Your contact person: Florian Ibe