Beautiful websites with great fonts from standard to handwriting to elaborate calligraphy are thanks to the Google fonts and the variety of lettering and fonts for websites has not been a problem for a long time. Using, embedding and installing Google fonts can be done in just a few minutes, and with a CMS like WordPress it is very, very fast. But within the framework of the GDPR & TTDSG, some "restrictions" have to be observed since 2022 and with new legal judgments such as the judgment of the LG Munich, Google Fonts should be integrated locally in compliance with the GDPR. Step-by-step instructions below.
This article is not legal advice and evaluation. A data protection officer or specialist lawyer must always be commissioned for this purpose.
Google Fonts DSGVO Checker – Integrate web fonts Google Fonts locally (data protection compliant) & check
The Google fonts are stored locally on the web hosting and are no longer loaded from Google servers. This means that there is no longer any IP transmission. Google web fonts / web fonts are therefore "harmless" if they are integrated locally. More on that below.
The connection to the Google server is not technically necessary!
Check website for Google Fonts – Check website for Google Fonts
Checking the website for Google Fonts is very easy and can be done by anyone. Online Google Font Checker as of safe3 help here (click here to go to the checker). You can also easily recognize the font used online.
Step-by-step instructions for checking Google Fonts fonts in the browser:
Open browser with private window and enter URL in search bar of website to be checked:

Open Developer Tools (Example Firefox: Tools > Browser Tools > Web Developer Tools):

Open "Network Analysis" in developer tools, disable cache and filter on "Fonts":

Then reload the page via "Reload symbol" or Ctrl + R (Mac: Cmd + R) and then check whether fonts.gstatic, googlefonts or similar appear after clicking on the "Host" column. shows up:

Should as in the example fonts.gstatic oä. appear where the URL address of the entered website does NOT appear, then action must be taken.
Incidentally, this also applies to fonts.com, fonts.adobe.com, TypeKit etc. -> Wherever fonts are loaded externally, there is a risk of warning.
IMPORTANT: Check not only the start page, but also some subpages, blog articles and, in the case of an online shop, also category and product pages!
---
Integrate Google Fonts into your website or web shop in compliance with data protection regulations
---
---
How can I integrate Google Fonts without loading them externally, i.e. from Google servers? Integrating fonts and Google Fonts locally is quite easy with WordPress. This works within a few minutes and works directly with about 80% of the websites and shops.
To do this, simply install the following plugin, activate it and then click under Settings > Optimize Google Fonts and click on "Save & Optimize".
Tip: Use the Pro version for even better recognition of fonts, even with special themes and various plugins.
Then reload the page and a list similar to the example shown here should appear: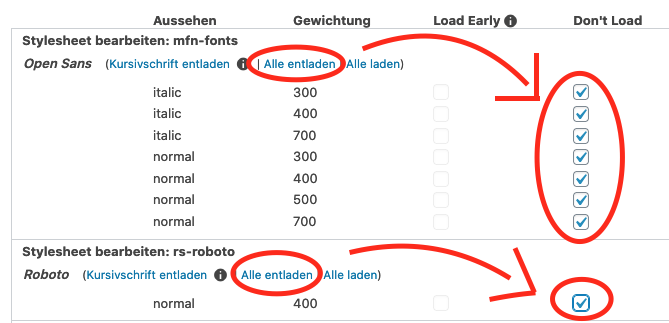 Then click on "unload all" and click on "Save & Optimize" at the bottom again.
VERY IMPORTANT: After that, make sure to clear the cache, e.g wprocket*, W3 Total Cache, Fastes Cache etc.
Then carry out the check again using the above instructions.
---
---
However, if Google fonts are loaded externally, empty your browser cache and if it still doesn't work, we can provide you with a WordPress agency gladly help to manually integrate the Google fonts locally from 160 euros: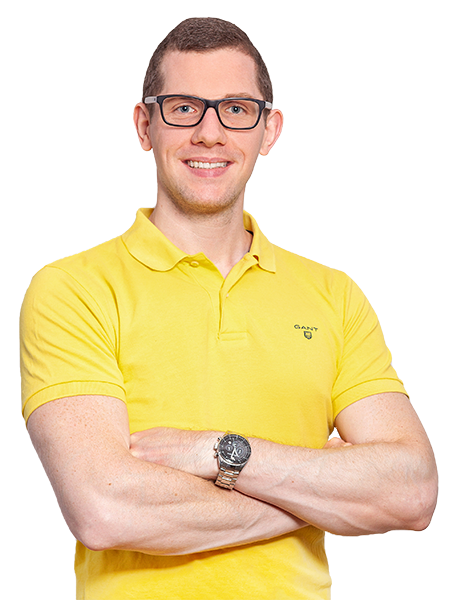 Florian Ibe
Owner
We should integrate Google fonts locally? Please inquire:
Open contact form
Your contact person: Florian Ibe Owner
Personal advice
Fast response
Non-binding offer
Fixed package prices
Using Google fonts is not bad and also not "punishable" but the local embedding and the right cookie notice are important so that you as a website operator can meet your information obligations with active consent for the site visitor.
Tip for the right WordPress GDPR TTDSG Cookie Banner:
WordPress GDPR Plugin (TTDSG) – data protection compliant with cookie solution
If you do not use WordPress, we recommend the following compliance cookie solution:
Compliance from a single source 🛡 External & internal data protection, cookie banners, terms and conditions with iubenda
Tip for legal texts with a corresponding update check and "warning protection" from the IT Law Office Munich (click here)*.
---
Other topics related to Google Fonts:
What font for website
google lettering
fonts google
fonts google
google fonts handwriting
recognize font online
recognize fonts