Create professional landing pages - responsive landing pages adapted to your design for effective online marketing, sales & leads
What is a landing page? A Create landing page is much more than a simple subpage in WordPress, Typo3, Joomla, Contao or any other Content Management System to publish.
A landing page or something sales pages in the online shop or Leadpages called by service providers or offer platforms, always serves only a goal: To obtain sales and customer data.
With the right strategy and a corresponding Conversion Optimization you can market your product, your service or your interest in personal data in a more targeted and effective way.
We would also be happy to develop a complete sales funnel with you as a lead magnet with tripwire etc.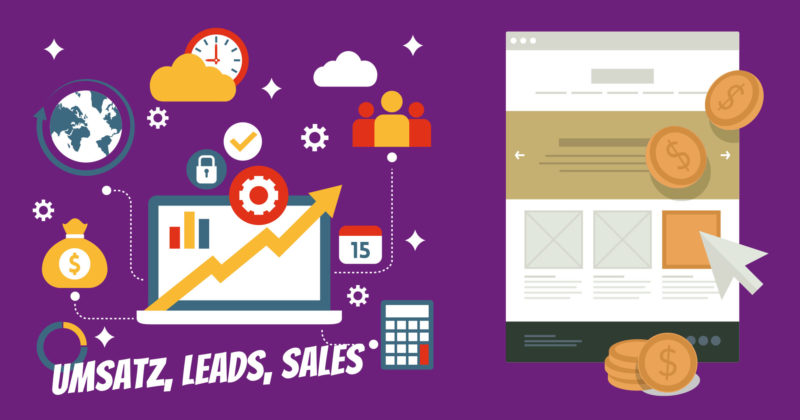 Have a landing page created for more sales, customers and sales
The visitor of a landing page usually comes not via normal navigation but via a specific search query by clicking on a search result, social networks, an ad (Google Adwords, facebook ads, instagram ads etc.) or via a link sent in a targeted manner. About suitable headings, text modules, design elements and so-called Call-to-Actions, trust items as well as confidence-building measures the user is now guided to the point of interaction. Examples of this are: buying a product/downloads or other key figures (KPIs), filling out a contact form, calling via a mobile device or subscribing to a newsletter.
This usually only works through a special strategy and alignment of content elements in conjunction with important elements designed for the topic = optimized offer on search query. A landing page must be very simple and purposeful! Landing page examples on t3n.
Our basic packages for effective landing pages, sales pages & lead pages
Shop/product landing page
✔ Individual concept for product group
✔ Drawing + explanation landing page structure
✔ Template for the structure of the form
✔ Advice on trust symbols
✔ Help with tracking embedding (pixel, GA)
✔ Help and tips for right plugin or visual editor
✔ Up to 15 minutes. Explanation by voice file or in a phone call
form modules or mailing service providers
Sales/Lead Page

✔ Individual concept for product group
✔ Drawing + explanation landing page structure
✔ Template for the structure of the form
✔ Advice on trust symbols
✔ Help with tracking embedding (pixel, GA)
✔ Help and tips for right plugin or visual editor
✔ Up to 15 minutes. Explanation by voice file or in a phone call
✔ Optimization for Digistore purchase completion or thank you page
✔ Advice on A/B testing
form modules or mailing service providers
landing page concept
✔ Depending on the industry, product group, service, we offer individual advice with a live webinar for the creation of individual landing pages.
✔ The right strategy
✔ Maximum conversions
✔ Flexible adaptability to other products or services
✔ Transparent structure and joint development
✔ Background explanation
✔ Tracking help
✔ Explanation of the evaluation
✔ Ideas for A/B testing
✔ Further personal advice after going online for up to 30 minutes.
form modules or mailing service providers
Please note that the entire implementation is offered separately.
Just ask us. We would be happy to advise you individually tailored to your industry and topic.
As an online marketing agency, we offer:
Landing page builder / generators (CMS unbound)
Webdesign for leadpages for customer generation
(also suitable for e.g. crafts)
Webinar pages with sales funnel
Advice, integration and explanation for Klicktipp, CleverReach, Mailchimp, GetResponse, Rapidmail, newsletter2go and much more.
Creation of templates and moods
individual forms & productions
Step-by-Step Forms (with Validation)
Strategic advice & conception
Optimization of existing pages
A/B testing, heat maps etc.
Tracking embedding + evaluation
Take a look now and get the best price:
Benefits of a landing page:
higher click rates & more conversion / interactions
increased perception of services and products
lower click prices due to a higher quality factor for PPC advertising such as Google AdWords
faster ROI – return on investment
no confusion of normal visitors
simple strategy alignment
quick analysis and easy adjustments
Note: Please don't be fooled by cheap or free offers, online providers and landing page builders (Wikipedia definition) and simple tutorials. A landing page has to fit the target group in terms of content and every target group is different.
Without professional advice, you usually only achieve a fraction of the performance you want!
Create a professional landing page for more leads, customers, sales and turnover now: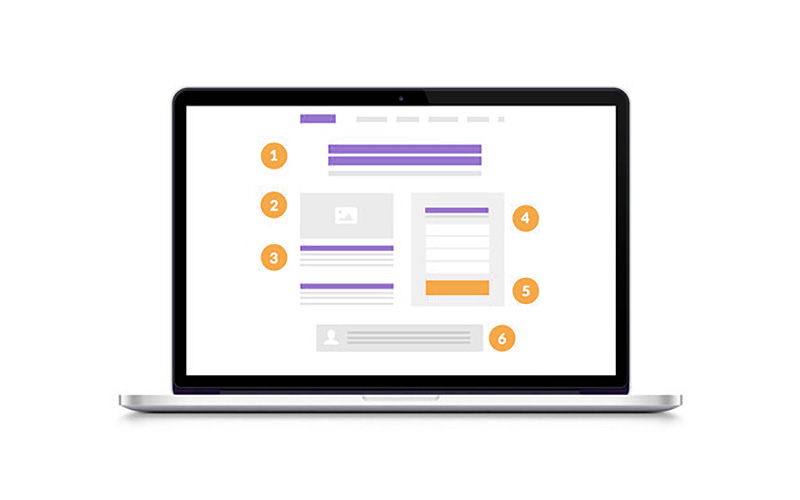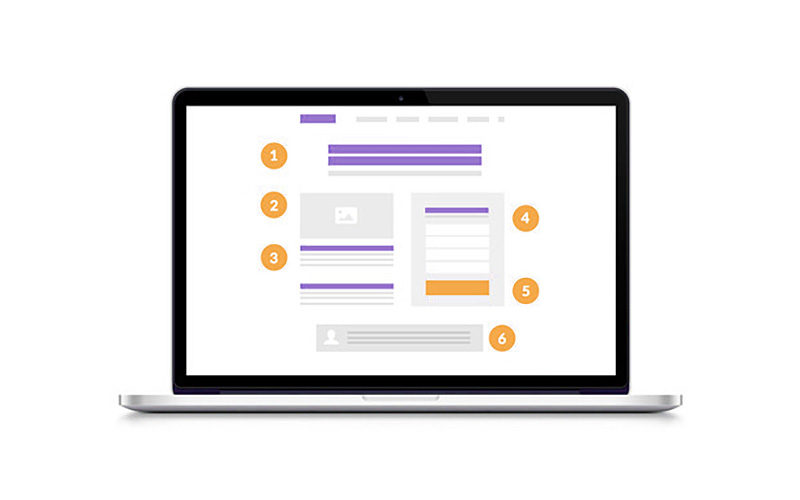 Building a perfect landing page
First of all, it must be said that there is no single solution for all sectors, topics and areas. What is important, however, are the right elements and the distribution, adapted to the target group. All of the elements mentioned here should inevitably appear.
Good landing pages usually consist of a set of definable elements and a specific structure. The structure and length of the page depends on your product or service offering. Principle: Better more than too little!
Heading
picture or video
Services, facts, listing, USPs
Contact information and contact options using the form
Call to Action / Call to Action
Trust Indicators / Testimonials / Seals
Would you like to build a perfect landing page for more sales and leads? Our top 10 tips for best landing pages:
Register now and receive information + guidelines:
Would you rather optimize your landing page or have it created by a professional?
Now scroll further down...
1. A clear headline and headline

The headline and headline is the first thing the visitor will see and read. So make sure that it is clear what is at stake here and now. Make sure your headline clearly describes what the visitor can expect and get from that page. Also, make sure the headline aligns with the message or promise in a run ad/advertisement.
2. Image or video
The image or video should support the headline when it comes to what is important here and what should be conveyed. It can be a photo, illustration or video that fits your offer. Whenever possible, it is always beneficial to show your product or service in action/action. Tip: Do not take a stock photo and, if possible, depict people.
3. description
Have you ever considered the difference between product features and benefits? And that the difference can have big implications? Features, lists, USPs describe the specifications and are particularly important. Make sure the benefits of the product or service are clear. What benefit does your product or service bring to the user?
4. Contact
A conversion takes place when the visitor submits the form, clicks on the phone number or email address. Keep your form as short as possible and keep the number of fields to a minimum. As a rule of thumb, increasing the number of fields beyond 5 will massively affect your conversion rate. Ask yourself: What do I really need to know at this point? Only ask for what you really need. Tip: If you have fields that you want to make optional, remove them instead!
5. Call to Action
Would you like more leads, sales and contacts? Ask for it! You rarely get anything unless you ask for it, and a good call-to-action (CTA) can increase your conversion rate and is absolutely necessary. Your CTA pretty much sets the whole purpose of the page. The CTA is typically either a button on a click-through page or the button on a lead generation form. Make sure your CTA like "Create a free account" is descriptive. Under no circumstances should you use the word "send" or "send". Your CTA should describe what happens after you click the button. Tip: Use the power of the word "now" in your button and headlines.
6. Confidence Indicators
Trust indicators are very powerful elements that make the visitor trust you and your product or service. It is proof that someone other than you likes and approves of what you are offering. Ask some of your happy customers to recommend your product and then use them as customer testimonials on your website. This can be very effective and even help new visitors make the final decision to heed your call to action. Customer logos, media quotes, and payment option logos work the same way.
---
For more tips and information on creating and optimizing landing pages and lead pages - enter here now: