LinkedIn marketing for companies for lead generation with a professional company profile / company profile and the right advertising & LinkedIn automation
LinkedIn has developed into an important marketing platform, especially for companies - also in German-speaking countries. If we from Social media for companies speak in matters Get marketing, lead generation and more lead requests, the blue B2B network has long overtaken Xing. Especially when it comes to industry or international business, LinkedIn is the pioneer and offers significantly more reach or opportunities for that Automate Marketing (LinkedIn Automation / Automation) and optional target group-specific ads (LinkedIn Ads) to switch.
LinkedIn for business in Germany and the DACH region (Austria, Switzerland). We explain LinkedIn to you in German and show you how to use it correctly and how you can get more leads and contacts and sell your service or products.
The LinkedIn company profile costs 0 euros, that's right, free of charge. You only pay for professional LinkedIn marketing divided into Sales Navigator costs of 49 per month + our service costs (see packages).
LinkedIn Business can be compared to Xing, but offers a similar number of marketing options as the comprehensive Facebook advertising network (Business Manager) only exclusively for B2B contacts.
We take care of finding and reaching the perfect prospects from your appropriate target group. You then accept the answer to the contact request. To put it simply: We put the customers in front of your door, you only have to open it and start the (sales) conversation.
You often end up with a gatekeeper (secretary or sales manager) via email or telephone, who is often not that easy to overcome. And if they do, he/she sends the decision-maker a message that probably doesn't put your product or service in the right light. With our LinkedIn strategy we contact the decision-makers relevant to you directly and hand them over to you as soon as they show interest in your product. Without detours and without delay!
With our LinkedIn marketing for B2B you get:
Automated acquisition of new customers (LinkedIn customer acquisition)
High quality leads through online marketing and LinkedIn
Exponential and scalable sales growth with direct contacts
Exactly and easily measurable thanks to the tracking system
Fully automated customer care & customer support

Your advantages with us as a LinkedIn agency with marketing consulting:
Permanent contacts and experts
Effective marketing measures for practices
State-of-the-art technology & high data protection (GDPR)
Transparent way of working & ticket system
Very high quality standards
Package prices and reliable processing
You don't pay a LinkedIn agency, you invest in your own sales.
Prerequisite and first to-dos:
Register with LinkedIn and create a profile
LinkedIn Company Profile / Add Company Profile
Sales Navigator book and connect
Book us as a LinkedIn agency for professional targeting
We are happy to take over the entire setup, linking and implementation for you - see also packages and other services below.
First tips for success on LinkedIn:
Design your vita professionally and maintain the basic profile of the company
Publish relevant content, post your own posts + active group participation
Follow people and businesses
Encourage employees to connect to the company's LinkedIn page
Learn from LinkedIn Analytics
Integrate and use LinkedIn ads
Search, track, and reach 10.000+ contacts in LinkedIn Sales Navigator
LinkedIn will completely replace Xing in the short term and will be used more and more importantly in the areas of sales, reach, positioning, personnel and employer branding.
Our LinkedIn marketing packages for transparent costs and maximum success
Starter
749
monthly, plus Sales Navigator + automation software - at least 3 months term
✔ Up to 50 networking requests per day
Depending on the industry and campaign, the acceptance rate is between 20% and 40%, which means an increase in the network by 300 to 600 contacts per month
✔ 3 messages / direct speeches
We compose 3 messages for direct contact based on our experience from dozens of campaigns - the response rate is between 5% and 10% depending on the industry and campaign, which means 75 to 150 replies per month from relevant decision-makers from your target group
✔ Simple reporting with all relevant KPIs
Number of networking requests, new contacts & answers
Business

999
monthly, plus Sales Navigator + automation software - at least 3 months term
✔ Up to 75 networking requests per day
Depending on the industry and campaign, the acceptance rate is between 20% and 40%, which means an increase in the network by 450 to 900 contacts per month
✔ 4 messages / direct speeches
We compose 4 messages for direct contact based on our experience from dozens of campaigns - the response rate is between 5% and 10% depending on the industry and campaign, which means 112 to 225 replies per month from relevant decision-makers from your target group
✔ Regular reporting
Simple reporting with all relevant KPIs (number of networking requests, new contacts & responses)
Enterprise
1799
monthly, plus Sales Navigator + automation software - at least 3 months term
✔ Up to 100 networking requests per day
Depending on the industry and campaign, the acceptance rate is between 20% and 40%, which means an increase in the network by 600 to 1200 contacts per month
✔ 5 messages / direct speeches
We compose 5 messages for direct contact based on our experience from dozens of campaigns - the response rate is between 5% and 10% depending on the industry and campaign, which means 150 to 300 replies per month from relevant decision-makers from your target group
✔ Regular reporting
Detailed reporting with all relevant KPIs (number of networking requests, new contacts & responses) and conversion tracking on landing pages
✔ Email, phone number and Twitter account export
Export of the email addresses and telephone numbers of the contacted persons stored on LinkedIn so that you can address them on several channels
Other LinkedIn services from our LinkedIn agency for your profile or your company/company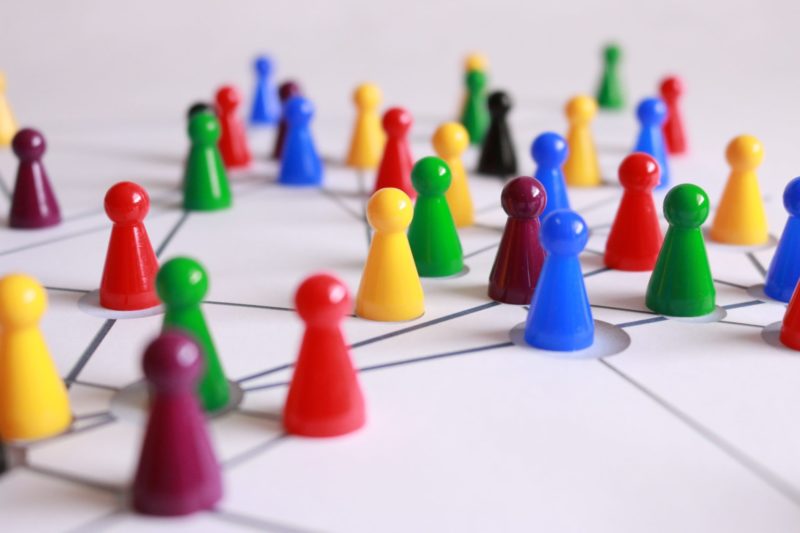 Create / optimize / edit and maintain a professional LinkedIn profile
At the beginning there is a personal user profile, i.e. the account with which you work. This can be linked to a company profile, but does not have to be. We create this for you, optimize it for better findability and edit + maintain it on request.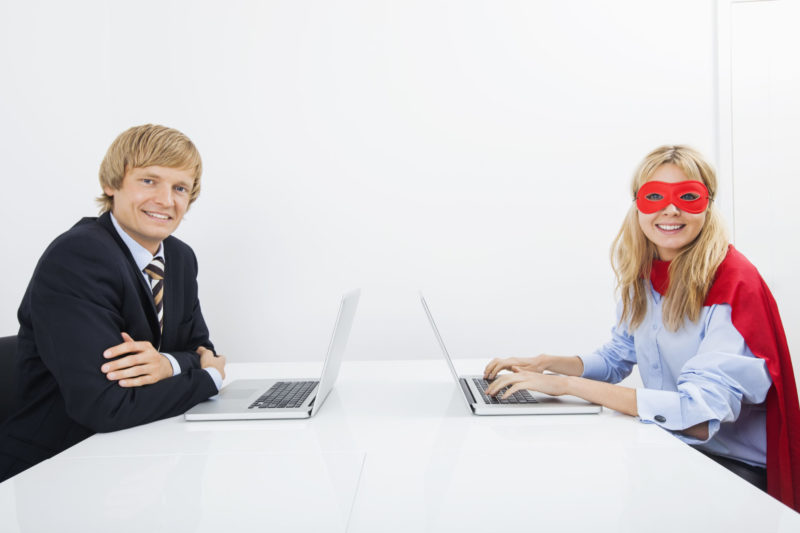 LinkedIn Recruiting (find employees)

There are professional LinkedIn recruiters that cost quite a bit of money. Many therefore try to place job advertisements on the LinkedIn job market. However, this is also not as effective and usually costs more time/money than it brings. With our lead generation strategy, we also offer the opportunity to acquire and inspire potential new employees like a headhunter.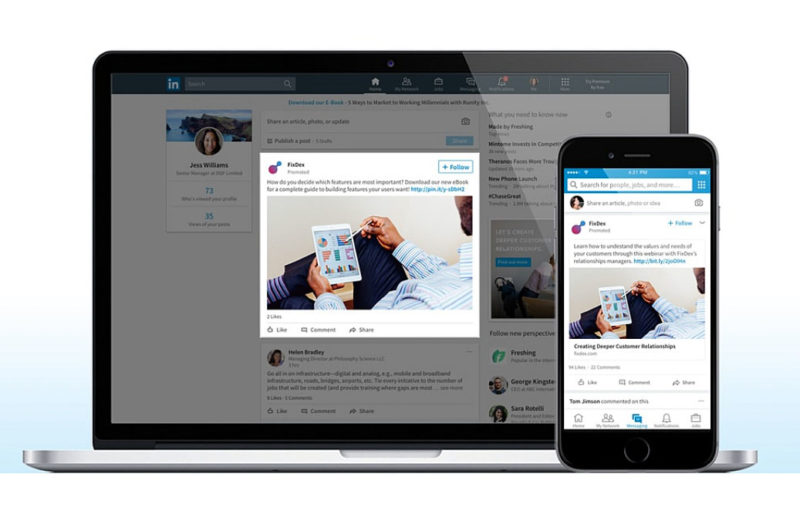 Place LinkedIn ads
Placing ads on the international business network is anything but cheap, but very promising with a four-digit budget, since the target group is very precise, exclusive and sometimes 98% suitable. However, click prices of 4-8 euros are not uncommon and should be included in the calculation. Generating new customers is absolutely possible!
Create a LinkedIn Company Page (Company Profile)
Creating a personal profile for yourself is very easy, creating a LinkedIn page as a company page and as a company account to list your company on LinkedIn is not much more difficult, but doing it correctly is not that easy. We create and link company websites, enter the appropriate categories, optimize the texts for internal searches and design individual graphics.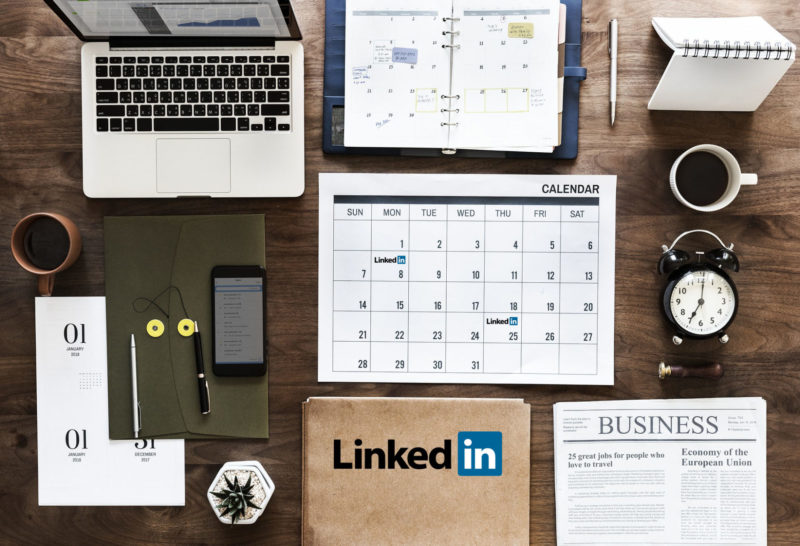 Create a LinkedIn event
It is very difficult to publicly market seminars, training courses and events in the B2B sector. Social networks like Facebook and Instagram like to mix private with business and you have high wastage. On LinkedIn you only advertise your event in the right target group and only show it to the right people. This ensures more bookings from the right people.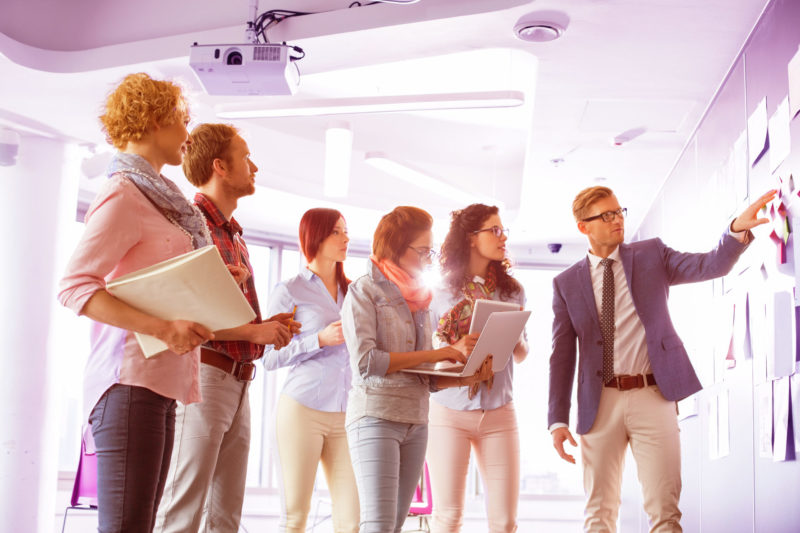 LinkedIn Training, Coaching & Workshops
You just want to know more? Raise awareness and train your team internally? Then our training courses in the form of coaching and workshops are ideal. We offer individual in-house seminars for groups of 3 or more with content tailored to your needs and active optimization of existing profiles. You benefit from our knowledge and know-how and can actively apply and sell it.
Our B2B LinkedIn experience as an agency and marketing service provider for our customers:
Step 1:: Create a list of decision-makers in companies that match your ideal customer profile.
Step 2:: Send up to 100 requests daily to connect with these decision makers. These requests are sent directly from your profile so that the recipient draws their attention not only to you personally but also to your company. Your profile views will skyrocket from day one: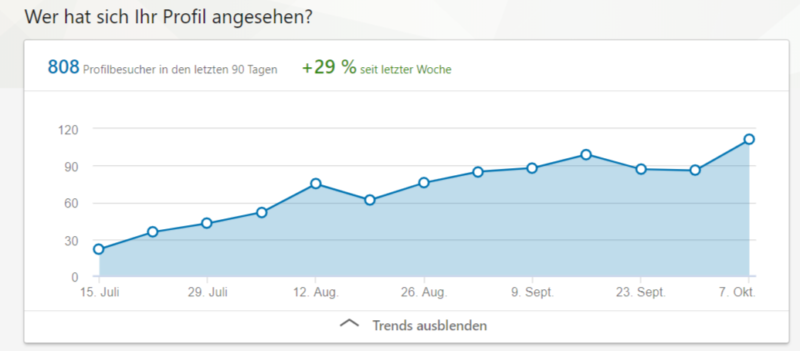 In addition, numerous decision-makers will join your network every day. On average we see an acceptance rate of 25%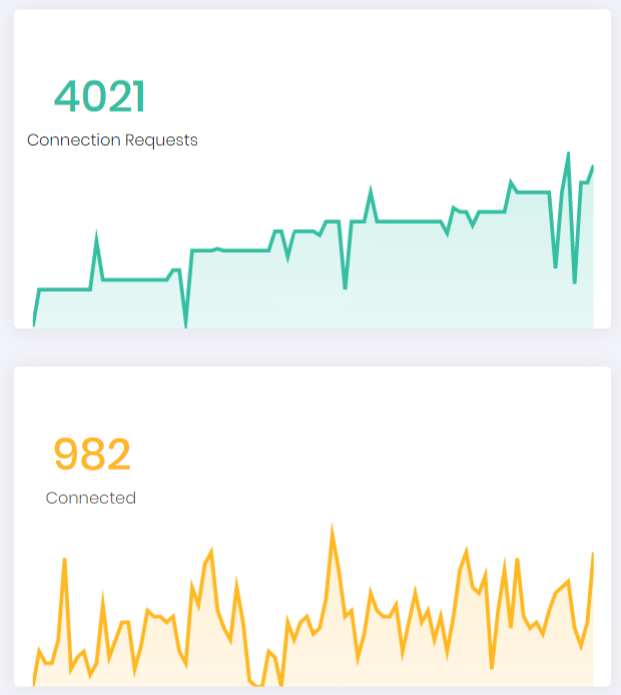 Step 3:: We start a meaningful conversation with the decision-maker – just like at a local networking event. It's explicitly not about selling something right away, because that's not how LinkedIn works either. And this approach, in turn, works so well that we actually strike up a conversation with an average of 26% of all new contacts.
Of course, after the small talk, we also ask if you are interested in your product or service. Or the decision-maker asks you directly: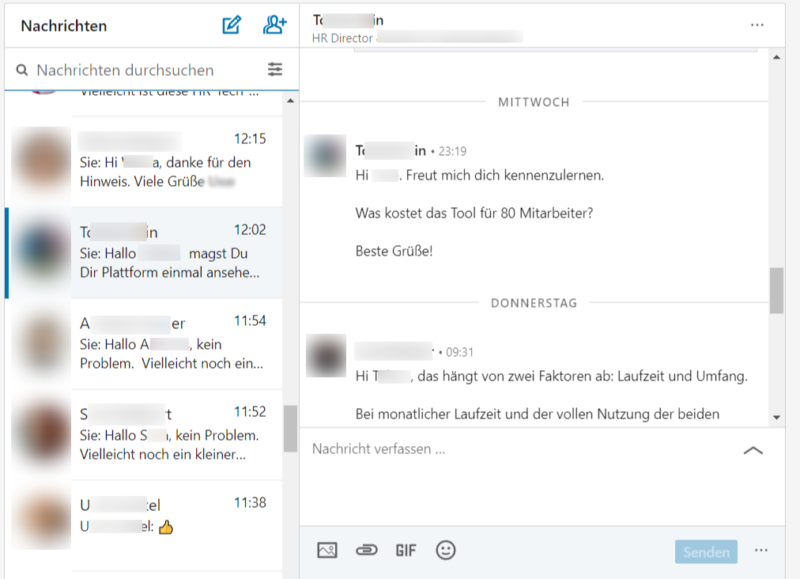 Step 4:: At this point - i.e. when the decision-maker answers - you will receive a notification from us, log into your LinkedIn profile and start your sales process with the decision-maker.
Would you like to get started with us on LinkedIn? Write us:
LinkedIn automation with Auto Connect & Messaging to more leads
Find audiences on LinkedIn and send personalized bulk invitations at a 1:1 ratio.
LinkedIn Automated Messaging
Send automated and personalized messages to contacts in your saved searches on LinkedIn.
Automate LinkedIn follow-ups
Send humanized yet automated LinkedIn follow-ups. Thank you and greet the connections. Schedule up to 5 automatic follow-ups if there is no reply.
Don't just invite, let yourself be invited
Automate LinkedIn profile visits and skill endorsements. Motivate people to come back to your profile.
Advanced user interface for messaging and reply management
Tag and sort messages as Leads, Follow-up, Unread, and Archived. Save notes and tags like in a CRM.
Safe and compliant
The safest of all LinkedIn tools. Built-in security limits. Complies with most data protection laws.
Powerful campaign manager of our LinkedIn marketing agency
The best of all LinkedIn tools with no advertising costs!
Set up and run multiple campaigns based on unique audience profiles.
Automate your lead generation with us with personalized, multiple follow-ups.
1 Make new connections
Expand your network. Select thousands of prospects. Write an introductory message or use templates. Insert personalization. Add timed follow-up messages if you don't get a reply. Start and watch your connections grow.
2 Discover new possibilities
Start new conversations with your 1st degree network. Segment your connections based on your criteria. Integrate, personalize and set up sequences. Sit back and see new possibilities every day.
3 support skills
Automatically support up to 3 top skills of your connections. Recognize and get recognition. Great way to boost your profile.
4 Automatic visit profiles
Profile views are very important. Getting more profile views can help you find the right opportunity. Attract people to visit your profile by automatically bringing up thousands of relevant profiles.
5 Automatically follow people
Follow people who interest you to personalize your feed. With We-Connect you can automatically follow people. Chances are they will follow you back. Increase your followers and reach a larger audience.
6 Results that will inspire.
Powerful analytics, dashboards, and timelines motivate you to keep engaging. Monitor your new connections, focus on new opportunities, and have important conversations through the email and chat interface.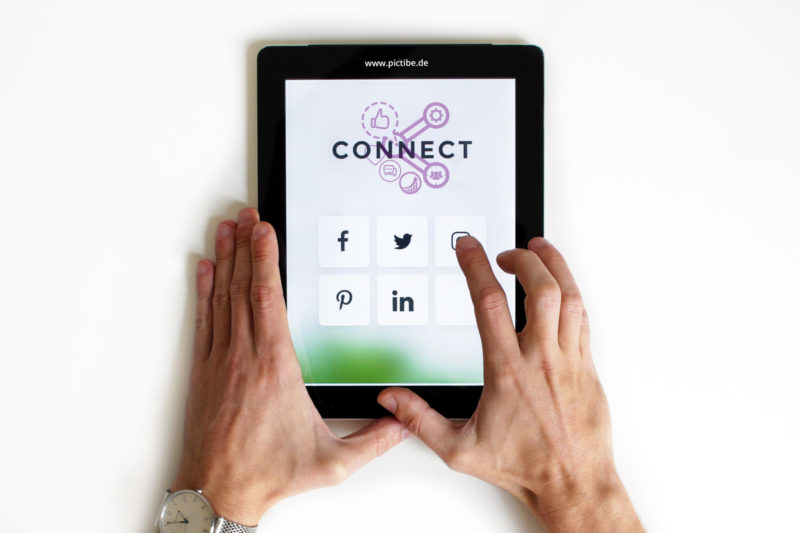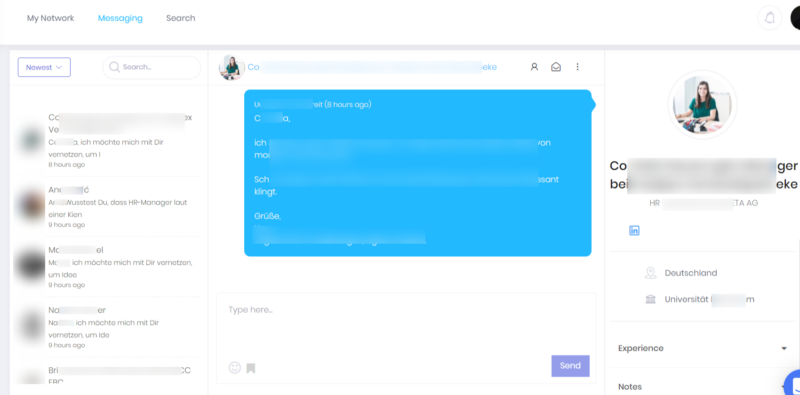 Smart inbox and chat
Allows viewing of all messages in one place. Mark as important, Mark as unread, Reply as in your email. The sidebar chat window shows the full history of conversations for easy messaging.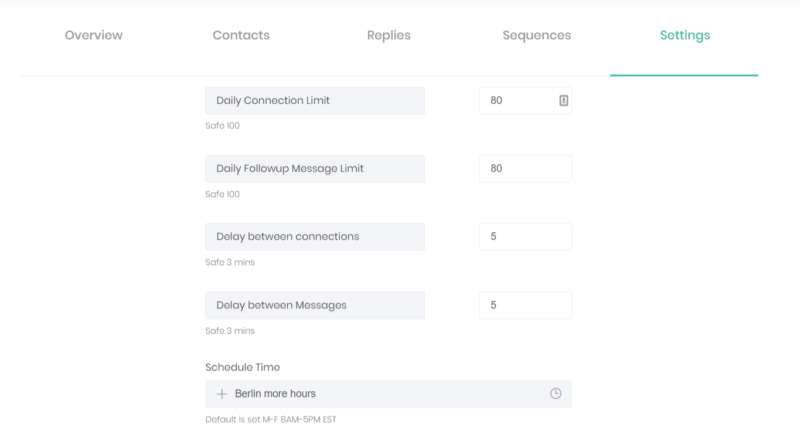 Network responsibly
Set up daily connection limits, daily monitoring limits, delay time between connections and delay time between messages. It is extremely important to comply with Linkedin usage restrictions.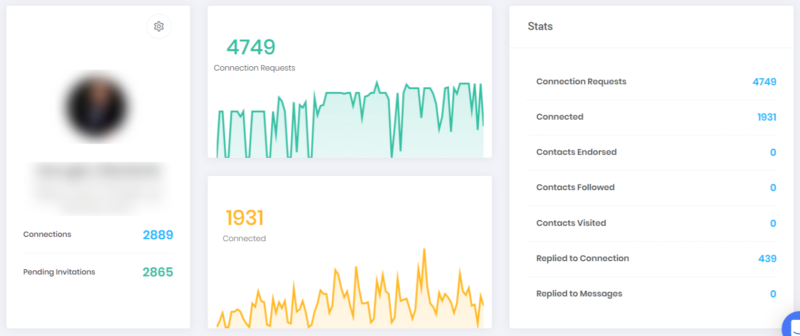 Real-time reporting & analysis
Monitor your progress. Get a bird's-eye view of how many connection requests you've sent, how many have been accepted, how many are pending, how many replies you've sent, etc. And you can sort everything by selected time intervals.
Questions & answers about LinkedIn and us as a LinkedIn agency

You ask yourself: what is LinkedIn and how does LinkedIn actually work?
With more than 575 million users, LinkedIn is the largest social network for business contacts in the world. And LinkedIn's big advantage over Facebook and other social media is that people want to connect and do business there. That's why we can make up to 25 new contacts per day in almost every business area.
Often asked, but mostly irrelevant: LinkedIn or Xing / Xing or LinkedIn
This comparison still works in Germany – in other countries, LinkedIn has long been the undisputed number 1 when it comes to B2B networks. And that is also the reason why, in our opinion, LinkedIn is also one step ahead in Germany and especially for German companies. Because as soon as you want to generate new customers abroad - or also want to address companies that are not exclusively based in Germany - then LinkedIn will bring you better interest in the long term than Xing.
Satisfied customers of our LinkedIn agency are the best reference for a trusting cooperation.
Our website has become great. The response is still positive after more than a year. From the advice on the implementation to the ongoing maintenance with great photos and an image film, we are very satisfied and can only recommend the services of Mr. Ibe. Above all, his uncomplicated nature makes working together very pleasant and appointments are binding and are not postponed.

We are very satisfied with the execution by pictibe, represented by Mr. Ibe. His initially reserved appearance with us gave no indication of his strengths. Pictibe responded very strongly to my ideas. Several good suggestions in terms of layout and content design were made and the right layout was quickly decided. Always challenging but never tiresome, for texts and image composition. Very fast, committed and on top terms!

An optimal course to understand what is crucial, from the first to the last click. In many freely available tutorials or even paid ones (Udemy), you usually learn what you already know... The generally applicable instructions, which, however, will be out of date again next week, or so specific that they won't work for your own applications. This course is about concrete hints and tips & tricks that you can only find out in a fully professional agency!! What everyone is looking for on the Internet is here, chronologically, simply explained and 100% application-related, live on the screen!! The simple explanations and the good structure of the course give you a detailed overview of relevant topics from the start. As a complete beginner, the subject of FTP and folder structure or HTML/CSS basics may be relevant. a bit complicated, but not nearly as demanding as most YouTube tutorials... A recommended course for anyone interested in good web design.

Super fast service and very competent creative, technical and conceptual advice! Thank you for the cooperative partnership. We definitely recommend pictibe!

The company pictibe gave me the best advice as a founder and created an overall concept for a fair price to start with. In addition to a logo design, business cards, stationery and envelopes + stamps, an attractive website was programmed. The personal contact is still very pleasant and always open to suggestions. Value for money is very good. Numerous people have already found me via Google, where some orders have also been generated.

After 2 years in which we did everything on our own, Mr. Ibe relaunched our shop and achieved better results within a short time. The support went well beyond normal levels. In addition to the great web shop definition and design, he also created great flyers, photos and videos at short notice. He also laid the important foundations for a marketing concept for the newsletter. Since Mr. Ibe is always available at short notice to clarify open points and also breaks new ground with his great ideas, we were able to expand our website after just 3 months.

Thanks for the top consulting over the last 6 months. And thank you for drowning because of the many leads. 🙂 All-round carefree package with a competent contact person.

The Pictibe company has updated the homepage of TuS Untereschbach-Steinenbrück 1910 e. V. redesigned. After a short briefing, we were and are able to take over the ongoing maintenance of the website ourselves and at a convincing price-performance ratio. We are very satisfied with the work of the Pictibe company, as our wishes and specifications were implemented reliably and quickly, not only on our website but also on our new flyers. We are happy to recommend Pictibe to others.

All-round carefree package with a competent contact person. Absolutely recommendable when it comes to any projects related to WordPress and WooCommerce.

Very good service! Technically absolutely top - gives very understandable & comprehensible explanations - friendly and an absolute expert in what he does! I can only thank you very much and recommend Mr. Ibe and his agency with a clear conscience!

Mr. Ibe has been taking care of our marketing for more than a year now and we are very satisfied. The new website went online in a short time and the updating and optimization is noticeable. The numerous ideas and possibilities that Mr. Ibe explains to us in an understandable way are particularly nice. Legal aspects are also always taken into account and usually implemented before the official announcement. The advice and support is therefore excellent. Communication is easy and most cases are dealt with on the same day. That's fun. Many Thanks.

This was also a very interesting and worthwhile workshop for us. Thanks for that! I particularly liked the way you presented yourself as a team with different approaches. From programming to marketing strategy to specific content, you appear very competent.

Great service and very fast contact - Mr. Ibe accompanied us very well with the introduction of a WooCommerce checkout system. He supported us quickly and easily in all adversities. He has also shown himself to be a competent contact for everything to do with our homepage, who was available in many areas with tips, tricks and technical support.

100% recommendation. I am always amazed at how much you can achieve with online marketing. Every cent you invest can be recovered with a little cleverness.

A lot of commitment, very flexible and brings good ideas of your own! I really enjoy working with pictibe.

Florian Ibe and pictibe is just as professional as it is friendly - and explains with the patience of an angel for the umpteenth time when an IT dyslexic like me doesn't understand anything... absolute recommendation!!

THE specialists for WordPress and WooCommerce! If you are looking for a competent WordPress agency, want to optimize your online shop with the help of experts, want to increase your conversion rate or are simply looking for an increase in sales, more customers and more sales, pictibe is the right place for you. Clear recommendation!

As a small start-up, I received good advice here on how to plan my next steps in terms of media technology.

pictibe has been looking after us since 2013 and we are more than satisfied. Great and fresh ideas, some changes and new approaches have helped us to become better known and a very good volume of orders since the start phase. The costs are always reasonable and it is definitely worth it for us. Communication is very convenient and the response is quick and uncomplicated. The new website with booking form is very well received and is used frequently. We and our customers thank you for this great implementation and look forward to continuing our good cooperation.

As a hotel and restaurant, we depend on our external image. Florian Ibe supported and advised us right from the start and optimized and produced numerous printed matter at fair prices. We especially liked the idea of ​​the films. That really did something. The website with its own booking system has made our work particularly easy. pictibe's work is really good and we are very satisfied. The response from great films and photos is very good.

In 2011, pictibe launched the homepage of the parent initiative "Die Maulwürfe e. V." was created and the requirements of the association implemented. The greatest challenge was to create a serious but still adequate website for a daycare center. Mr. Ibe solved this very well with the layout and the image elements. The further maintenance of the website is his responsibility Club Many thanks for creating the page and also for familiarizing yourself with the maintenance.

Just great! Behind Pictibe there is not only a lot of know-how but also passion and lifeblood. With our online shop, we feel very well looked after and excellently advised - also far beyond the actual topics of the cooperation. Someone not only looks at their specialist area, but also looks beyond their own nose with commitment. We are very satisfied!

We commissioned Mr. Ibe to revise our existing website. We are very satisfied with our new website and can now easily update all content ourselves thanks to the built-in content management system. We would like to thank you for the professional advice, the reliable work, the speedy implementation and the pleasant human contact. The price/performance ratio is outstanding! We would be happy to recommend you!

With the company Pictibe we have a workshop on the subject of online shops, Seomarketing, Google Analytics, Google Adwords, Social Media. In a comprehensible and understandable way, Mr. Ibe and Mr. Buks explained the above topics to us in the workshop, so that after this we had a better understanding of the online world. We worked specifically on our shop in the workshop and thereby further optimized it. Mr. Ibe and Mr. Buks convinced us with their expertise and pleasant manner. Our telephone impression of a binding, professional cooperation was confirmed by the workshop. We look forward to continuing to work together and after a short time we feel confirmed that we have now found the right agency for us that thinks for us, that has a good workflow and that supports us with passion, expertise and commitment.

With the company pictibe we have found a reliable and very competent partner in web design, online marketing, photography and video production for years. Advice, execution and price are in good relation to each other. It is a good feeling for our company to know that we can always contact Mr. Ibe able to contact. It is therefore quite clear that we will continue to trust in pictibe in the future.

Absolutely to recommend! Everything at a glance. No dismembered video course. A good investment! I always looked for tutorials and videos that gave me insight into the correct installation of WordPress and templates. Since I don't create websites regularly, I forget a few things and then go back to looking for all the videos and tutorials - tedious! Now I just decided to buy this course and am pleasantly surprised. I have a single link where I can find all the videos at a glance. I can go straight to the video I need the topic for - no more searching! As soon as I saw the course - I looked at everything at once 😉 - I immediately went through my websites and corrected banal mistakes and optimized a few things! I am grateful for this course. He is very successful and shows the most important basics with deeper insights using real examples to set up, maintain and expand websites cleanly and solidly from the ground up.

Florian Ibe has been helping us for many years with his know-how in the creation of advertising measures, internet presence, marketing, etc., we can recommend him unreservedly, he works with commitment, high quality, quickly and inexpensively; we cannot imagine a better business partner; actually more than 5 stars (unfortunately the end of the scale) Mr. Ibe keep up the good work!!

THE specialists in advertising and marketing! If you are looking for a competent advertising agency to really get your online marketing going, pictibe is the right place for you. Whether website, web shop, SEA, SEO, conversion optimization, .... Here you are dealing with experts. Clear recommendation!

Pictibe is the first agency that I feel thinks along with me. Gives impetus, makes suggestions. Furthermore, the prices are always fair and adapted to the marketing budget. Thanks to the cooperation with pictibe, our sales team no longer knows how to save itself from inquiries. In a nutshell: Fair. Competently. Kind.

Perfect and fast support. I can recommend pictibe without hesitation!

I am very happy with their service and I think I have come to the right place. We will definitely use your services more often in the future!

In terms of SEO and online marketing is simply great! This advertising agency convinces with expertise and an incredible range. Together with pictibe we are responsible for the topics website (conversion optimization), search engine marketing (SEA and SEO) and recruiting and quickly achieved success. In the future we can also imagine bringing our online shop forward with pictibe. pictibe is a clear recommendation for everyone who is looking for increased sales, more customers and more sales!

Great service, always friendly and you can tell that Mr. Ibe knows what he's doing! Thanks!!! I can only recommend pictibe!

As an agency, we are always looking for customer-specific solutions that we implement in a competence network. We also have to realize that some service providers find it difficult to specifically address the current needs of customers. With pictibe we have found a realization partner who is willing to implement the project according to the wishes of the customer and to accompany us as an advisory partner.

We list by working with you very clear sales increases. we say" thank you very much"! We see great opportunities in working with you. Finally an agency that reliably delivers excellent work.

Good ideas paired with expertise, ability and creativity are the strengths of Pictibe, with Florian Ibe in persona. Understanding the customer's language, my language, is one of his qualities that should be particularly emphasized. Precise and inexpensive are the outstanding properties. In an intensive, synergetic cooperation, a complete, consistent CD – print media with logo and slogan – including web design, of high quality was created. A recommended advertising agency!