Trachten dreams means Dirndl & Trachtenmode as well as real Bavarian Trachten clothing / Outfits buy online or in the shop in Karlsfeld or Germering.
With the administration in Dachau and the two shops, Trachtendreams has been offering the cultural fashion of Alpine lifestyle for many years. Well-known brands such as Krüger, Hammerschmid or Gweih & Silk are offered here at fair prices in the original with advice on site or online.
The online shop has existed since September 2017, but it has not been developed much further, both technically and visually. The setup of the relaunch is our proven WordPress + WooCommerce basis with the Best Theme WoodMart for Woo Shops. Like our standard, Germanized was also used. The import of more than 15 GB of data was a big hurdle because we had to adapt it technically and semantically.
New in 2020, in addition to the more modern technical basis, is multilingualism in German and English.
This is intended to open up the international market, because folk festivals and especially the Oktoberfest have long since ceased to be purely German events.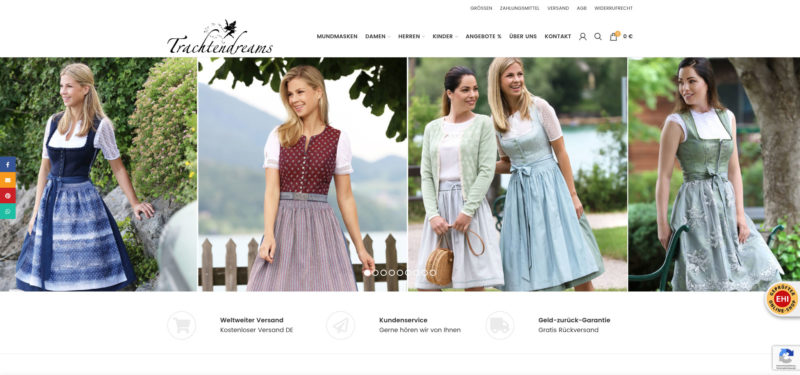 Do you also fancy such a WooCommerce shop that really sells?
Get in touch with us and let us advise you!