Online marketing is not rocket science. But if you're just starting out, you might SEO and SEA can still be confusing terms for you. The answer to the frequently asked question "What is the difference between SEO Search Engine Optimization and SEA PPC Advertising?" depends on what definition of SEM you prefer, your expertise, target audience and budget.
SEO vs. SEA: What are the differences and where do they meet?
What is SEM?
Search Engine Marketing (SEM) is a term that encompasses both SEO (search engine optimization) and SEA (search engine advertising / PPC advertising) as two main activities of search engine marketing.
However, the term is sometimes used to refer only to paid advertising in search results. In that sense, it's essentially used as a synonym for pay-per-click (PPC) ads in search.
In this article we stick to the first definition (S.E.M. = SEO +PPC) since we think it is semantically more accurate.
"SEO vs. SEM" is actually "SEO vs PPC"
Strictly speaking, the comparison of SEO and SEA essentially a wrong question since SEO and SEA are completely different and there is no real intersection.
Despite this, the 3 acronyms are often compared, mainly due to the similarity of the terms.
But what you should usually know when looking for "SEO vs. SEA" is the difference between:
Organic Search Engine Optimization (SEO)
Paid Search Engine Advertising (PPC)
First: As Full service online marketing agency we know all areas very well and have tried with this article to present an overview of this complex topic and the connections.
---
SEO vs. SEA - differences as well as advantages & disadvantages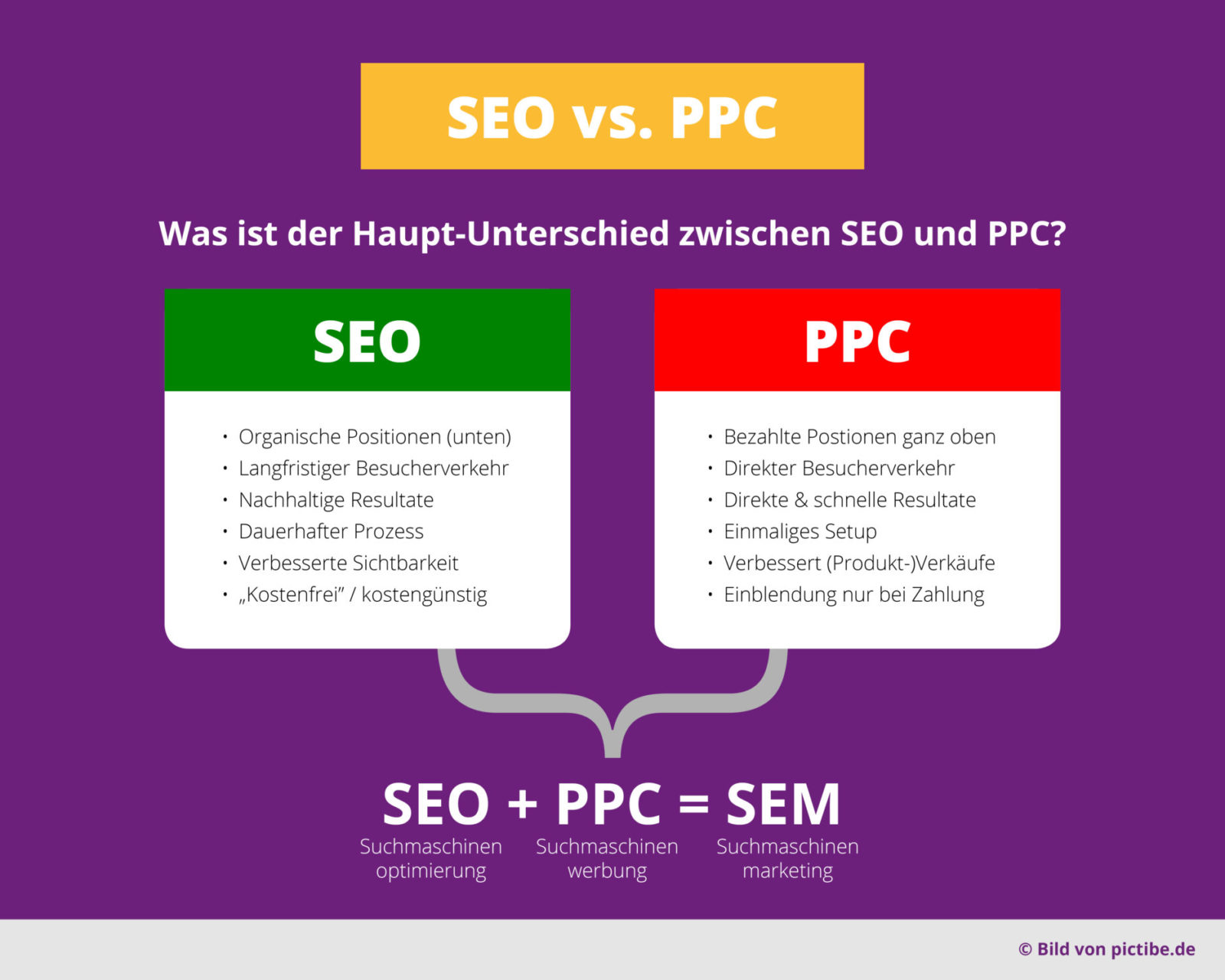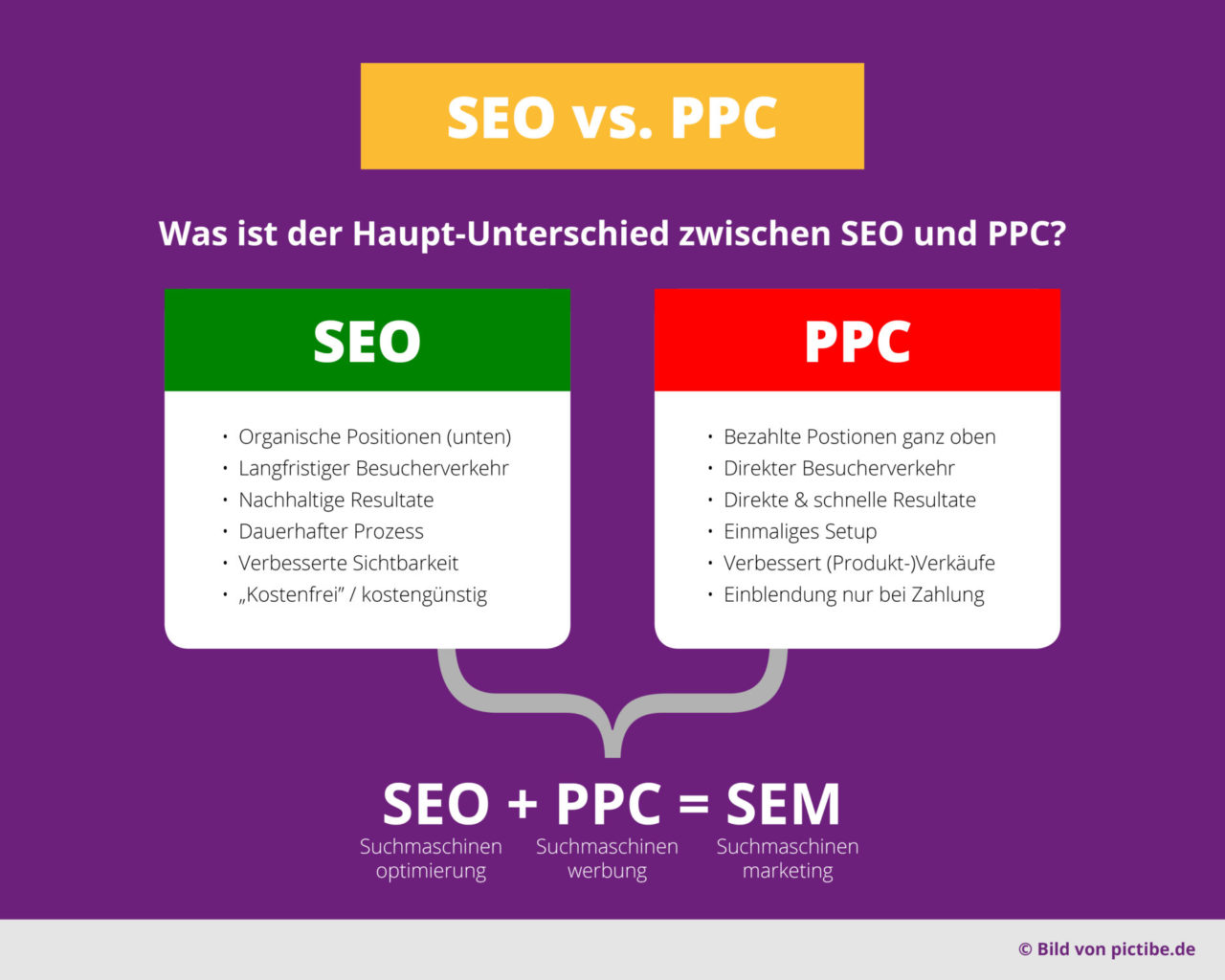 ---
---
Search engine marketing includes both the SEO- as well as the PPC method. The general idea is that SEM helps you grow and increase your online presence on two fronts:
Both SEO as well as PPC contribute to the increased visibility of your website.
SEO requires you to make sustained effort over a long period of time. It's a long-term process that usually doesn't yield results from day one.
PPC, on the other hand, can bring instant results. The main goal is to take a "short cut" and overcome those who get through SEO reached the highest positions in SERP.
Both strategies require a lot of work – SEO however, is an ongoing process, while a specific PPC campaign usually requires a one-time setup (+ maintenance).
Let's take a closer look at what each of these concepts entails and how they're used in general marketing practice.
---
What is SEO search engine optimization?
The term SEO (Search Engine Optimization) refers to the changes and tweaks you make to improve the organic ranking of your website or a specific page within a search engine for "free".
SEO is one of the main goals when starting an optimization or updating a website, since Google's bots can't properly find and read your content without good optimization.
It consists of these 3 main areas:
Note: SEO gives you free traffic but can be just as expensive as PPC because you invest time, people and tools.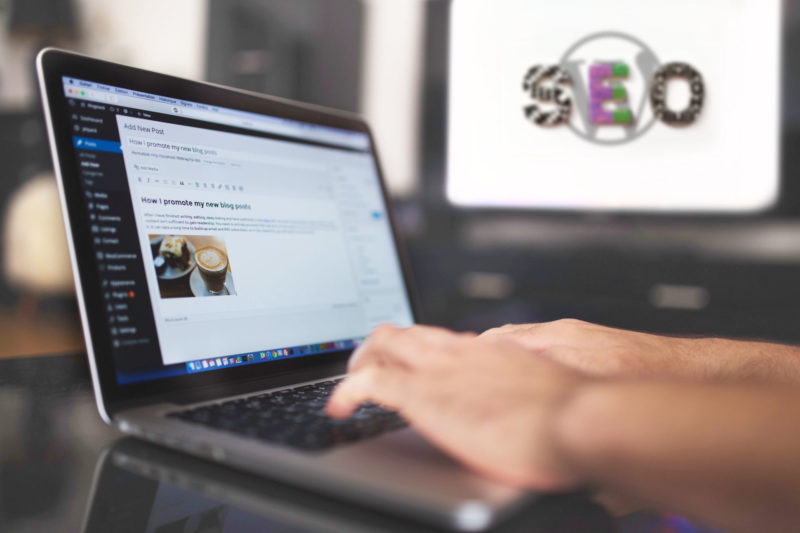 1. On-Page & Technical SEO
on-pageSEO consists of all the small changes you make on a single page. From adding your main keyword to the title tag or meta description and other elements, to improving your site's readability and the quality of your internal links.
It also refers to all technical settings and optimization of user experience on your website, such as:
Page speed (load time)
Site architecture (navigation & usability)
Mobile friendliness (responsive web design)
Use of HTTPS (SSL encryption)
etc.
2. Content Creation and Keyword Research
Regardless of how well optimized your site is the quality of the content you create is the first and most important SEO-Ranking factor. Because of this, creating quality content can also be part of your SEOstrategy to be understood.
In order to find the content topics and use the right keywords in your content, you need to master the process called keyword research to get out of it Content marketing with SEO- Advance concept.
---
---
It involves finding and using keywords that:
popular (you have a high search volume)
rankable (you can achieve a realistic ranking / placement)
relevant to your website and content
3. Off-PageSEO & link building
off-pageSEO is everything that happens "outside" your website – from Backlinks to improving your social media presence to gaining public trust and authority.
The most important part of this process is of course the link building – Obtaining links from other websites, preferably websites with higher authority (DA & PA factor) and topic relevance.
The true value of link building is in the quality of the links you get, not just the number. Depending on the performance and influence of these link sources, you will also increase your brand awareness and increase your social following/bookmark.
A new trend is SummerSEO.
---
What is SEA search engine advertising / PPC advertising?
PPC (pay-per-click) is an advertising model that allows marketers to place an ad in search engine results and is only charged when the ad is clicked.
The main goal is to increase the visibility of a website in search engines paid ads increase that appear above the organic search results.
Note: Although PPC is used as an advertising model on many platforms (Facebook, Instagram, LinkedIn, Twitter, Pinterest), In this post, we are ONLY referring to the pay-per-click ads for search engines because it is search engine marketing.
Compared to that SEO-Strategy that brings in free traffic, pay with PPC for the highest visibility. Depending on the keyword you want to search for, the cost can go beyond the 1-10 or more EUR/click mark and you pay every time a person clicks on your ad.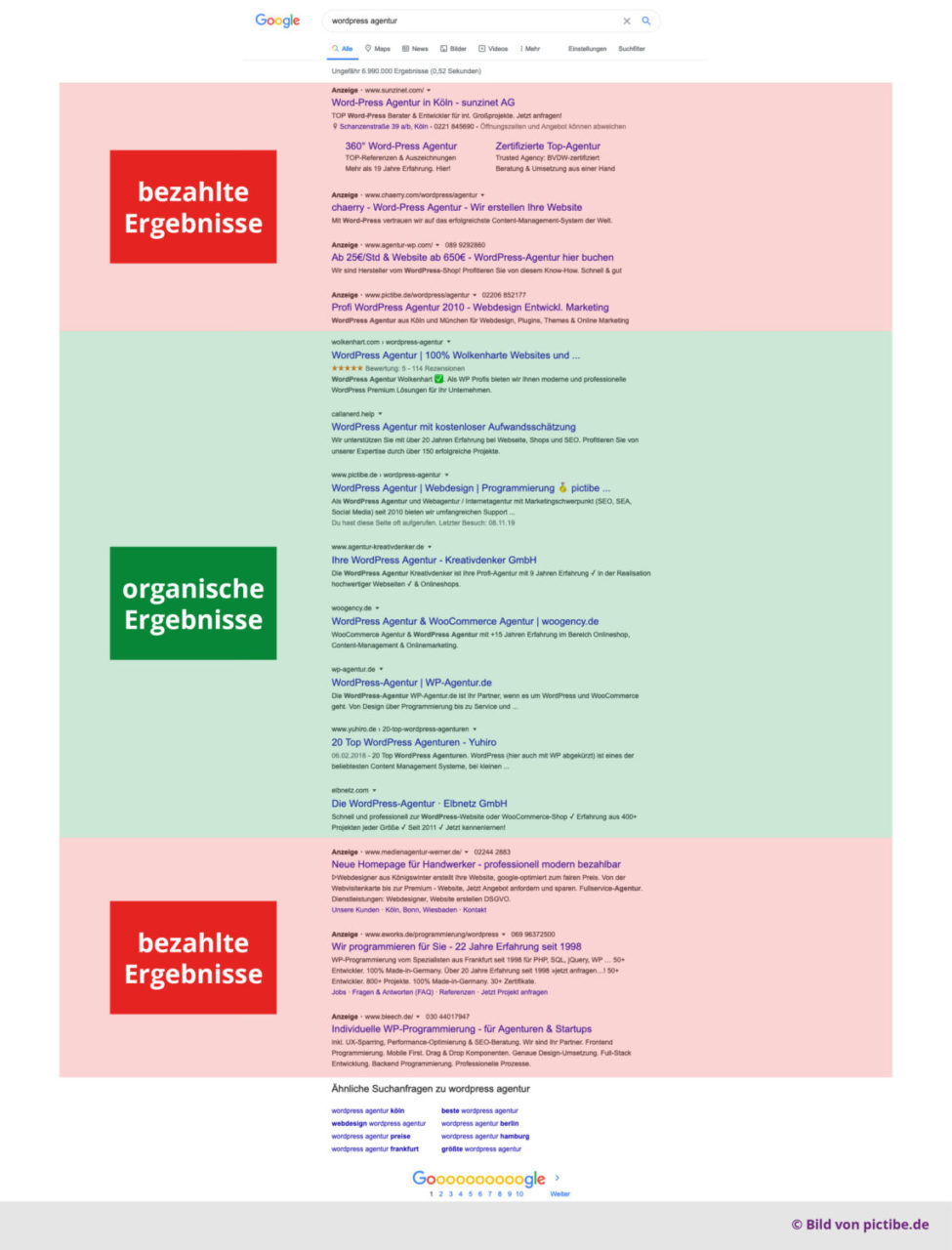 If you don't know exactly where to start with PPC, it's safest to SEO properly and then use PPC to:
Bid for highly competitive Keywords , which you can't rank for with organic optimization alone achieve could.
Run time-sensitive campaigns that need to be aligned quickly and precisely.
Increase brand awareness, by focusing on branding your search ads with your business' name or tagline (especially good for businesses just starting out).
These companies that for Offer "yoga mats", provide exceptional work in creating brand awareness: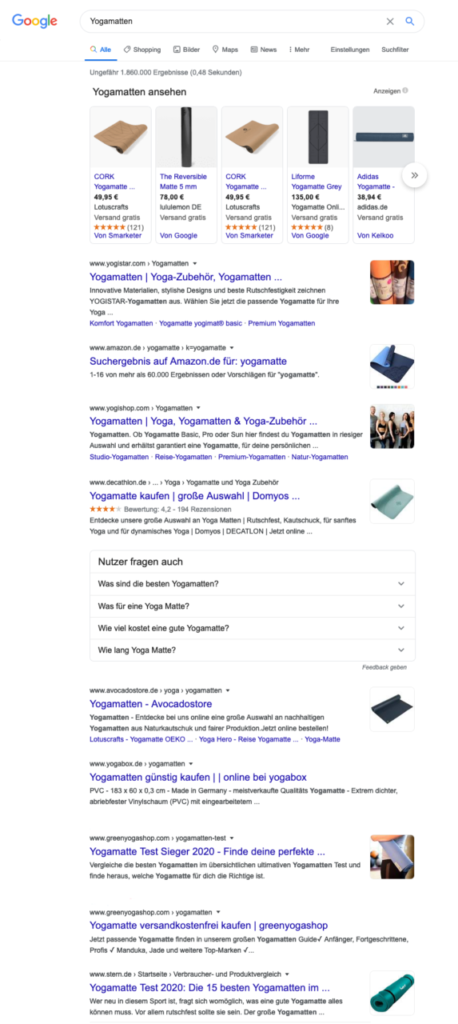 Note: One of the big problems with searching PPC ads is that many people have some form of ad blindness and just automatically skip those results.
Last but not least, PPC can be very handy for ecommerce websites that want to launch their products. Google Shopping, as shown above, offers a direct purchase entry.
---
Which one is better: SEO, PPC or SEM?
There are times when it's better to PPC over SEO to use, and sometimes it's best to combine both. Let's take a look:
When SEO ?
In general is SEO the best tactic if you want to see and keep results over the long term. Whether you use PPC or not, SEO is a must.
Simply put, if you die SEO If you fix a page now, it can take another 5 years if you update it regularly.
When to use PPC?
If you want to get quick traffic to one of your pages, PPC technology is the way to go. You may need to draw attention to an event or an exclusive offer. Since you are limited within a certain time limit, paid advertising will deliver the traffic you need.
Overall, it's a good decision to assume that PPC is better suited for transactional than informational keywords. However, rely on yourself never solely on PPC if you want to grow your website in time. Also remember that even the best PPC campaign will most likely not work if the SEO your website is totally bad.
The SEM strategy
Of course, you can do the entire SEM package—both SEO as well as SEAPPC. Don't take them as competing strategies, they actually complement each other.
With SEM you invest the entire SEOeffort, but also dedicate some of your time to acquiring paid advertising space. As with all online ads, this can generate too much traffic at any given time. However, it is all temporary and not to mention "expensive".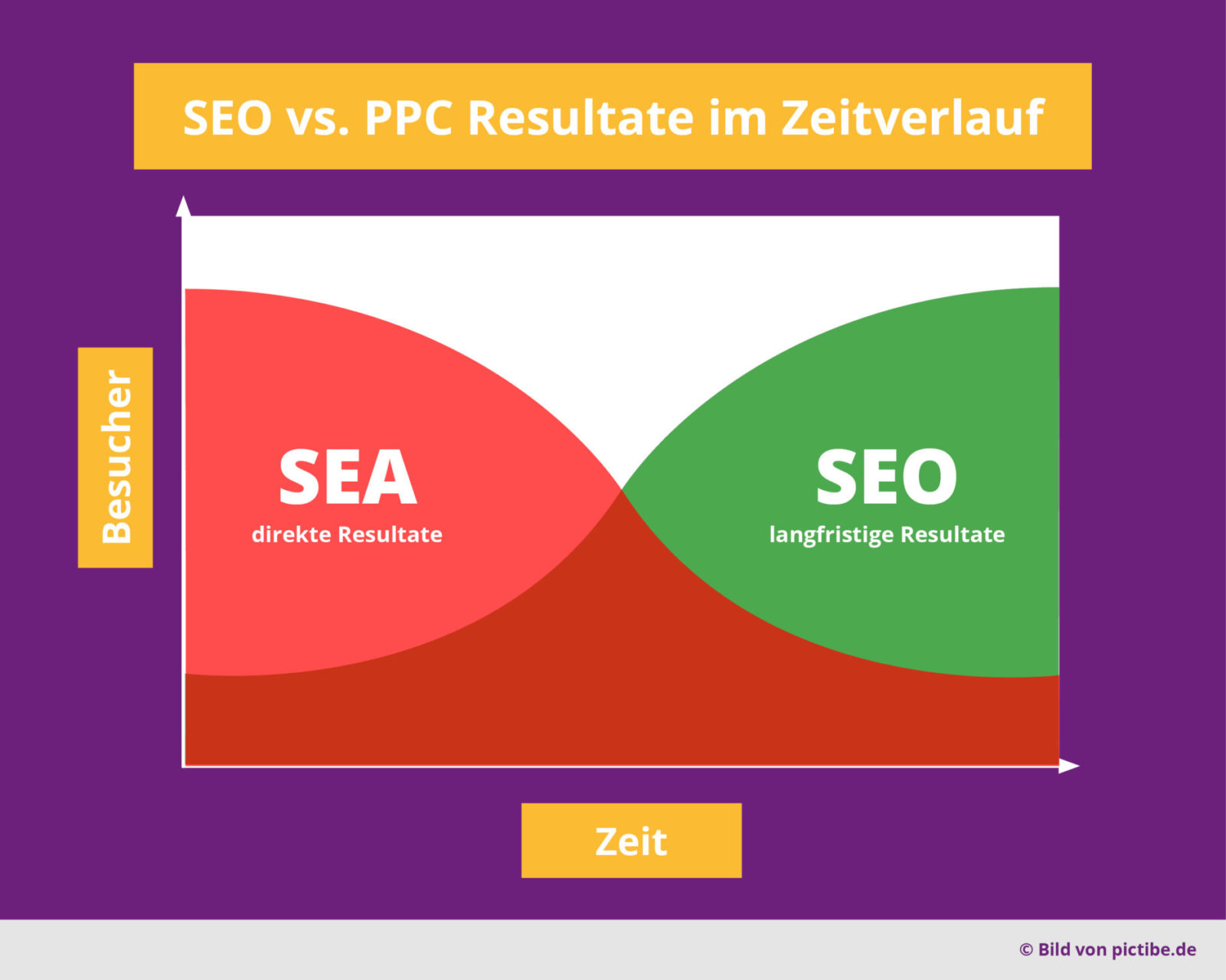 Because both SEO as well as SEA heavily from the Keyword Research & Analysis Depend on the best based on indicators such as search volume, keyword difficulty and cost-per-click (CPC). Keywords found for your business goals.
can SEO benefit from PPC?
If you're asking whether PPC ads in search results can help your organic ranking, the answer is: No. Based on how the current Googlealgorithm organic rankings never consider PPC efforts. However, this has an indirect positive effect through more visitors, thus more user data and more information for learning (also for Google).
However, PPC can indirectly your SEO- Efforts benefit:
All the data and information you collect while conducting PPC can help you improve your organic SEO-Customize campaigns better. For example are Keywordswho have performed exceptionally well for your ads are likely easier for you to target because you already know you're capable of serving searcher needs.
Alternatively, you can use your PPC efforts to create multiple Keywords to test before investing weeks of work to evaluate them organically. To do this, run small, targeted advertising campaigns on the Google search network. Display advertising doesn't really help here since you can't use it to understand a person's search intent.
---
The central theses for search engine optimization & search engine advertising as search engine marketing
Although SEO and SEM may look similar, these two marketing buzzwords should never be confused.
Here are some key takeaways from this post:
S.E.M. = SEO + PPC, hence the comparison of SEO and SEM not correct since SEO part of search engine marketing
People often use the term SEM to actually just describe PPC search engine advertising
The main difference between SEO and PPC is that the former is a long-term strategy and the latter usually consists of shorter, time-limited promotional campaigns with instant results
SEO is a must for all websites, but PPC may not be an option for you if you're on a budget for ad spend
Your industry or type of business may not be alone for SEO suitable. PPC is great for getting traffic from competitive, time-sensitive Keywords generate or increase your brand awareness
To get a better picture of your position, start by making a list of things you need to improve based on your marketing and business goals.
For example, if you want to generate more sales, paying $10 per click for a $5 one-time purchase is certainly not a good move. However, don't think too much about the size of your company or years of experience. What matters is:
where your potential customers spend their time
what their needs are
what they are looking for
Until next time, be open to testing new methods of optimizing your presence on the search engine results page. However, remember to always make decisions based on your ROI (return on investment) or ROA (return on adspent).
As a marketing agency, we prefer the so-called hybrid strategy.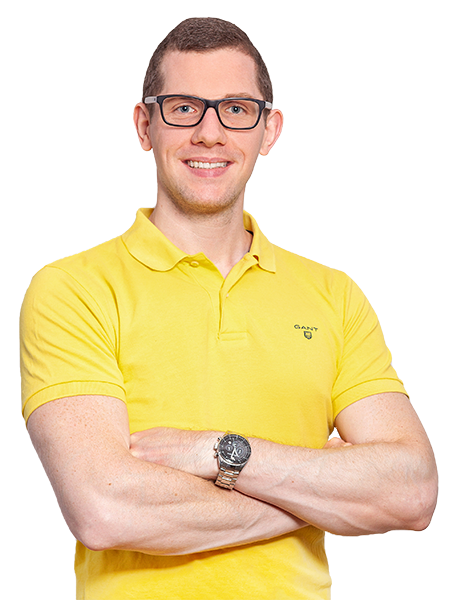 Florian Ibe
Owner
Questions regarding SEO, SEA & SEM? Get advice now:
Open contact form
Your contact person: Florian Ibe