A dream of many customers and standard with every installation: The function of bulk processing for products in the WooCommerce online shop as a simple table (like Excel) without annoying and error-prone export and import. Update 2023 further down in the article!
WooCommerce Advanced Bulk Edit: bulk edit products in shop with spreadsheet
WooCommerce table for products as an overview and for editing
Diligent work is all well and good, but it shouldn't be a "waste of time." The Advanced Bulk Edit for WooCommerce and WordPress enables the processing of large amounts of data in just a few seconds/minutes. It is similar to editing in Excel.
Reasons why a bulk edit is needed and makes the work (editing of the products) easier:
Duplicate multiple products in the shop for further editing
Creation of new variants based on existing ones
Processing of several products at the same time
New categorization or conversion
Quick and easy customization of meta tags for SEO
Campaign marketing = creating and sale prices/offer prices
Maintenance of inventories / inventory
Addition of product features (height, length, width, weight)
Addition of properties (brands, material, etc.)
Simple maintenance of all standard and additional fields using a table
The time-consuming search, opening, editing and saving of individual articles, pages or products is no longer necessary and editing is just fun and takes a fraction of the time. In addition, there are far fewer errors in product maintenance.
WooCommerce Advanced Bulk Edit* WordPress Advanced Bulk Edit*
Please make sure to buy the right plugin for WordPress (posts, pages, custom post types) and WooCommerce (products). Both plugins can also be installed at the same time.
---
How the plugin works is explained (see also the video):
Use the filter and search function via "Expand Filters" and make a preselection (optional!)

Preferred way of working: Show all products and use the "Selection Manager" to mark special products

Click "Get products" and leave variants active
Use "Show/Hide Fields" to display required table columns

For custom fields, click on "Find Custom Fields" below the table and display the field/s as column/s

Editing within the fields (like Excel)
Perform bulk edits via "Bulk Edit" (if required)
Save after change "Save Changes"
Note: If you make a mistake, marked lines can also be reset.
Have fun with the plugins and enjoy editing the products in the shop using the simple table.
---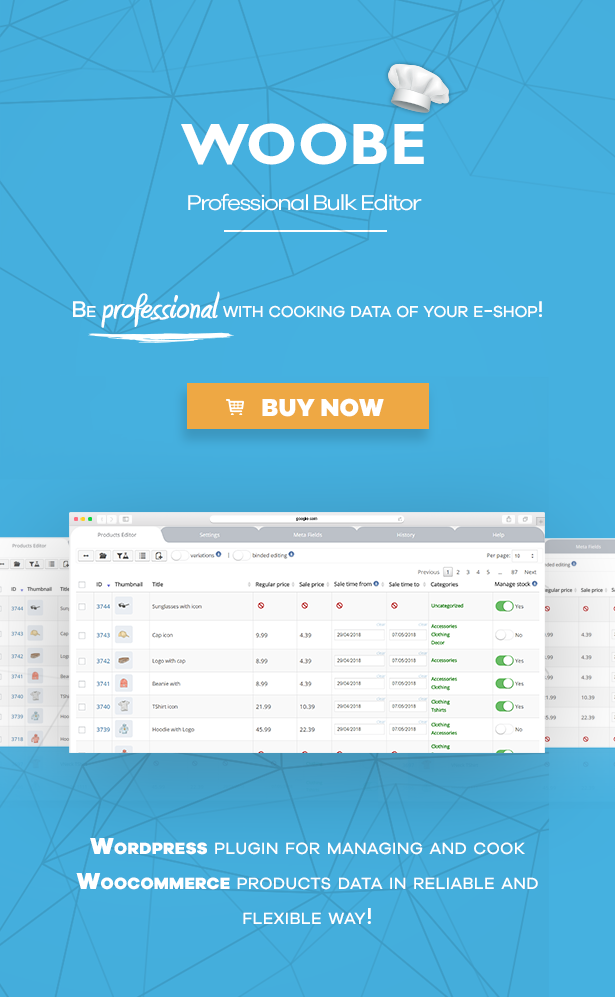 UPDATE 2023: WooCommerce bulk editing with editing history and even easier to use
---
---
WooCommerce Bulk Editing is a powerful plugin that allows merchants to quickly and easily edit large amounts of product data in bulk. It saves time and effort by simplifying the process of making changes to multiple products or categories, such as: B. changing prices, product descriptions or images. With its intuitive interface, Woocommerce Bulk Edit makes even complex tasks easier to complete.
The tool offers multiple options for performing multiple edits; this includes the possibility of certain products or product categoryn to select for bulk editing. In addition, it provides tools for Creating filters, which can be used to further narrow down the selection so that only certain items are affected by the changes made. If you e.g. For example, if you want to increase the prices of products in a certain price range, you can create a filter that excludes all other items outside of that range. Especially the function of history is important, because here we can see what changes have been made. If an error has occurred, you can undo this processing with just one click.
In addition to the ability to make bulk changes to entire catalogs, BEAR – WooCommerce Bulk Editor and Products Manager Professional also offers special features like the Export of products as CSV or XML and import after modification.
For merchants looking to streamline their store management and save valuable time without sacrificing accuracy and control over inventory, Woocommerce Bulk Edit is an invaluable tool. Not only does it offer an easy-to-use interface that makes large-scale changes more efficient than ever before, but it also protects against errors by giving customers the ability to review change history and watch for errors before the changes become permanent be taken over.
My video for the alternative WooCommerce bulk processing with more clarity: