Pricing based on customers and customer groups is one of the most important components of the business strategy of an online shop operator, in this case a WooCommerce shop. In a time of personalized pricing it can be a useful approach to offer a clear price to certain customer groups. By offering different prices, you can target the Building long-term customer relationships focus. The idea is usually that those customers who consistently get the best price from you are happy to return to your store and webshop. This can be an important part of your Pricing to promote sales be, especially if you're im Wholesale, B2B or also in B2C long customer relationships (customer life time) have and sell.
WooCommerce Customer Groups Prices / Discounts – Top 5 Role Based Pricing Plugins
In this article you will find a number of role-based WooCommerce pricing pluginsthat you can use around Create customer groups in WooCommerce. This is mostly used for WooCommerce B2B shops. If you are new to WordPress and WooCommerce, below is a detailed explanation of user roles.
All plugins are of course compatible with WPML multilingualism and translated into German or translatable with Loco Translate.
Our absolute favorite can be found under point 2!
---
The top 5 WooCommerce Role Based Pricing Plugins for user and customer groups for pricing, showing and hiding categories, products and using percentage or fixed discounts and special prices per product
If you are looking for solutions, you can find some good WooCommerce role-based pricing modules (plugins) for managing customer groups in WooCommerce with many additional rules (automatic or manual). Most of these plugins come with additional features that will also help you with your overall pricing strategies. Let's look at some of the best role-based WooCommerce plugins for customer groups (user groups).
It is also possible to display prices in WooCommerce only for registered users.
---
Dealing with a wholesale store or a segmented price retail store can be a real hassle. Often you need to create price tables for specific customers or groups of customers. With this YITH plugin, you can automate the whole process and smoothly run role-based pricing in your store. This plugin helps you authenticate registered users and display a unique price for each of them. For each user role, you have the choice of showing the regular price, the sales price, or a unique user role-based price. Please note that you cannot create new user roles with this plugin. However, you can use any of the plugins mentioned in this article to create new user roles.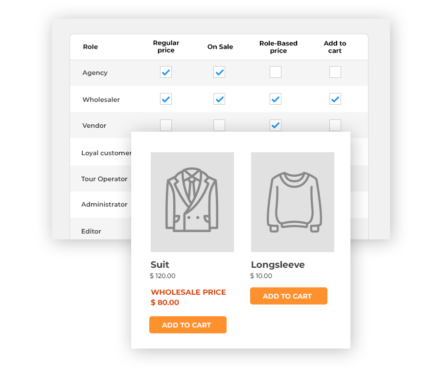 You can set role-based rules and purchasing conditions for registered users in your store. The plugin also helps apply role-based rules to all products in your store or only to products belonging to specific categories or tags. You can apply discounts and surcharges with the plugin and also combine multiple rules to apply to the same user role. If you don't display a price for a user, you can use the plugin to display a custom message in their place.
---
---
You can add a custom label to your prices so that a role-based price can be easily distinguished. The plugin also helps you choose your tax display options. For certain user roles you can show prices including taxes, while for certain others you can show prices without taxes.
This plugin becomes particularly exciting with the official extension "YITH AUTOMATIC ROLE CHANGER WOOCOMMERCE*". You can use it to automatically change the role of your users based on their purchase of a specific product or purchase amount for your store. This plugin can be combined with membership plugins, subscriptions plugins, points and rewards systems, etc. Learn all about the features and integration with other plugins.
This is how you benefit from it, among other things:
You can specify a user role change and define the event or action that the user performs to trigger it automatically.
You can add value to your users and reward those who shop more frequently or for a long time by assigning them an ad hoc role.
Integrated with other plugins like YITH Role Based Prices or YITH Points and Rewards, you can retain customers and encourage them to buy by offering discounts and offers for users with a specific role.
Another alternative would be the following plugin: WooCommerce Role-O-Matic*
WooCommerce Role-O-Matic Plugin (WCRA) is a powerful tool that allows the store admin to create "assignment rules" that dynamically assign roles to the customers based on how much money was spent in the configured periods or which ones products were purchased. This tool can be very useful as it can be used together with WooCommerce Pricing! (or a third-party plugin) to assign dynamic prices or discounts according to assigned roles.
This plugin is much more flexible to use, more complex but still very simple. Once installed and activated, a new "WooCommerce Role-O-Matic" voice will appear in the main menu, through which the store admin can access the "Amount Configurator" or "Product Configurator" menus, which allow the "Role Assignment Rules " can be configured.
The Amount Configurator allows rules to be defined according to which roles can be assigned according to the amounts spent (excluding taxes) during the configured time periods, according to the user roles, the minimum amount spent (and optionally a maximum amount spent) and the products/categories restrictions.
Every time a customer places an order or when the shop admin saves an order or when he changes an order status (using the WC_Order method or the admin panel), the plugin checks if an "amount role rule" exists that matches the current time and matches amount spent appling it to the customer. Optionally, each rule assignment can be deferred by specifying a different date by which the role assignment must occur.
Roles can be assigned according to the purchased products via the product configurator. Once the order is placed, the rules for the products purchased are assigned to the customer. In addition, expiration dates, product restrictions and more can also be configured.
This can be very useful for managing subscription plans.
Tip: In general, Yith offers very well programmed and powerful plugins for WooCommerce. There is an overview here *.
---
Straight to our favorite from the Fest team:

---
---
to the plugin Prices by user role*
Or a new alternative from Addify from woocommerce.com:
New: Role-based pricing for WooCommerce
Add different prices for different user roles and customers. Add a fixed price, markup or an existing discount percentage and fixed amount.
to the Woo plugin for role-based prices*
Adjust prices for individual customers and user roles
Set a fixed product price
Increase the price by a fixed or percentage amount
Discount price by fixed or percentage amount
Change prices at the product level
Add rules to change prices for specific products or categories in bulk
Compatible with product variations
Set minimum and maximum order quantity
If the price increases, replace the original price
Cross out the old price and display the new price as a special price
Configure start and end dates for each price rule
Hide price & add to cart for not logged in and specific user roles &
Replace price with custom text
Replace Add to Cart with a new custom button and link
How does the price change work?
WooCommerce Role Based Pricing is a smart plugin that handles price markup and markdown efficiently. at markup the original price will be replaced by the new increased price replaced at a discount the original price is crossed out and the new price is displayed just below the original price. This makes your customers feel special and helps in improving Conversion-Rate.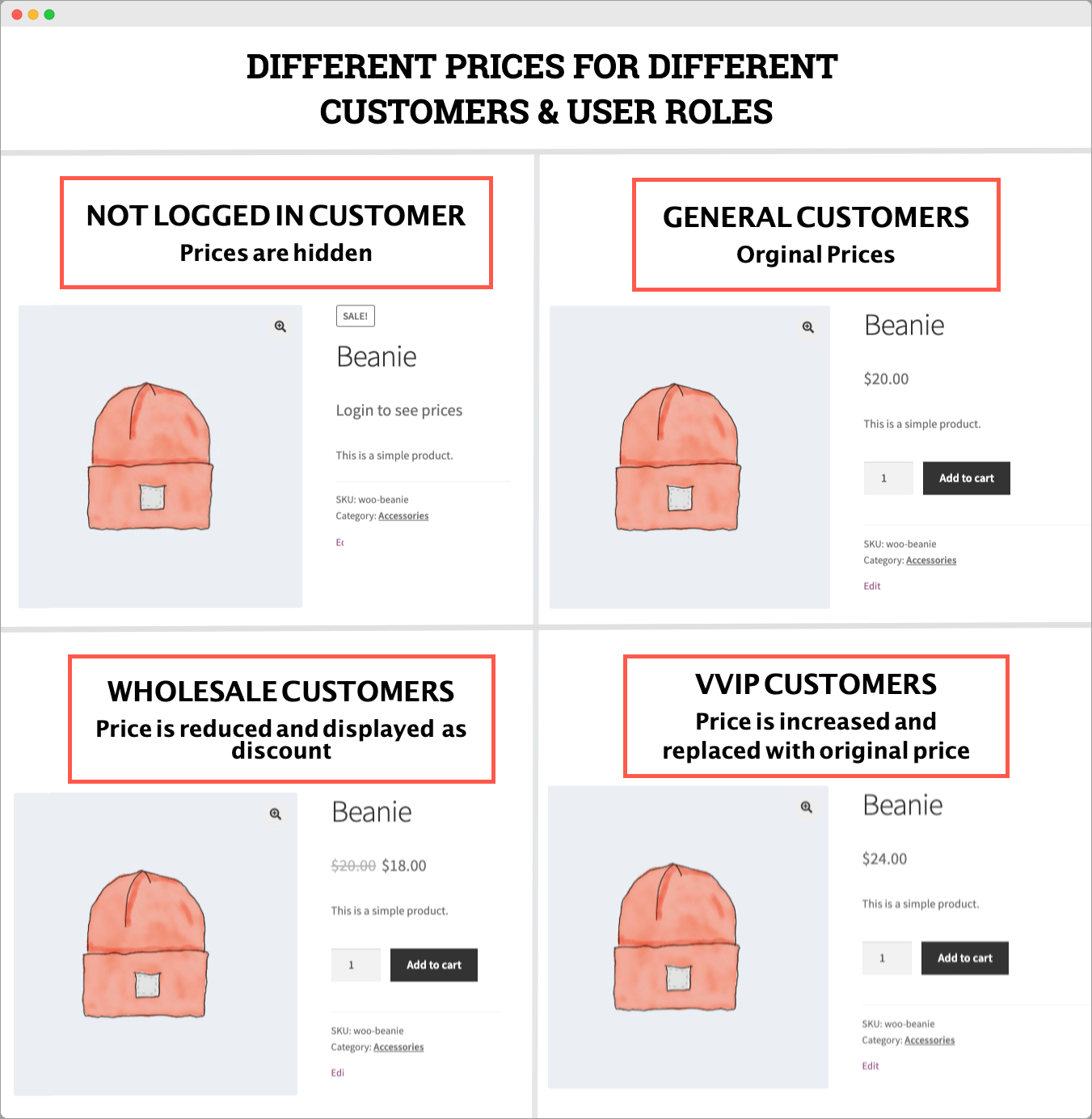 Product-level pricing
You can update price based on user role and customer at product level. The product level settings allow you to
Set price for each user role (leave blank to use default price)
Change price for each customer
Enter the minimum and maximum order quantity
Set a fixed price or increase/decrease the price by a percentage or a fixed amount.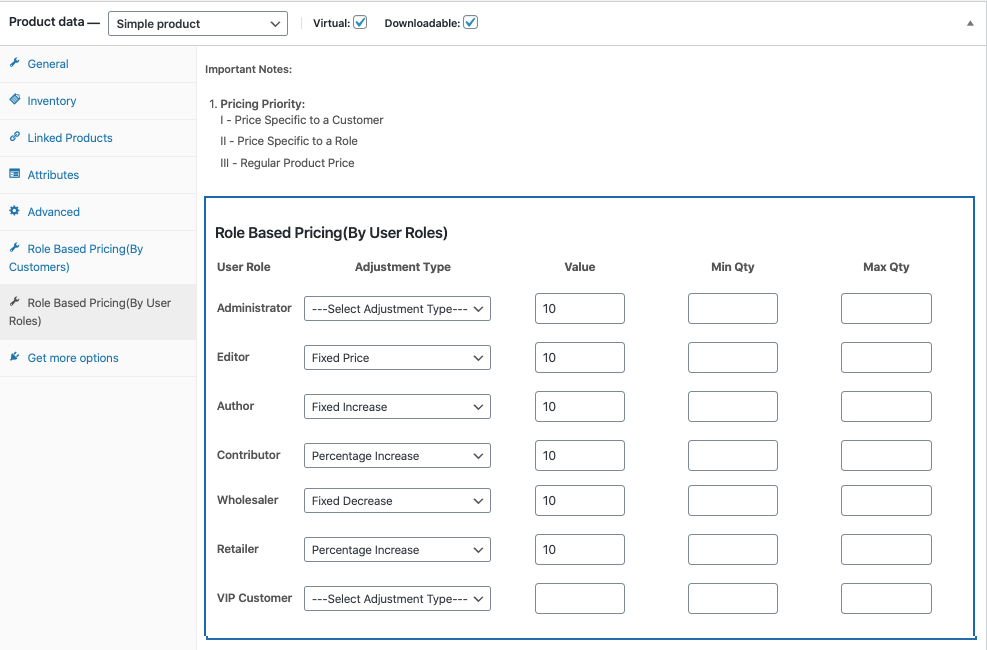 Compatible with product variants:
WooCommerce Price by User Role allows you to configure separate prices for each variation. Set different prices for different user roles and individual customers.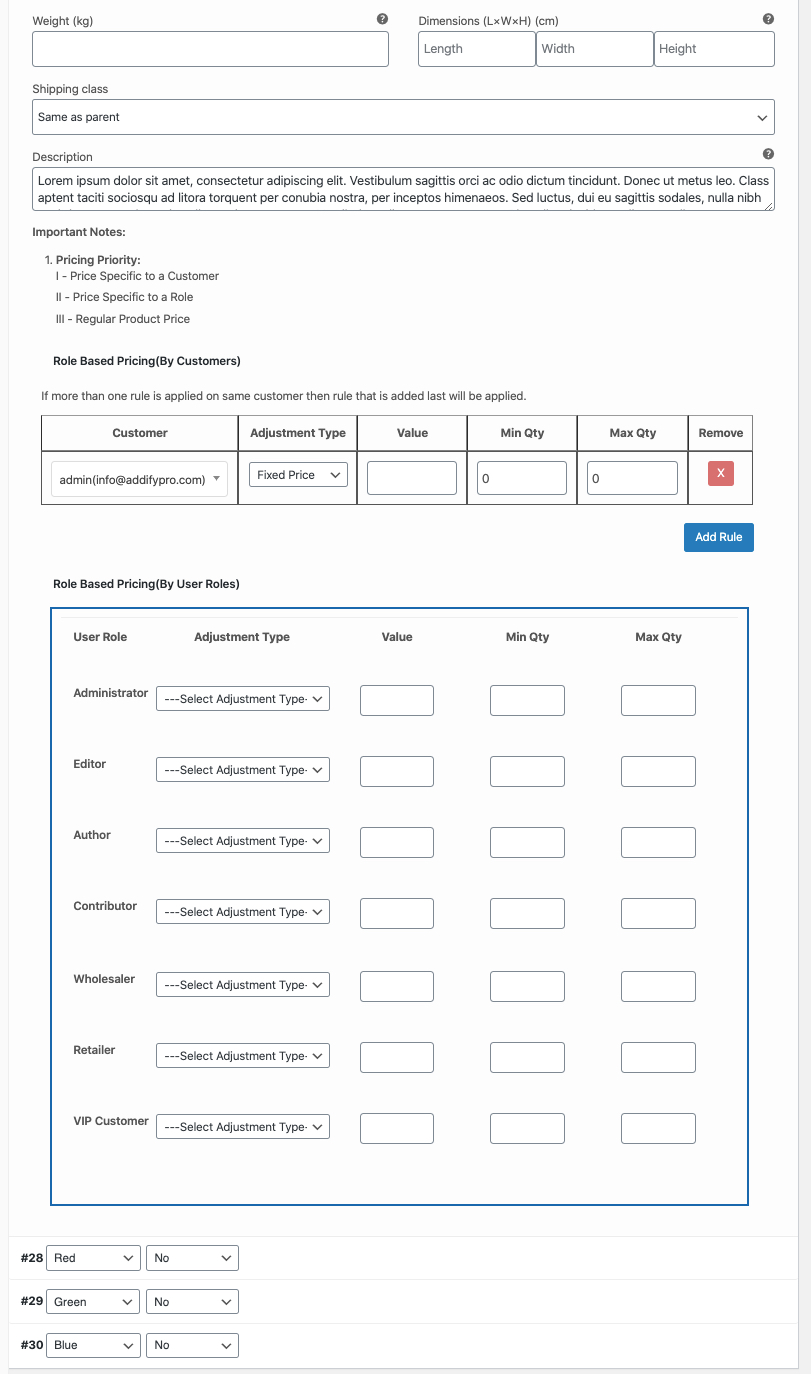 Rule-based price management
Rule-based price management allows you to change product prices in bulk. Instead of changing prices product by product, you can use the rule-based feature to change prices for specific products and categories in bulk.
When creating a new pricing rule, you can
Specify user roles and individual customers
Enter the minimum and maximum order quantity
Set a fixed price or increase/decrease the price by a percentage or a fixed amount.
Select products and categories to apply the new price change.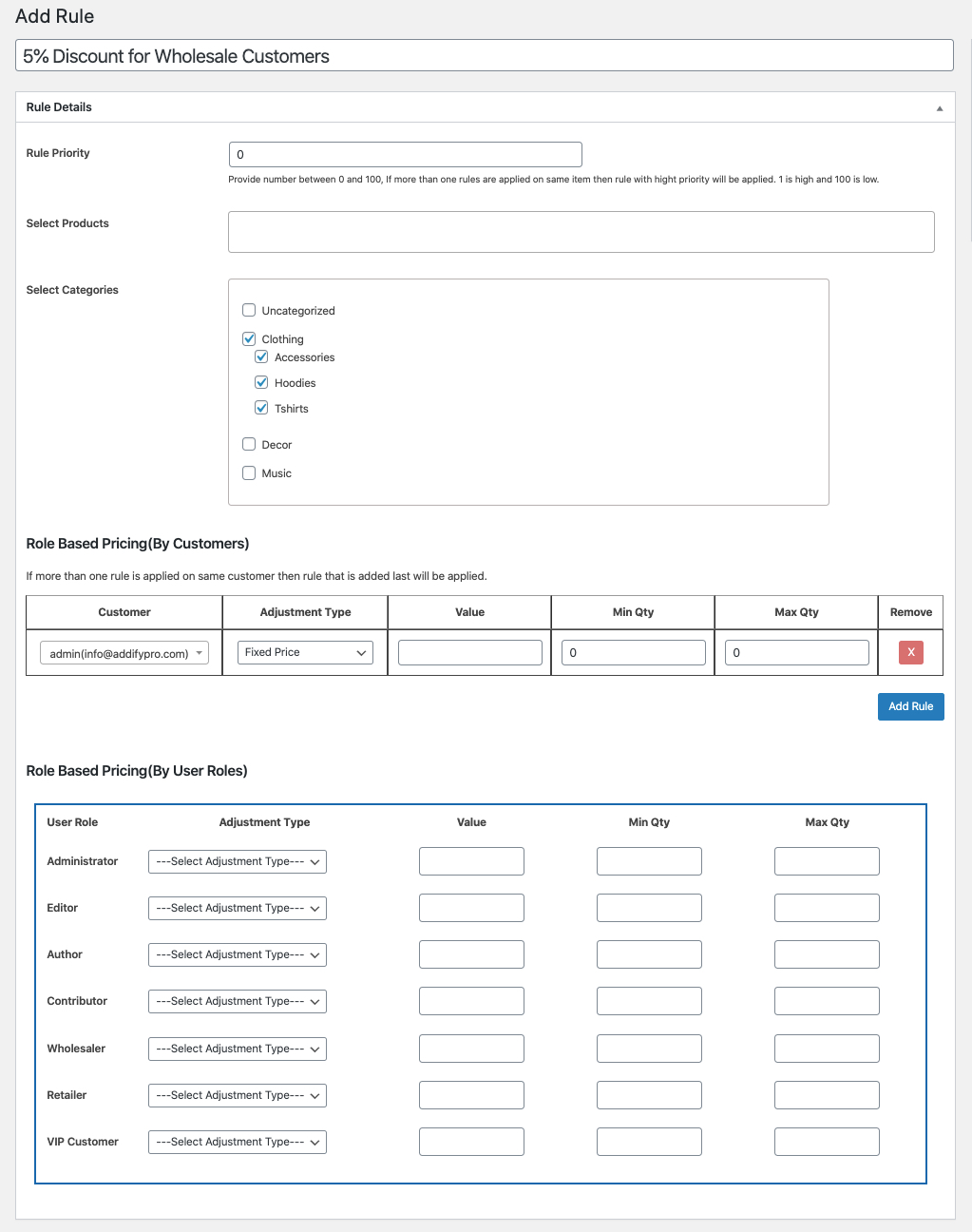 Hide price & add to cart:
WooCommerce Role Based Pricing Plugin allows you to hide price and/or add button to cart for not logged in and specific user roles. You can also hide prices for all or specific products and categories.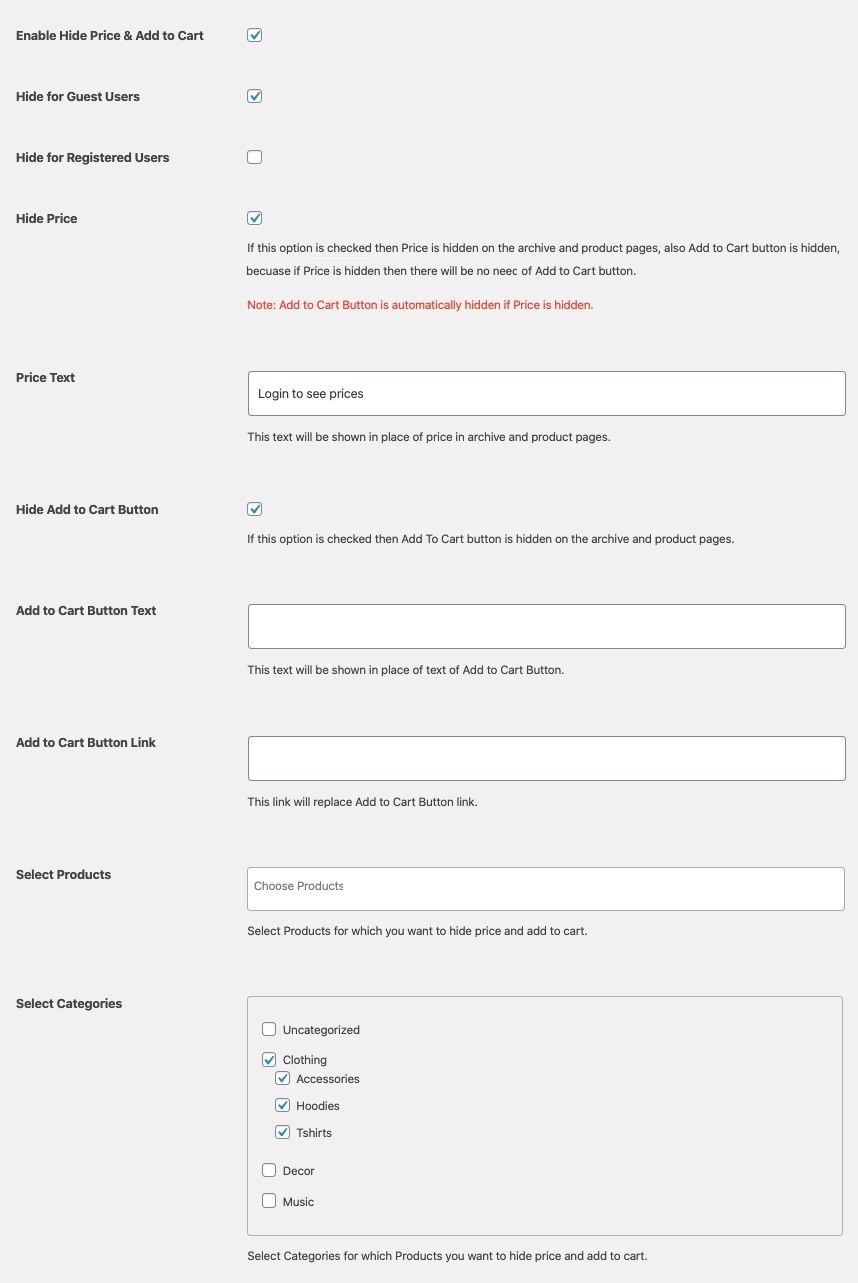 Use cases of role-based pricing in WooCommerce:
To better understand this WooCommerce Pricing by User Role Extension, we have listed a detailed use case covering every aspect. All of these price rules can be active at the same time.
Has 50% discount on product category Z
Has 20% discount for certain products
Has a 20% premium on product category X
Has 40% discount on product category Z
Has 30% discount on certain products
Has a 30% premium on product category X
Registered Customer C
Has 10% discount on all products
Registered Customer D
Has markup 10 for all products
In the above cases, the "Registered Customer" can be an individual customer or a user role. Feel free to contact us if you have any questions.
Also this plugin helps you to create different prices for different user roles in your store. It will help you set up a separate price tag for wholesale and retail buyers. Likewise, you can give a special discount only to your loyal customers. You can also hide pricing and the Add to Cart button from specific user roles or guest users.
With the help of this plugin you can add a discount or markup for specific user roles. You can also show custom text if you don't show a price. It also offers the possibility to show the percentage of savings to the customers. This would be a great way to create a better customer experience on your store.
This plugin also offers the possibility to set individual product prices based on user roles. You can also set a different price for individual variants. Another useful feature of this plugin is that you can disable price adjustments for individual products. You can also set a sale price for the role-based price you configured.
This plugin also serves to hide WooCommerce prices and/or Add to Cart button from unregistered users or individual role groups in your online store and much more. Prices by User Role is a fantastic ecommerce tool that will help you make your online store even better!
Attention: Not compatible with a multisite!
Most of the possible functions:
Pricing by user role features
Role-based product pricing
User role group discount
Markup for user role group
Hide the Add to Cart button from unregistered users
Hide prices for unregistered users
Text instead of price for the unregistered user
Hide the Add to Cart button in the respective user role group
Hide the pricing for each user role group
Text instead of the price for the specific user role group
View the savings percentage
Custom User Groups
WooCommerce CSV import for product list
Set different prices for different roles for individual products
Calculate different prices for each variation of a variable product
Hide price for unregistered users for individual products
Hide the price and Add to Cart button for individual products from user groups
WooCommerce REST API support
WPML translation done
CSV import of variable products
Disable the discount per product
Hide product categories per user role
Selling price for the roll price
Hide products by user role
Text instead of Add to Cart button
Display the zero price as custom text
Add custom text for guest users
Create a Members Only WooCommerce Store
Compatibility with custom product types
Control options (enable/disable controls for roles)
---
This fairly new plugin combines some of the functions of the other plugins with clean programming based on current programming standards and a very simple user interface. It is less complex with the same functionality and offers 95% everything you need for a WooCommerce B2B shop, for example. The beauty is above all the fact that the plugin will probably be developed very well and quickly. This ensures that you can also actively work on functions. Therefore a clear favorite and we have already successfully implemented a larger Woo shop with it.
Main features and functions:
Easy configuration
Role-based product pricing
Role-based discount
Role-based markup
Hide the Add to Cart button from unregistered users and replace it with custom text
Hide prices from unregistered users and replace with custom text
Hide the Add to Cart button in each user role group and replace it with custom text
Hide the prices for each user role group and replace them with custom text
Write custom text by price generic or role based (price suffix)
Create and delete custom role
Set different prices for different roles for individual products
Calculate different prices for different roles in variable products for each variation
Hide the price for unregistered users for a single product
Hide price and add to cart button from user groups for individual products
Disable discounts and surcharges for individual products
---
This is another useful plugin that you can use to set up role-based pricing for your WooCommerce store. It helps you separate registered users from guest users on your website and encourage long-term patronage in your store.
Interestingly, the plugin offers a time-based universal key that you can provide to customers to access their role-based pricing. You can also set the start and end date for a user role based price to be active. This plugin also provides the ability to restrict payment gateways based on user roles. Likewise, you can change product visibility for specific user roles.
You can download this plugin with the official WooCommerce Dynamic Pricing Plugin* share to make it more powerful. A variety of integrations with other plugins can be found on the product page. Take a look at the different use cases.
These plugins primarily allow you to set a set of pricing rules for your WooCommerce store. One of the many features is the option to create discounts for specific user roles. You can also configure discounts based on a customer's email address etc. If you want to make price adjustments on product, category, cart and combination level, you can use this plugin.
This plugin allows you to set up your simple WooCommerce store on a multi-currency, multi-price tier marketplace where products can be offered at different prices for different customer groups. For example, subscribers or contributors receive different prices than new customers. Differentiate your registered users to make your shop more attractive. New roles can be created and managed.
The latest version has been greatly improved to ensure smooth and faster operation. All user interfaces have been improved for a more user-friendly user/webmaster experience.
To name just a few key features:
Role-based pricing for simple products
Role-based pricing for variable products
Hide Price & Add to Cart button for selected reels
Rename authorized user roles
Product price shortcode
Bulk editing of variable role-based prices
---
WooCommerce Dynamic Pricing & Discounts is a universal pricing and advertising tool for online retailers. Its strength lies in its flexibility – a variety of pricing methods and terms can be combined to fit virtually any pricing strategy.
This actively maintained extension for WooCommerce can easily replace multiple tools – use them for regular sales, promotions, special offers, bulk prices, bulk prices, bundle prices, deals of the day, flash sales, wholesale prices, member prices, individual prices, loyalty programs. Behavioral pricing, location-based pricing, etc. If necessary, you can also increase prices under certain conditions or charge additional fees.
Increase your sales with intelligent rules and offers
Sell ​​more! Set up attractive discounts for customers who buy in bulk. Run special Christmas, Easter or Black Friday promotions. Set up a clearance or flash sale. All laptops 15% discount until midnight! Free fall with any phone! With this extension you can set up the most powerful actions in minutes!
Increase customer loyalty
Create long-term pricing strategies to retain your best customers. Reward customers who achieve certain life goals (money spent, orders completed). Use a retail and wholesale store. Open a club and offer insider discounts. Set up discounts for individual customers based on direct agreements.
WooCommerce dynamic prices (dynamic pricing)
The dynamic pricing functionality adjusts the product price based on a set of rules managed from a single user interface. Access a specific variant, the entire shop, or anything in between. Dozens of conditions and priority options ensure only the right rules are applied, every time.
Easy setting
Decreases, increases or sets the price to a fixed price regardless of the quantity
Best Offers
Decreases price with quantity - all units get the highest discount, or subsequent units get an increasing discount
Product groups
Applies a discount when products are purchased in specific quantities
Buy X get Y
Applies a discount to Y quantity when X quantity is purchased at full price
Exclude matching items
Excludes matching products from other pricing rules
WooCommerce shopping cart discounts
Cart discounts work just like regular WooCommerce coupons, except there are no coupons to redeem. This ensures that eligible customers see their savings immediately, without having to take any action that positively impacts yours Conversion- Affect rates.
Configure cart discounts based on cart subtotal, cart items, customer details, shipping address, previous purchases, and other conditions.
WooCommerce Checkout Fees (Charges at Checkout)
Checkout fees provide the ability to charge a customer additional fees based on the details of their order. Use this option to cover costs that your company may incur when processing certain orders, e.g. International order processing or perishable product handling fee.
This feature completes the package. Instead of using multiple tools for a variety of tasks, you can now use one all-in-one extension for everything related to paying your customers.
Comprehensive conditional logic depending on the case with almost unlimited possibilities
Virtually unlimited scenarios
We know your head is probably spinning with perfect ideas, but here are some examples of what this plugin can do for you in case you need a hint:
If you buy at least 10 units you get a 5% discount
Any 3 t-shirts for 9,99 EUR, except t-shirts with custom graphics
Buy between 2 and 5 units, get a 10% discount, buy at least 6 units, get a 20% discount
Get a 50% discount wireless keyboard with any desktop computer
5% lifetime discount after your 10th order, 10% after 50
Additional handling fee of 15 EUR if there are heavy items in the shopping cart
Get a 1000% discount on your order for spending at least 15 EUR
If you book a hotel for 7 nights, 1 night is free
SPA treatments 20% discount for stays of 3 nights or more
10% discount for first order only when other promotions do not apply
iPhone case with every iPhone purchased
If you buy items from the "Clothing" category, you will receive a discount of 5 EUR
All for 9 EUR until midnight, but only if you buy at least 3 items
Every fifth accessory is 30% off
This month all music albums save 10%, singles 25%
Handling fee of 10 EUR for international orders
15% discount for repeat orders
Users with the Shop Manager role get a 100% discount for testing purposes
5% discount if no other discount is given
Automated rewards program with tiered discounts for loyal customers
VIP Club Members Get 25% Off All Items
10% discount on laptops, but only if the customer is not a VIP club member
And almost every other price, discount or fee scenario you can think of!
---
Other plugins that didn't make it into the top 5, but can still be useful:
WooCommerce Advanced Pricing
Create pricing rules based on your conditions to target specific products and/or customers. Scale prices, Price rules per user role, Schedule price rules, Setup at product or global level, New: Set price rules for sales prices, 15 conditions are available for you to set up your own price rules.
---
Advantages of role-based pricing with user and customer groups in the online shop (ecommerce)
Let's look at some of the benefits of using role-based pricing in your WooCommerce store.
Improve the customer experience
There will be several instances where customers will not make a purchase due to the higher price of a product. Likewise, you probably also have a group of customers who are not at all price conscious. A unique price suitable for a specific customer segment would improve both sales and customer experience. However, the trick is getting the right segmentation with the right use of analytics and market research.
While it may look interesting, this approach can also have its downsides. If customers find that you are making offers in a discriminatory manner, it can damage the reputation of your business. Role-based pricing may require some trial and error to properly understand its usefulness in your store.
Use in wholesale stores (mainly B2B)
Role-based pricing is especially useful when you segment customers based on their purchase volume. This is especially easy for a wholesale store where you can easily create different user roles for customers based on the quantity they buy from you. As part of a wholesale strategy, you can conveniently offer offers to customers who buy more products from you.
Deliver a great customer experience with WooCommerce role-based plugins
Providing custom prices for the users of your online store can be a tedious task with a lot of manual effort. Wholesale markets often have to create separate price tables for their customers and then communicate them directly. Role-based WooCommerce plugins allow you to create individual and global product prices for specific user roles. Of course, these plugins should take a lot of stress off your shoulders and provide a superior experience for your customers. Leave a comment to share your experience with WooCommerce role-based plugins.
---
The explanation of user roles and customer groups for WordPress + WooCommerce
Additional user roles in WooCommerce
When installing WooCommerce, two additional user roles are initially registered. These are:
In addition, it provides the admin with additional features to:
Manage WooCommerce settings
Viewing WooCommerce Reports
Now let's look at the two specific roles for WooCommerce:
The customer role of a buyer
Any user who registers using the checkout or login option will be defined as a customer on your website. Currently, the customer role features are as follows:
Read access, similar to a blog subscriber
Can view orders and order history
Can edit own account data
Store manager role
If you hire someone to manage your business, you need to give them access to the back end of your website. This is where the role of the shop manager comes into play. This role has the same features as the Customer role plus the option to edit WooCommerce settings and products. In addition, this role can also be used to view WooCommerce reports. The Shop Manager role is similar to the Editor role in WordPress.
Existing user roles in WordPress – WordPress defines user roles as follows:
Administrator
Editor
Author
Contributor
participant
Administrators have full access to all administrative aspects of the site. Unique features that define the admin role include deleting other users' pages and posts, updating core, creating and deleting users, etc. Additionally, admins can add, delete, and manage plugins and themes on the site. Also, the admins have the freedom to change other users' details including passwords. Basically, you can limit admin access only to site owners and only to trusted people who have full control over your site.
In several locations there is a user role called Super Administrator. This role has all the features by default. However, in a single site, the admin role is equivalent to super admin.
Editor
An editor role allows you to access and edit other users' posts. The Editor role is best suited for the person who manages the blogs and other posts on your site. Basically, the role of the editor only affects the content aspect of your website. Those with Editor role can edit or delete any post on your site. They can also moderate, edit, and delete comments on the site.
Author
Authors can create and publish their own articles. However, this role does not have access to other people's posts. They can also delete their posts if needed. Also, users with an Author role cannot create new categories. However, you can use the existing categories on your site and create new tags. Additionally, people with an Author role can't moderate or delete comments on your site, although they can view them. Likewise, they do not have access to plugins and themes on your website.
contributor
A contributor is a user who can create and edit posts on your site. However, these users cannot post. Therefore, an editor must review and publish the contributions made by authors. This is especially useful if you employ freelance writers to generate content for your website. One downside, however, is that users with Contributor roles cannot upload files to your site. And as shown above, the Contributor role does not have access to other users' plugins, topics or posts.
Participants
Those in the Subscriber role have read-only access to your site. In addition, they can manage their own profiles on the site, e.g. B. User information and password. Otherwise, they can only read posts and leave comments on your page. You may find it useful if your site layout requires users to log in when reading blog posts.
---
Conclusion on user management, customer groups and intelligent discount and price policy in WordPress + WooCommerce
User roles in WordPress help provide stable structure and organization to different users of your website. In addition, you can use it to create selective access to the content of your website. When it comes to WooCommerce, user roles give more leeway when creating bulk and wholesale pricing. This article has attempted to provide more clarity regarding different user roles and their potential applications. Also, you must have an idea of ​​some plugins that will let you use WooCommerce user roles effectively.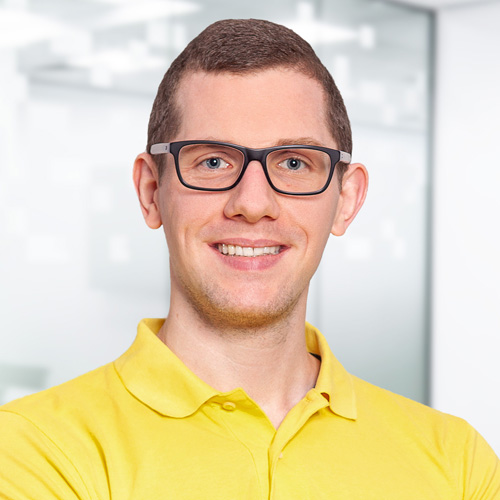 You have questions, want to use customer groups effectively and need help? Your contact person:
Email: fi@vastcob.com

Florian Ibe