Sell ​​items at unit prices or allow customers to add their own quantities with the meter price calculator. The WordPress + WooCommerce plugin "Measurement Price Calculator" enables flexible calculation of almost unlimited possibilities for your online shop.
Simple calculation: WooCommerce price calculator for unit prices, dimensions, square meters, volume or weight - the plugin for calculating e.g. e.g. floors, wallpaper, filling quantities, volume etc.
While selling normal products in single quantities, such as perfumes, fashion, spare parts or cell phone cases is not a problem with WooCommerce as a shop system, many of us also sell products that are not sold in quantities of "1", such as. B. floors, wallpaper or more. The measurement price calculator for WooCommerce solves the problems you have probably encountered when setting up and pricing these products.
With the paid Plugin and the extension "Measurement Price Calculator" for WooCommerce you can add and configure a calculator to your products, which in Mengen which is sold on Dimensions, square footage, Volume or Weight based. This allows you to easily sell products whose dimensions are known per item. For example, let's say you have tiles that sell for $2,09 per square foot and you sell a box of tiles that is 35 square feet or a larger box that is 60 square feet. If you use the same price per square foot you can simply enter the size of the box and the calculator will display the total price per box.
Want to let your customers know how much they need instead? You can also use the measurement price calculator as an online calculation Sell ​​products based on price per unit of measure (per square foot, cubic meter, etc.). . Perhaps you sell mulch at a price per cubic yard - you can allow the customer to specify the area and depth of the mulch and the calculator will derive the total cubic yards and final price. Configure any combination of units and customize the labels to suit your store's needs!
NOTE: The plugin can of course also be completely translated into German. For guidance
The Woo Plugin: Key Features of the WooCommerce Price calculator for quantity calculation for areas, volume, weight in the shop
Use the quantity calculator for products based on known product dimensions (e.g. tiles, tiles, product dimensions).
Use the pricing calculator for products that are priced and sold per unit: feet, square feet, cubic feet, etc. (ie, garden mulch by volume, wallpaper by area).
Product prices may be displayed per unit (e.g. "$1,75/ft", "starting at $3/m²") in the shop and on the product pages
price calculationinventory support : Product inventory can be managed "per unit".
Price calculator dynamic weight : Product weight can be set/calculated for "per unit" shipping
Price calculator Price table : Set price breaks based on simple measuring product ranges
Calculator available for any physical property: dimensions, area, surface area, volume or weight
Area, volume, perimeter, and surface area calculators allow simple entries or independent entry of length, width, and height
Use any combination of units
If you allow custom input, optionally add an overage estimate automatically. NEW
Customize the dimension and price tags
Set minimum and maximum values ​​or the accepted steps/increments for the measurements entered by the customer. NEW
Variable products for unit prices, shipping weight and inventory
Special calculator for selling wallpaper
Some of the possibilities:
Tiles sold by the box for a specific area: Demo
Variable mulch sold by the cubic yard, with customer providing an area and depth: Demo
Colored fabric from the farm: Demo
Wallpaper from the roll by room size: Demo
Foam sold by the cubic foot
Fencing for a garden perimeter
Coffee sold by the pound
Wrapping paper by area
And much more is possible... Be creative!
One plugin, two pocket calculator modes for eg area calculation

With this one plugin you can two different calculator modesconfigure : quantity based and custom . For information on setting up products for each mode, see the Documentation . The quantity-based calculators is ideal for selling products with a fixed size, e.g. The calculator will show up in the frontend and prompt the customer to input longitude and latitude (for example). You specify the label and the units to use, and your customer can easily purchase the minimum number of boxes based on the area of ​​their floor and the coverage of each box:
As shown in the sample image, the plugin can be configured to display the price "per unit", as is common with tile sales. The price of the product (e.g., a box of tiles) is divided by the configured size of the product (e.g., the square foot coverage of the box of tiles) to determine the unit price. Of course it can any of the calculators can be used : Measures, area, volume or weight, with any combination of units and custom labels.
---
---
On the other hand, you can custom calculator mode Sell ​​products that are available per unit and in custom sizes. This calculator is ideal for selling products that are made to order: for example, fabric sold by the foot, the length of which is specified by the customer. If the 'Calculated price' option is activated, the price is defined as the price per unit and the amount entered by the customer.
On the product page, the customer can specify the length they want and see the final price based on their dimensions: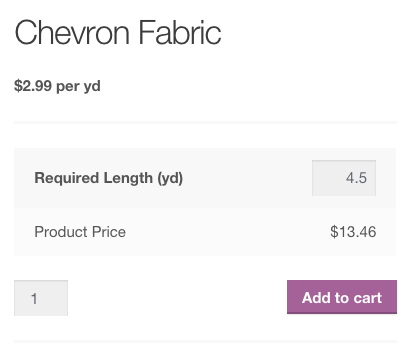 The measurement provided by the user is displayed on the cart page, order details, emails and order admin:
Price calculation inventory support (stock level)

In the latest version of the plugin, inventory can now be managed "by units" for custom sized products (custom mode). When this option is enabled, you can track product inventory in the same units that it is sold. For example, if your product is footwear, you can configure your product inventory in terms of available footwear. So if a customer orders two 10ft lengths, a total of 20ft will be deducted from your product inventory.
Dynamic Weight Price Calculator
Now you can configure a "per unit" weight for your custom calculator products. For example, enabling this option allows you to set a weight per square foot so that shipping costs for products customized by your customers can be correctly totaled.
Control via a price table
For simple products with prices that depend on the overall dimension of the item, we're happy to use the function of the Price table to introduce . You are no longer limited to a unit price per unit for your pricing calculation products - simply define one or more pricing rules consisting of a metering range, a price per unit or a selling price per unit and the meter price calculator will take care of the rest. The price will updated immediately on the product page based on the product size configured by the customer.
Display the available prices in the frontend with a simple shortcode that can be used on the product page or anywhere shortcodes are accepted. Encourage your customers to buy more while making savings. Would you like a suitable place to show this? How about listing the pricing plan in a custom tab added by premium tab manager:
Remember that each of the calculators can use: dimensions (length, width, height), area (simple area or length x width), area, perimeter, volume (simple volume, area x height or length x width x height), or weight with any combination of units and custom labels. The measurement price calculator allows you to configure product calculators that are as unique as your product line!
Get started (in 5 minutes or less)
Buy this extension here..
Download and install it on your WooCommerce store
Define the measurements to use under WooCommerce Settings > Products
In our see documentation some setup tips
Update the product data on the product page below Measurement with the box for all products that use the calculator
That's it! Enjoy products whose price is automatically calculated to measure!
To the WooCommerce plugin for quantity calculation & calculation*
---
---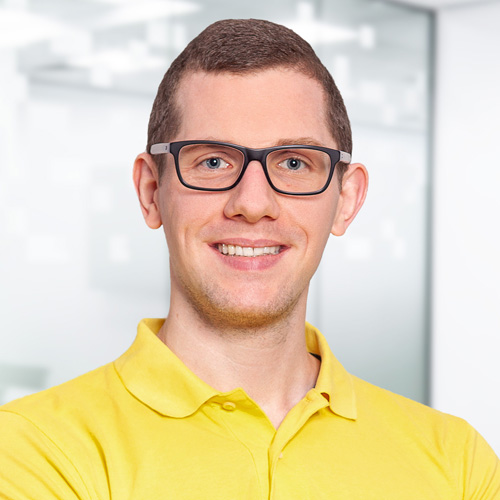 Help with WordPress? Inquire now without obligation and receive active support:
Email: fi@pictibe.de

Florian Ibe
to the pictibe WordPress agency