A Online shop with WordPress + WooCommerce implementing is the best way to start flexibly into a future in e-commerce. But often there is a desire to display certain additional fields or additional information for the product itself or for the customer. Writing everything in the normal description fields is usually not the best way. Therefore, we are presenting a very good plugin for WooCommerce purchase prices and showing how you can flexibly display an unlimited number of fields on products, categories or in general in the shop and on the page.
WooCommerce purchase prices, supplier number & additional fields (ACF) for frontend and backend
This article covers two separate themes and plugins:
Purchase prices including comprehensive reports for internal controlling
ACF Custom Fields for flexible additional fields in WooCommerce
+ NEW: Costs & reports for WooCommerce (extra plugin at the bottom of the article as a supplement)
---
WooCommerce purchase prices and comprehensive tracking of goods receipts and costs for your WooCommerce shop
WooCommerce gives you access to great reports on earnings and top sellers or winners. With the official plugin "Cost of Goods" is now a Profit Reporting (Sales Price - Purchase Price = Margin = Profit) added to make online store reports even more valuable! You can evaluate not only sales but also costs and profit in your WooCommerce store. Get the information you need to make marketing and sales decisions to increase sales quickly and easily your business zu optimize.
So this is the simplified form of a WooCommerce merchandise management system together with the standard warehouse and inventory management.
Note: The WooCommerce plugin can be fully translated into German with the free WordPress plugin Loco Translate.
Easily track total profit and total cost of goods by adding a cost of good field to simple and variable products. The cost is calculated automatically at checkout, so you can see your profit in addition to basic sales information. The detailed reports provide just the details you need to improve your bottom line.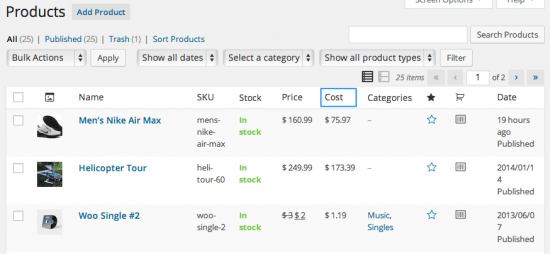 How "Cost of Goods" improves your reporting
Provides you with important information about your company - Adds information on business profit and the most profitable products, so you know more than just sales
Add a merchandise value to each product (including variations!) to always know the total cost of products sold in each order
Apply the cost to previous orders (placed before installation) after you set the product cost
View profit and cost by date range, product, or product category
Export result/cost report data to CSV
Include costs in orders exported using Orders/Customers CSV Export Suite
Include costs in orders exported with Customer / Order XML Export Suite
Compatible with the product CSV import suite
Edit line item costs for editable orders
Get insights into your most profitable and Least Profitable Sellers so you know where to focus your marketing
Show one Overall assessment of inventory based on retail prices or cost of goods.
Quickly display costs next to prices in your product manager's table view
Add cost to products = purchase price
Quickly add a commodity value to each product, including product variations, which is then used to calculate your total order cost, so you always know what you've really earned on each order - not just how much you've sold. The total cost for each order line is saved at checkout. Even if your costs increase in the future, your overall costs are always historically correct .
Adding costs to variable products is also easy. You can add standard costs for all variants or set the costs for a variant manually.
Concentrate your marketing on top products with a perfect evaluation in your shop through an overview of your margins
---
---
With the WooCommerce Extension (Module Plugin) "Cost of Goods" you can determine your true top products by showing which products are suitable for your store most profitable and least profitable, and not just those that generate the highest turnover.
Detailed reporting and reports
Tracking your cost of goods and margins is pointless without detailed reporting to provide you with actionable information to improve your profitability. Reports include:
Profit by Date - View your net sales, cost of goods, profit and average profit per order for any period.
product profit - View your net sales for the item, total cost, total item profit and total item purchases for the specified period.
Most / Least Profitable Sellers - View the most or least profitable products for a given period.
Earnings by category - View total profit for a product category or multiple categories for a time period.
Inventory Valuation - View the total value of your inventory calculated using the retail price or cost of the good.
Powerful configuration and settings
You can previous orders with costs from Belas to get an instant insight into profitability. Just add the cost of your products and all orders before using this extension were abandonedcan under " Settings > Products > Inventory updated to show most and least profitable sellers without waiting for new sales.
How to get purchase prices in your WooCommerce webshop:
Buy this extension here.*.
Download and install it on your WooCommerce store
Add a cost to each of your products (you can bulk add this too!)
These costs can optionally be applied to previous orders
Check your winnings below WooCommerce > Reports > Profit
That's it! Sit back and enjoy your shiny new earnings reports!
(optional) use Loco Translate for translation
---
ACF - Custom Fields for flexibly expandable and usable additional fields (no matter where!)
With the plugin you can add an unlimited number of additional fields for e.g. supplier number, batch numbers etc. to the product, variants, categories etc. within a few minutes. The fields can then either only be displayed for administrators in the backend or also in the frontend for the user of the online shop. Check out the video below (English).
About the plugin: ACF Custom Fields
Display additional fields on products or in the shop (frontend):
As WordPress and WooCommerce Agency we offer you the best service for your WooCommerce shop. Write to us and we will help you promptly and professionally at a fair price.
---
NEW: Costs & Reports for WooCommerce with Bulk Editing
Add cost of goods and profit for your business. Bulk edit costs, margins, prices, inventory and more. Reports to track the profit and sales of the store.
This plugin is the ideal combination for the purchase prices & supplier numbers plugin!
to the Costs & Reports Plugin *
---
Track the cost of goods and profit for your business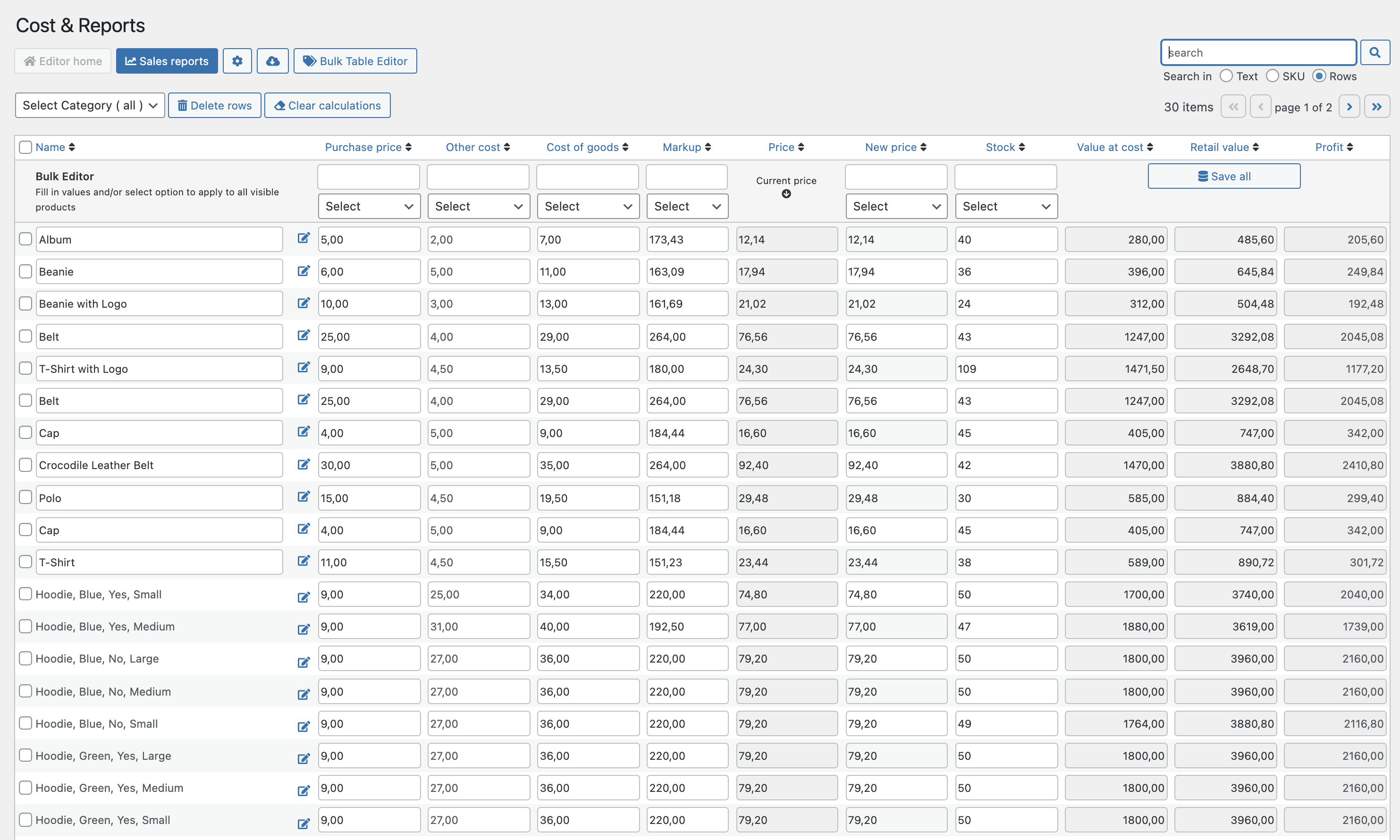 ---
---
In purchase price, costs and cost of goods on your products / variations. Based on these values, new prices are calculated and suggested using your markup (margin). These values ​​give you direct control over the profits and revenues of your shop . With the included table editor and his mass functions you can easily add and update all these values. In addition, you can seamlessly update inventory, view cost value, retail value, and total profit.
Cost & Reports contains valuable and unique Sales reports . The reports detail your actual profits and revenues , not only bestsellers, but down to the product or variation level. Get reports by predefined or selected date range, see your acceptable profit (green background marker) and unacceptable profit (red background marker). Load reports (CSV) for further processing in applications such as MS Excel or Apple Numbers down .
---
Why Use Costs & Reports for WooCommerce?
Adds important information to your Business profit and sales added .
Add valuable fields to your product/variations like: Purchase price, costs, shipping, cost of goods and markup .
Generated more accurate prices for your business (with cost of goods and surcharge).
Historically editable metadata is added to your purchase price and cost of goods order lines.
table editor, the Add/update your costs, margins, prices, inventory levels and more in bulk .
Table reports per order and product / variation. Including:

Search , date ranges, averages, profits, net sales, taxes, sidebar with summary information and best sellers.
Bestsellers with information such as profit, sales and sales.
product reviews , which are calculated dynamically during filtering.
export option (CSV).

Compatible with WooCommerce subscriptions
---
Spreadsheet editor for fast efficient editing


The spreadsheet editor can update bulk: purchase price, cost, shipping cost, cost of goods, markup, price and inventory. It calculates a correct price (suggested price based on item cost and markup). In addition:
Shows the cost value (per row and totaled)
Sales value (per line and totaled)
Profit (per line and totaled)
A range of search/filter options
Sort by Column
Export to CSV file (opens in MS Excel or Apple Numbers)
---
Easy access to bulk functions!
Bulk functions are available for most of the columns, here is an example: we enter 10 in the input field for "Other costs", select "Increase fixed amount" and 10 will now be added to each row. When this is done, Cost & Reports adds this value to the cost of goods, then calculates each line and proposes a new price. If you are happy with the new price, simply use the "Save All" button and this will now be the current price for the selected products. If a price comes out with a number like 12,37, you can use the rounding function on the new price to create a cleaner price like 12,40. The surcharge will then be automatically adjusted to your new price.
---
Reports per order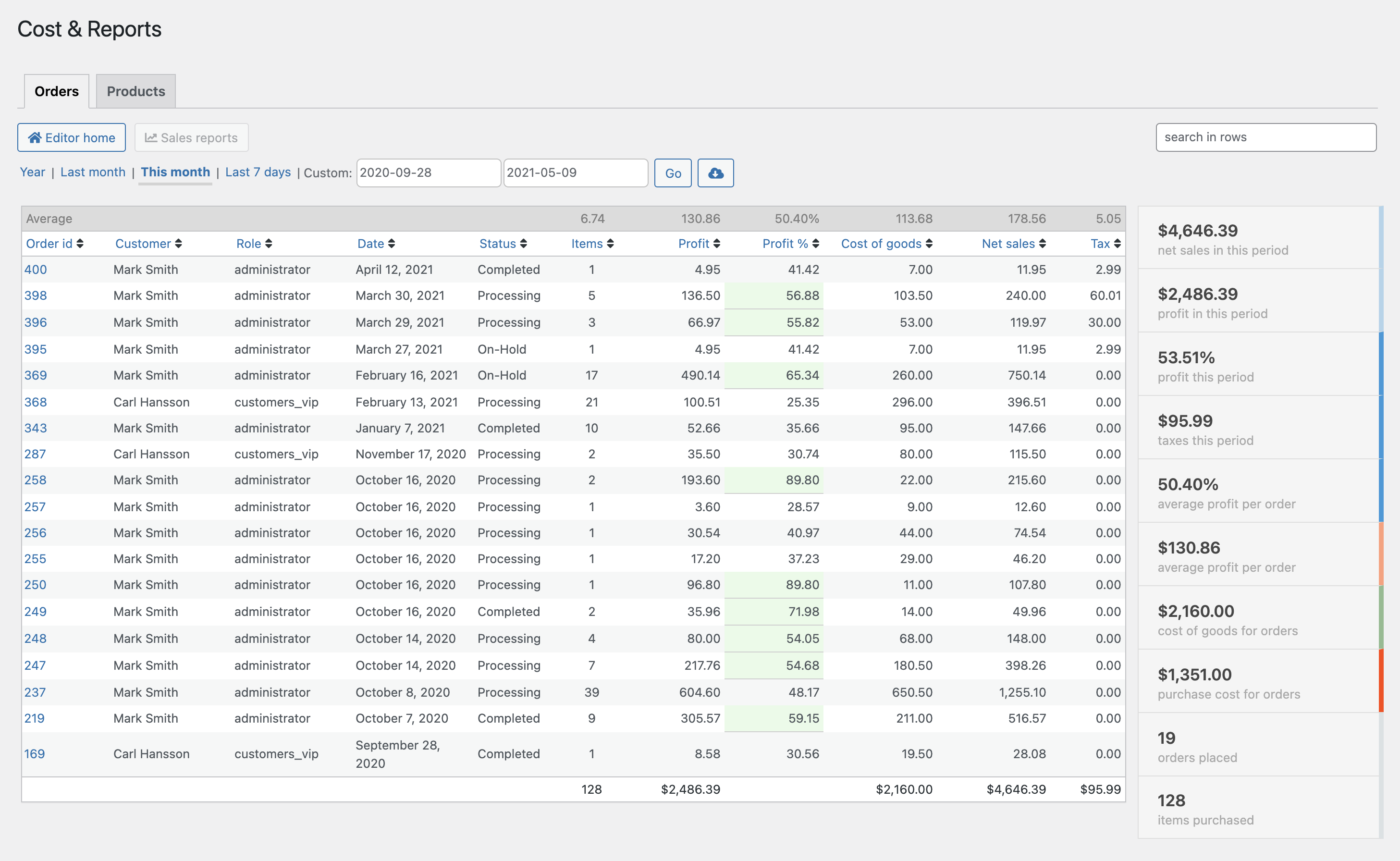 This report view shows all sales in a date range, set your own range using the date picker or use the predefined ranges. In the table you can find Order ID (links to order page), Customer, Role, Date, Status, Item Quantity, Profit, Cost of Goods, Net Sales and Taxes for the selected period. On the right side of the table you will find the most important values ​​and averages from the period. Color indicators in the table for high and low win are also included, these can easily be adjusted in the settings. Use "Search by Rows" to filter the reports, filter by Order ID, Client, Role and Date. The role column is added to accommodate role-based extensions such as Support Roles & Rules B2B .
---
Reports per product & variant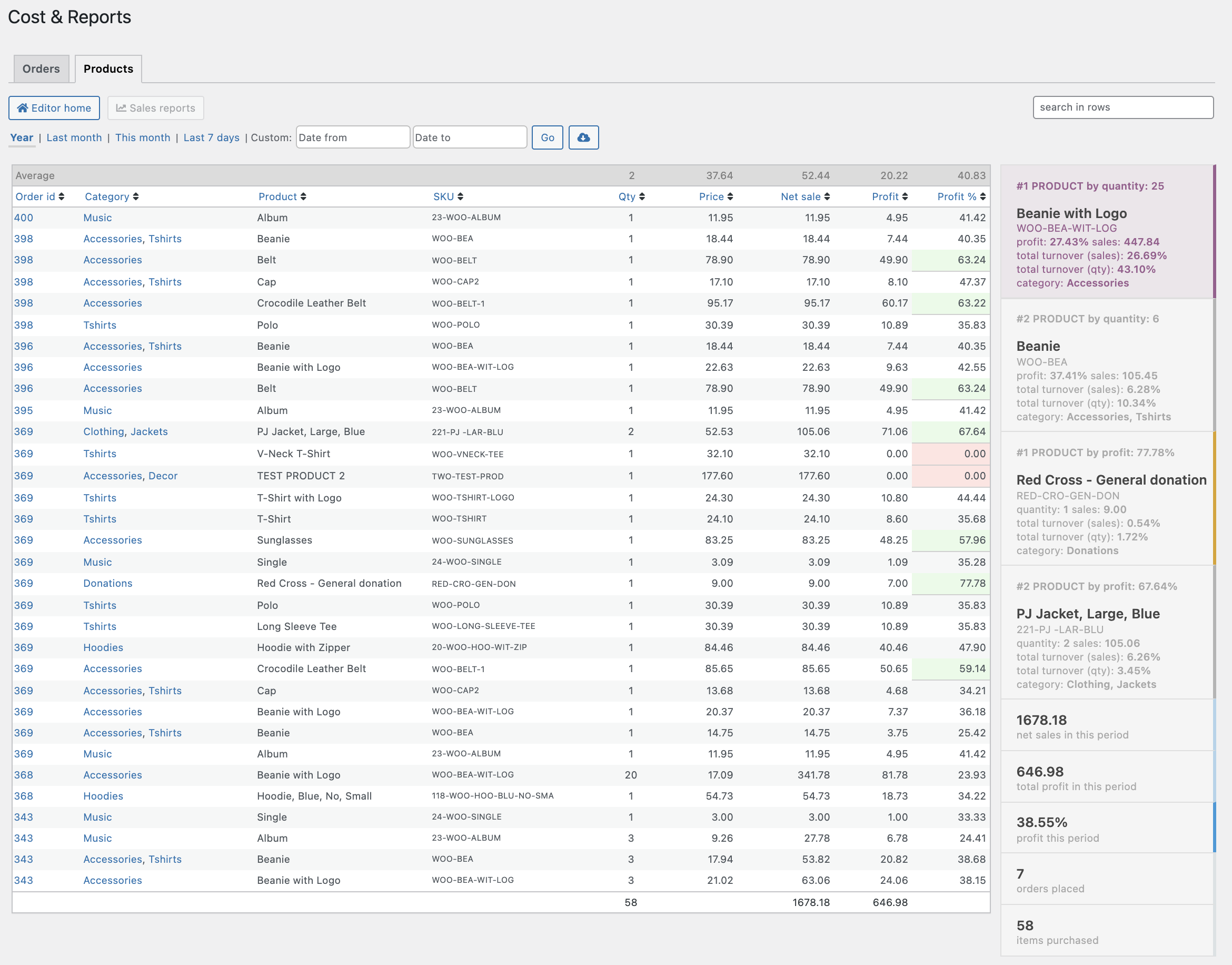 The product view offers the same functionality for date range selection and CSV download button. This table starts with Averages, then Order ID, Category (link to edit products in category), Product/Variant Name, SKU, Quantity, Price (at purchase), Net Sales, and Profit (including percent). Sort the columns as you like. On the right side of the table is a top product in the period based on volume and profit. And other key values ​​and averages from the selected period.
---
Line search and automatic calculations
Use the Search by Rows filter to view your selection of products/variants in the product report. You can use Order ID, Category, Product and SKU if you want to filter your sales. As you filter, the plugin automatically updates averages, best sellers, totals, and more so you can easily see your gross sales and profit for your selections.
---
Added history to order items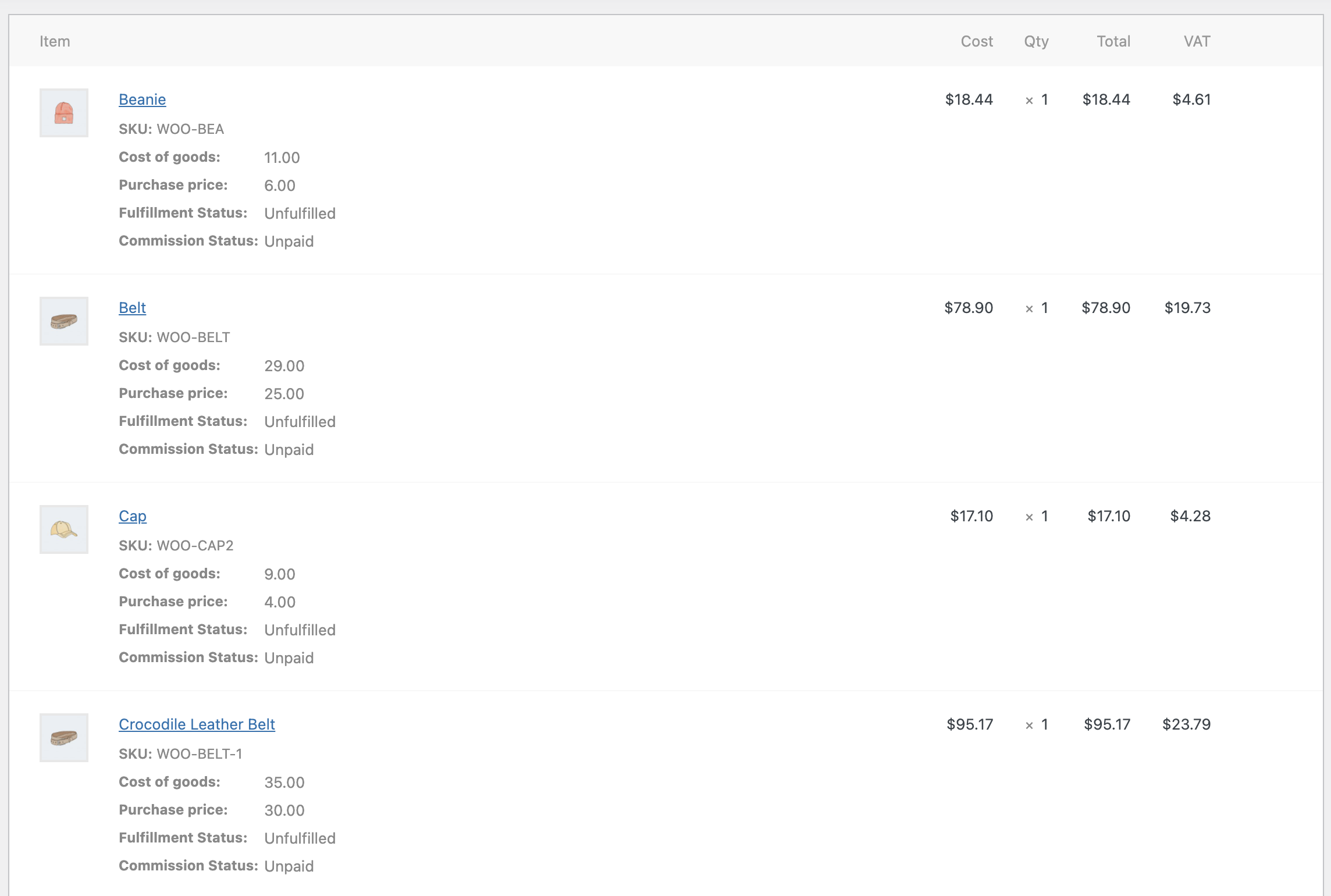 When customers buy your products, Cost & Reports adds the cost of goods and purchase price to each order line. This means you can see and edit what you bought the item for and the cost of the goods if you sold your products. This means that historically correct wins are shown in the expansion reports. (Cost of goods and purchase price of the order items are for internal use)
---
Download calculations and reports
Download the calculated product list and reports simply by using the download buttons. It is possible to download per category or download all categories. For sales reports, you can download per order or per product for a date range. This (.csv) file can then be opened in applications such as MS Excel and Apple Numbers.
---
Do you already use cost of goods for your products?
If you already use the cost of goods field for your products, then just go to Settings > Integration and enter the cost of goods field; Cost & Reports uses this value for the cost of goods in related calculations. If you don't have this plugin, Cost & Reports creates a cost of goods field by default , which will be used for all your products. For more information about this integration, see the documentation.
---
Using bulk table editor for WooCommerce?
If you are working with prices in a category and want to set up sales, you can use the Set Up Sales link to jump to the bulk table editor and set up sales in the same category. More information about your prices and profit gives you the opportunity to make better decisions when setting up the sale of your products. The integration is automatic.
---
Main Features of Expense & Reports Plugin for WooCommerce

Bulk functions for each price field, markup field and inventory quantity.
Calculate automatically when you enter values ​​in the table or use mass functions.
Control mechanism for prices and negative profit values.
Adds purchase price and cost of goods fields to your existing products.
Use shipping cost to calculate the cost of goods.
Totals for inventory, value at cost, retail value, and profit are shown in the table.
Search and filter functions that allow you to price a selection of products in bulk.
Function to clear input fields for calculations.
Progress bar when saving.
Clear 0,00 values ​​in focus (Mouse Over), this makes it quick to set correct values ​​when null
Bulk delete products and variations.
Download (CSV) file per category or all products. Including calculations and last modified date.
Supports multi-site network setup.
Sales reports per order and product.

Reports per order.
Reports per product/variant.
Download as .csv file.
High and low win percentage color indicators.
Search in rows with automatic calculations. NEW
The extension is compatible with
WooCommerce products and variants
WooCommerce subscription and variations
Integrations
Cost of goods for WooCommerce
Bulk table editor for WooCommerce
Other plugins that use purchase price and/or cost of goods fields
Try the Costs & Reports plugin now *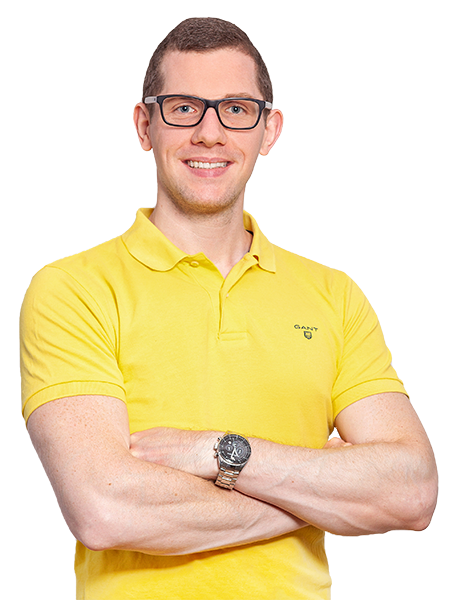 Florian Ibe
Owner
Questions about WooCommerce or help from a professional? Please report:
Open contact form
Your contact person: Florian Ibe Owner
Personal advice
Fast response
Non-binding offer
Fixed package prices