Hotel, restaurant, holiday apartment, activities etc. book with a calendar and direct online booking without commissions, monthly license costs or hidden fees. All data belongs to you and only you through the WordPress plugin booking system + booking calendar! After a one-time investment or an annual license for a few euros, the calendar with booking system is free of charge with no follow-up costs except for the one-time or annual license (see description).
WordPress booking system / booking calendar plugins as a reservation system (with optional WooCommerce integration)
Whether you run a hair salon, work as a consultant or run a hotel, the ability to schedule and book appointments is undoubtedly vital to business. And if you also need to manage employees, you need more than a simple address book or calendar.
Honestly, the main reason you have one WordPress booking plugin want to use is to make life easier for you and your customers. Choosing the right tool makes all the difference, because you want a tool that allows your clients to quickly and easily schedule their own appointments, automate reminders and paperwork, and collaborate with your employees and locations to handle the complicated business you run become a little easier and less hectic.
The last thing an organizer or event planner wants is an incorrect reservation. With one of the following plugins, you can be sure that your guests' reservations will be processed in the best possible way. All booking plugins & systems are compatible with almost all WordPress themes and can be used with Loco Translate also easily translated into German.
We all know that a professional booking system is mandatory for any business in the online booking industry. A booking website is essential - this is how customers connect with the business. If that's what your business needs, we offer the perfect solution, a WordPress booking system. With over 20 functions for selecting and customizing your booking calendar, you can flexibly define your new booking experience - with the Pinpoint Booking System WordPress Plugin or Bookly Pro Appointment booking and scheduling software system.
NOTE: At the bottom of the article we give tips for the best WordPress hotel themes!
The alternative for a booking & rental system via WooCommerce:
WooCommerce Booking, Rental, Lease & Rental Platform Plugin 📅 Booking & Rental
---
---
---
Online booking system with calendar for bookings and reservations for WordPress and WooCommerce – WordPress Booking Plugin
NEW: Probably the best WordPress booking system / booking calendar plugin with unlimited possibilities
Automated online booking and scheduling for WordPress: fully customizable booking form with online payments, notifications and Google calendar sync.
The Bookly Pro add-on (click here)* enables advanced features of Bookly online appointment scheduling plugin.
Bookly Pro standard configuration includes:
Fully customizable booking form that can be used on any device;
Filterable, sortable and searchable booking list that you can print or export to CSV;
Unlimited employees with individual work schedules, prices and the ability to manage their profiles and online booking calendar.
Unlimited services that you can group into categories and set unique colors for easy viewing in book calendar.
Importable and exportable customer base with unlimited customer list showing payment statistics and internal notes about the customer;
Various templates for customizable email and SMS notifications;
2-way synchronization between Bookly Calendar and Google Calendar, automatically reflecting any updates in Bookly in your Google Calendar;
Integration with PayPal Checkout, the list of completed and pending payments;
Integrated analysis with booking statistics;
WooCommerce Compatibility;
Multi-language support - 12 languages ​​included;
Six months of XNUMX/XNUMX online customer support.
Once you have purchased and installed Bookly Pro, the Bookly plugin and Bookly Pro add-on are activated. You can use your default configuration various Bookly add-ons add advanced features to automate your online booking system.
to the WordPress Bookly Pro Plugin*
Video about the plugin:
And here are instructions:
Step 1: Choose the service of reservation (booking)

Upon arriving at the booking plugin page, the customer enters the following information:
Desired service
Desired employee
Desired date and time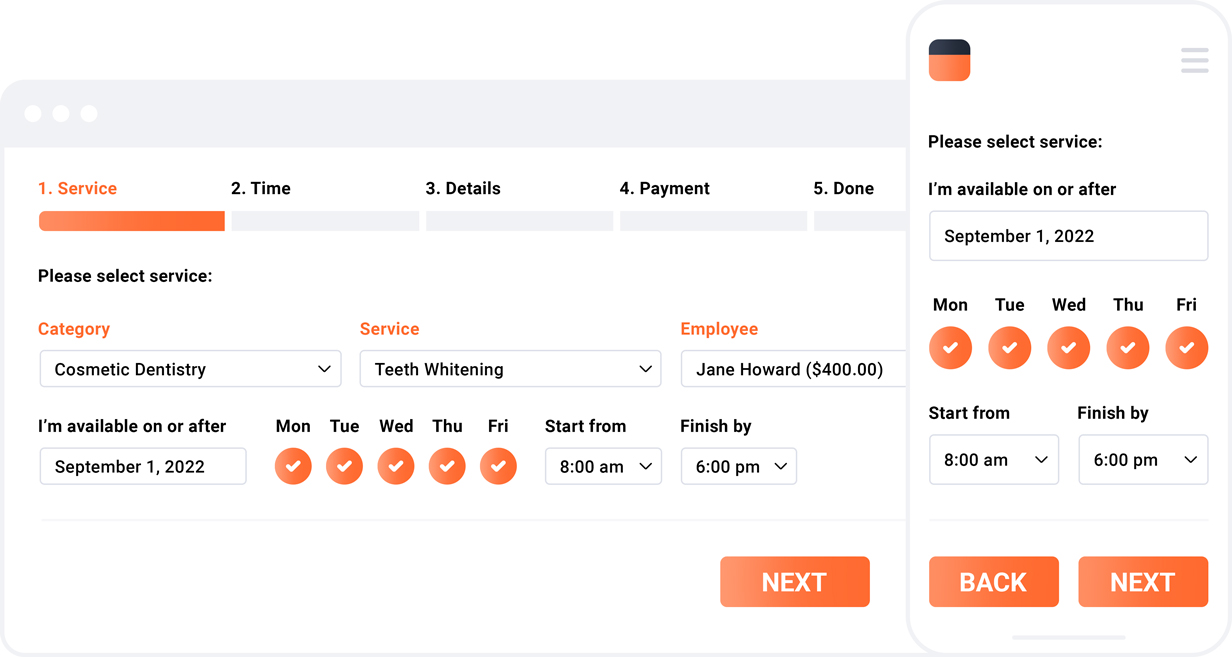 ---
---
Note: Let customers decide the number of people they want to book. How: Increase a service's capacity in the Services tab with the Group Booking add-on and uncheck the "Number of People" checkbox while integrating the plugin into your pages.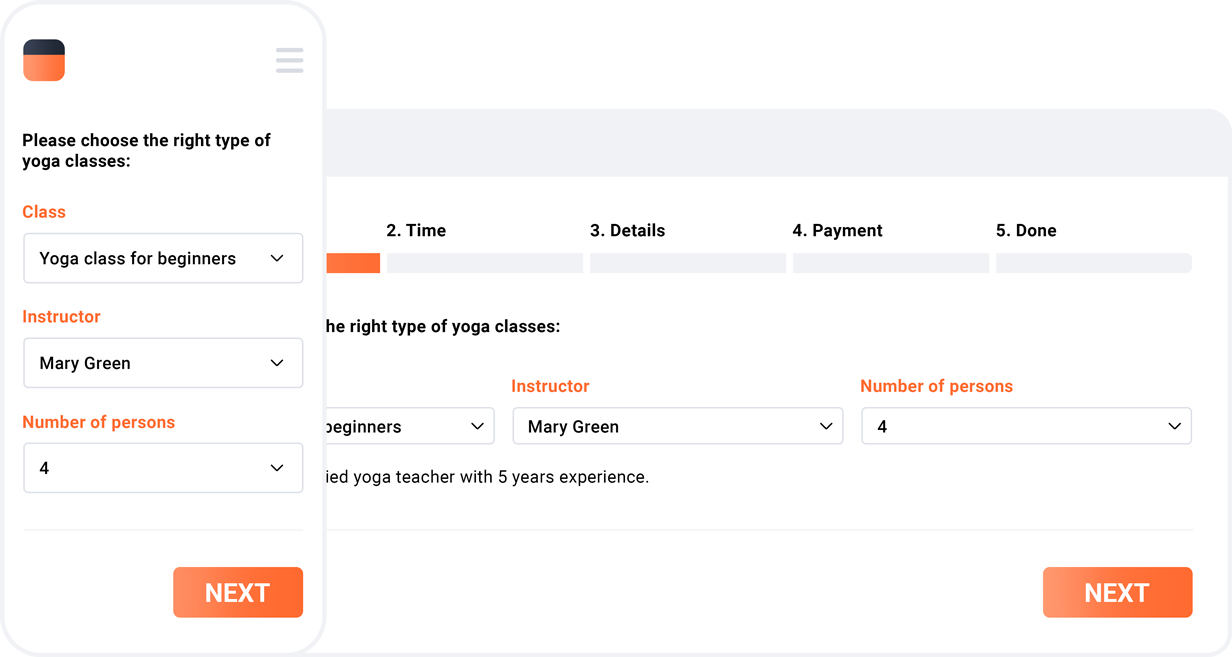 One of our most popular add-ons, Service Extras allows you to add additional products or services to an appointment. Once added, a new step will appear in the booking process (see image below).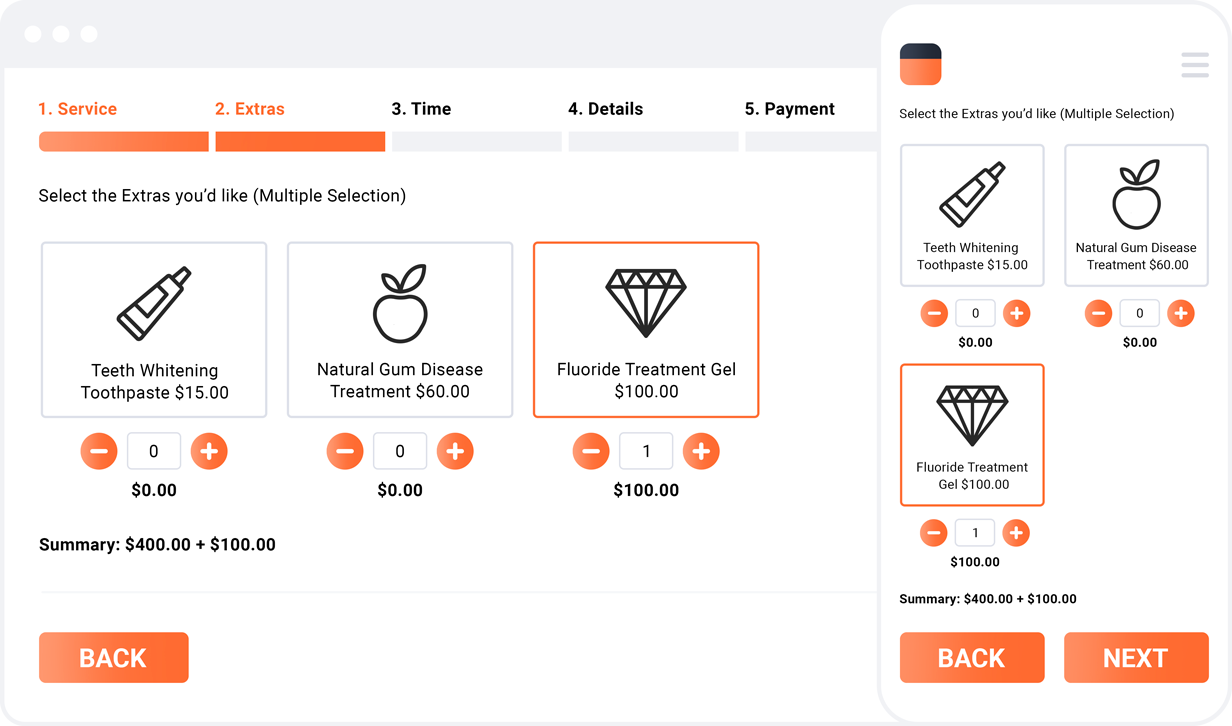 Step 2. Choose a time period
Based on the preferred date and time, the booking system will provide a list of available time slots. The customer can browse the scheduling list and choose the time that suits them.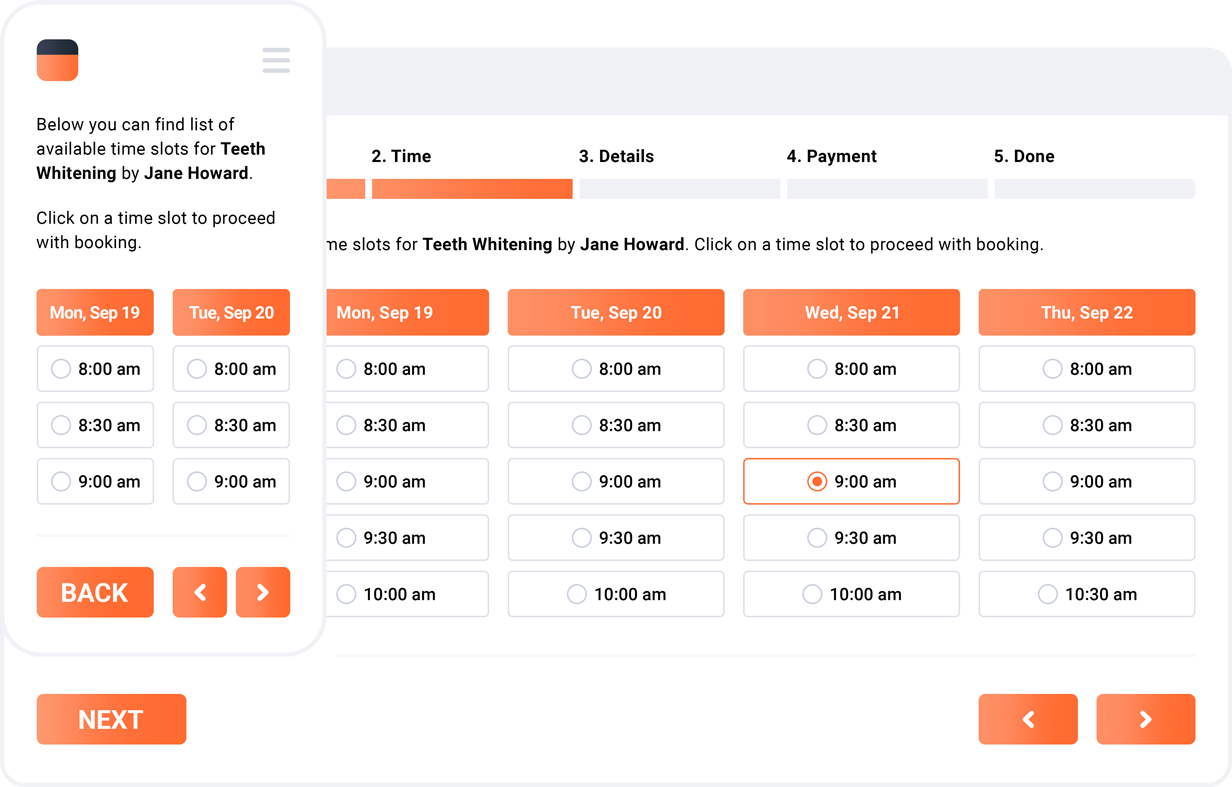 You can customize the available data that is shown to customers. You can also change the appearance, e.g. B. Each day in a separate column. See how here.
Step 3 (optional): Book multiple appointments in one session
With the shopping cart add-on, your customers can book multiple appointments in one booking session. This feature adds an option to "Book more" right after step 2. The "Book more" button takes them back to step 1 while the current booking is saved in their shopping cart ( Set up the shopping cart add-on ).
At this point, two add-ons are worth mentioning. With the "Chain Appointments" add-on, the customer can book various services during one visit. For example in a dental practice: cleaning, bleaching and check-up can be booked one after the other.
With the "Multiply Appointments" add-on, your customer can book identical services one after the other. This is useful for group bookings where customers are assisted individually.
All booked appointments are displayed together with the date, time, employees and prices.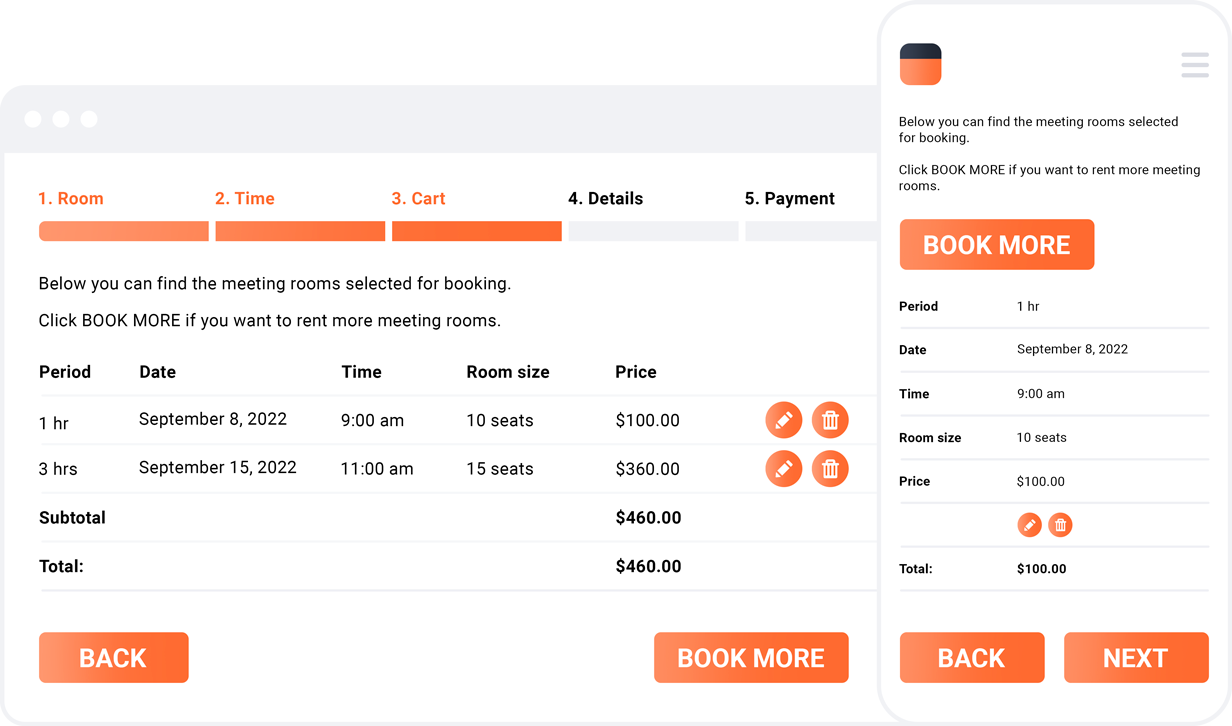 Step 4: User data and necessary information
This is where customers insert information for organizational or marketing purposes. The default settings are name, phone number and email. These fields cannot be removed, but the phone number can be replaced with a Skype ID. Additional fields can be added as desired.
Your customers can also leave notes in the booking system here. Like her favorite spa cocktail or a request for a parking space.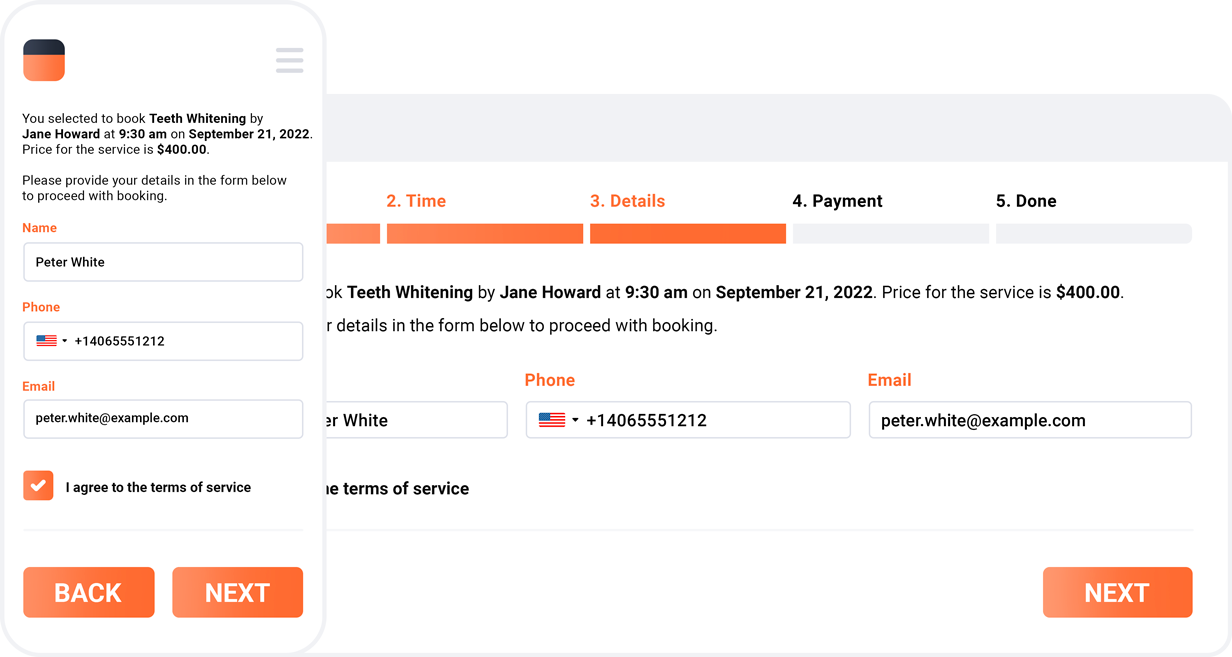 Step 5: Payment
The customer can choose between several payment options, including offline payment (cash payment upon arrival). There are 10+ online payment options to choose from and enable for your plugin. Read more about these options and how to set them up.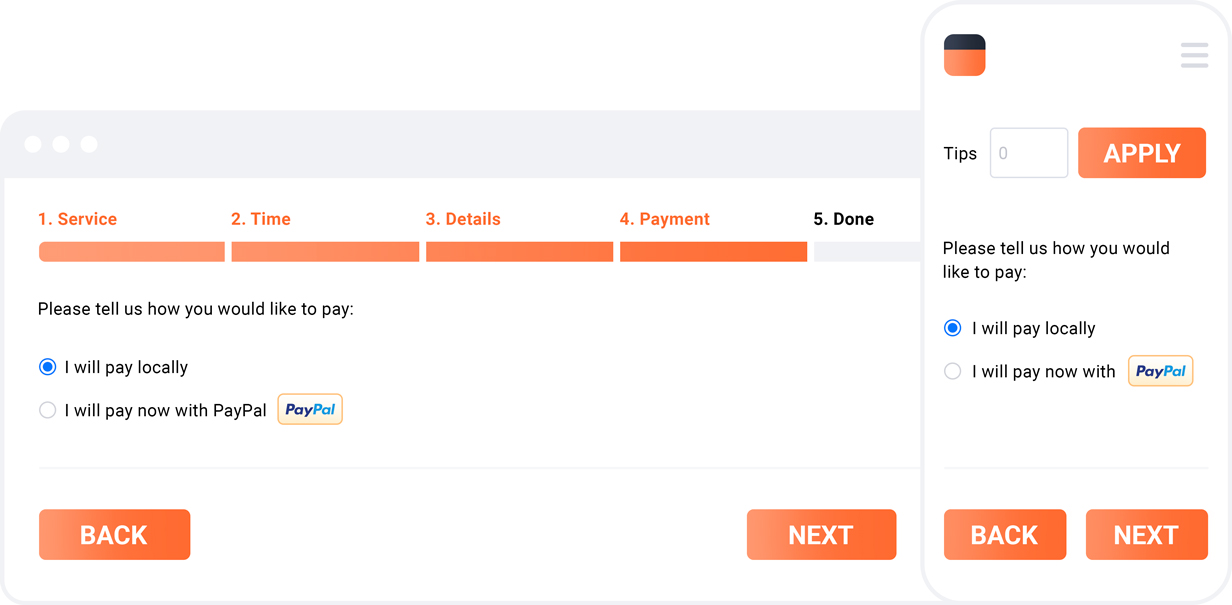 They can integrate and offer coupons, like this one.
If you offer free services (price set to 0), this step will be skipped.
Step 6: Booking Confirmation
Appointment confirmed. If you have set up notifications (strongly recommended), a confirmation email and a text message (SMS) with booking details will be sent to the customer. To learn how to set up notifications, watch this video or this help document.
If you have the pending appointments feature enabled, we recommend that you change the wording of this last step. A confirmation or heads up to confirm contacting booking is better.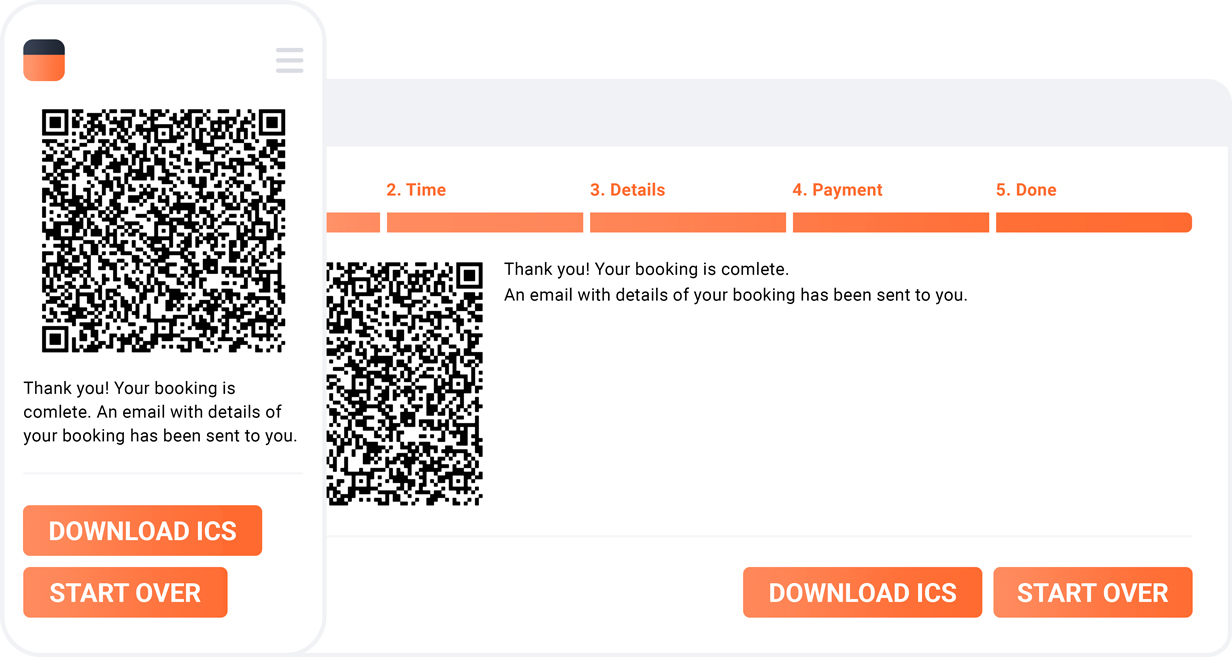 Simple and easy, isn't it?
What sets Bookly apart from other booking plugins is our top-notch support and fantastic customization options. Try the Bookly Pro <strong>Book</strong> a demo free.
If you need more information about Bookly Pro, visit our YouTube page and learn more about our epic booking plugin for WordPress.
We recommend getting a good quality booking plugin for WordPress. Customers appreciate a smooth and easy booking process.
Click here for the Bookly Calendar Plugin*
---
The alternative: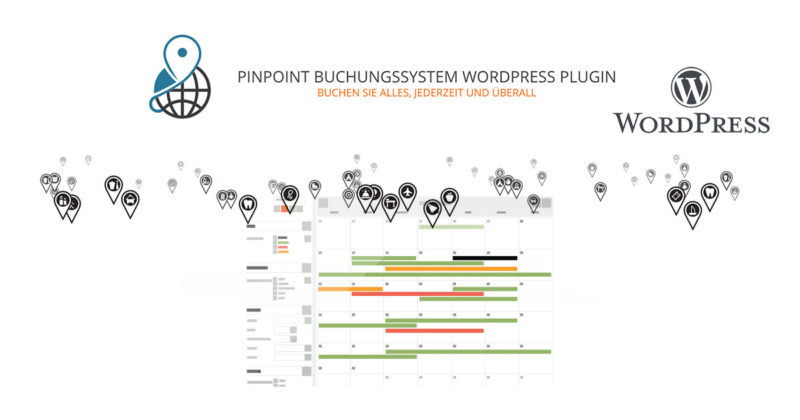 With Pinpoint Booking System WordPress Plugin you get the easiest way to rent accommodation, schedule services, book events or get online reservations and appointments of any kind through your WordPress site. Your customers will be impressed how easy, fast and clear it is to check availability and send a booking request in a unique AJAX calendar.
Directly to the PinPoint booking plugin*
We have this calendar module as WordPress agency already used by more than 10 customers for various areas of application.
The booking system with calendar has a variety of amazing features and maximum flexibility in combination with WordPress and optional WooCommerce:
BOOK DAYS
With this function you can set the availability, prices or information - whatever you want - day or night. What your customers will see is an intuitive front-end interface where they have the option to choose the dates, which services to book and complete their information before sending a reservation request.
BOOK HOURS / MINUTES
The WordPress booking system with booking calendar extends its flexibility so that you can control booking times down to the minute. You can set hour definitions per minute - and these can be adjusted at will.
SEVERAL LOCATIONS
Locations can be added to a Google map and linked to multiple calendars. Places appear in search results when you view the map.
BOOKING CALENDAR EXTENSIONS
The Pinpoint Booking Calendar has a number of extensions on WordPress that can drastically improve its flexibility and improve your customers' booking experience. These features are useful when you need additional information from your customers or want to give them more options to make better use of your service.
EXTRAS (equipment, service & other)
You can add additional amenities or add-on services from your booking calendar to your customer's reservation.
Add amenities, services and other things to a booking request (reservation), with or without a price.
Extras can have default values.
Additional groups may or may not be mandatory, and a customer may select a single item or multiple items.
Extras value can be negative or positive, fixed or percentage, one time or by day/hour or 0.
You can create an unlimited number of different add-on groups to use with one or more calendars.
FORMS
If you need more information about your customer, you can add a custom form to the booking that your customer can fill out directly in the calendar.
SYNCHRONIZATION with other systems
Each Pinpoint booking calendar's availability can be synced to Google Calendar, iCalendar or Airbnb.
BOOKING RULES
Set the minimum and maximum number of days/hours/minutes allowed in a booking request (reservation).
DISCOUNTS
Discounts may be provided to your customer's reservation of similar duration or value.
TAXES AND FEES
If you add additional taxes or fees to the booking, these can be added directly to the booking calendar.
GIFT CARDS
Vouchers or vouchers can be added to improve your customer loyalty.
SEND NOTIFICATIONS BY EMAIL
If you want to notify your customers, you can use this booking calendar to send your customers an email via SMTP, PHPMailer class or PHP mail function. You have complete control over the information in the email by creating your own email templates.
SEND NOTIFICATIONS BY SMS
If you prefer to notify your customers or yourself via SMS, you can do it with the Clickatell SMS gateway.
MULTILINGUAL SUPPORT
If you need to provide your booking services in multiple languages ​​or your local language is not English, Pinpoint already offers multi-language support. However, if your language is not available, our booking calendar system allows you to change or translate your own text using a simple "to-do" tool.
USE ANY CURRENCY (multiple currencies)
Another useful tool in this booking calendar is support for any currency. Additionally, if needed, you can create your own currency to suit your needs.
ONLINE PAYMENT GATEWAYS
With Pinpoint you can receive your customer's payments or deposits directly online. Our default payment system is PayPal. However, if you have other preferences, you can add them to your booking calendar. You have the choice of 7 payment gateways: 2Checkout, Authorize.Net, Braintree, Icepay, Mollie, Stripe or Wepay - just a few clicks away.
Usable WITH WooCommerce
Configure availability of calendars, services, discounts, taxes and fees... and attach them to a product.
Add bookings to cart and use WooCommerce extensions for coupons, deposits and more.
All reservations and data are stored in both WooCommerce orders and Pinpoint
And most importantly, you can use all payment gateways and plugins offered by WooCommerce.
EMAIL TEMPLATES AND NOTIFICATIONS
Create email templates for all possible notifications and languages.
Email notifications can be sent using SMTP, PHPMailer class or using PHP mail function.
Enable/disable which notifications should be sent.
Notifications can be sent to multiple administrators.
You can add a reply email and a name.
You can create an unlimited number of email templates to use with one or more calendars.
You can define what information should be included in notifications regarding the booking request (reservation) by using the shortcodes in the email templates.
to the PINPOINT booking system*
A regular license entitles you to 1 YEAR of use, updates and support for the product. If you want to extend your update and support period, you need to renew your license.
An extended license entitles you to use and receive support and updates for FOR LIFE. The Pinpoint Booking System was launched in 2012 and has undergone constant changes since then. It will be updated regularly in the years to come. Pay once and don't worry if you need help or updates.
A license key is required for each installation of the plugin in order for you to receive updates and/or support.
---
Save time and effort by letting customers book with ease: Let your customers make reservations, appointments, or rentals themselves—no phone calls required. Save time and fill your calendar by letting your site do the work for you.
Let customers book classes, schedule appointments, or reserve items!
Whatever you want to offer your customers, Bookings makes it possible:
Define specified options , e.g. B. fixed time slots for a class, an appointment or a guided tour
Let customers choose the times that work best, by giving them the flexibility to book the area they want, e.g. B. when checking into a hotel
With both options you can too block the time-out as not bookable , so you have time to attend to your other priorities and Buffer between postings zu draw up to make sure the schedule works for you.
Set your time slots as precisely as you like - the extension allows bookings in days, hours and even minutes.
Book individual appointments or events for several people
You can set the minimum and maximum number of participants: limit a booking for appointments to one at a time or let multiple people reserve a class or tour.
Offer special rates for groups, days or individuals
Offer discounts for groups or people booking multiple slots and show lower prices for early bird, higher prices on weekends or special prices for children. Bookings allows you to customize prices to your liking.
View availability in the customer's time zone
When your services are online or when you deliver something to the customer, show your availability in the customer's time zone so that they book the time they really need. Whether bookings are from New York, New Mexico or New Zealand, they will be made within the times you specify.
It's perfect for virtual classes, online appointments, or rentals that need to be delivered to the customer.
Request confirmation, offer free cancellations - it's all up to you
Set up confirmations so you have time to review them before officially making the booking. Automatically send pre-booking reminders to avoid no-shows and choose whether bookings can be cancelled.
Send reminders and reduce no-shows
Remind customers of their appointments with convenient notification emails when a reservation is made, confirmed and received one day before the booking date.
If you want to do more, you can send a special reminder right from your website.
Never be booked twice: Avoid double bookings by allocating required resources to a specific booking. For example, if your 2:00 bride books a fitting and a stylist by 3:30, that stylist will not be available for the bride who schedules a fitting at 3:00. You never have to worry about offering the same resource to two clients at the same time.
Manage your calendar the way you want - including syncing with Google Calendar
Use the calendar view to see how your day or month is progressing. Update existing bookings or availability, or filter to view specific services or resources.
Do you still have clients calling to book the old fashioned way? Add them manually from the calendar while on the call.
to the WooCommerce Bookings Plugin*
---
wordpress booking plugin
wordpress booking system german
wordpress vacation rental plugin
wordpress booking calendar
occupancy calendar wordpress occupancy plan
booking calendar for homepage
apartment booking system
wordpress appointment calendar
online booking system wordpress
online booking system wordpress
---
The right WordPress theme for hotel, restaurant, holiday apartment and Co
Hotel booking is a clean hotel WordPress theme designed for hotels, chalets, bed and breakfasts, resorts, apartments and all hotel and tourism businesses. Hotel Rooms has its own page where hotel owner can view all accommodation details with amazing booking system. The hotel theme also includes a simple search filter system to display all rooms and you can book them with a multi-step reservation module.
Directly to the WordPress Hotel Booking Theme*
The theme is designed for any type of hotel business. It's the perfect Hotels WordPress Pack for all types of hotels, resorts, chalets, holiday shops and many more like:
Hotel
hostel
Motel
Mountain and Lake Chalet
luxury apartment
private accommodation
Bed and breakfast ( b&b )
Online booking of rooms
Reservation online system
Resort
holiday room
Room rental
holiday structures
travel apartments
beach houses
Holiday home
Staterooms
Cabins
Preview:

---
Another alternative: Hotello WordPress Hotel Theme with hotel booking system
Hotello WordPress Theme is a responsive WordPress theme for hotel booking
Hotello WordPress Theme is a responsive hotel booking WordPress theme specially targeted for hotels, chalets, resorts, motels, hostels, bed and breakfasts and apartments with all-in-one booking system within the theme pack. Hotello is powered by hotel booking management features such as seasonal pricing, booking management, taxes, flexible pricing and more. With our advanced booking management, customers can search and book available rooms online.
This hotel WordPress theme also includes a simple search filter system and availability check for all rooms and customers can book and pay for rooms online.
Complete booking system included: No additional plugin purchase required! Instant booking, manual booking (requires admin approval) and booking disabled.