WordPress can do a lot as standard, but a calendar plugin is essential if you want to display an overview, booking or appointment preview on a page or as a widget. As a rule, it is about presenting events, workshops, webinars or other appointments online and optionally also with registration or booking.
In addition to the simple and visually clear presentation, the operation for admin and users should also be good. Unfortunately, many free plugins fail here due to their poor programming or limitations in relation to the paid version.
In this article we show an overview of the best WordPress calendar plugins as a pro version from just €20 once:
The best WordPress calendar plugin for appointments, events etc. with/without booking option & widget
One of the best free calendar plugins is still The Events Calendar (https://de.wordpress.org/plugins/the-events-calendar/). The Pro version is also convincing, but with annual costs of at least $89 it is rather more expensive. Our presented solutions cost once, not annually, only from 20€.
WordPress calendar plugins are a great extension for displaying upcoming conferences, meetings or events to your website visitors. Calendaring events directly from the WordPress admin has never been easier. In addition, a high-quality WordPress event calendar plugin or WordPress calendar widget offers advanced features such as recurring events, data import capabilities from e.g. Google Calendar, Google Maps integration, usability, responsive design, calendar widgets, customizations, and even front-end -Submissions to allow your visitors to submit their own events for the visitors.
However, choosing the right one for your website needs can be difficult, especially when considering factors such as how such plugins affect website speed and security. With that in mind, I've taken the time to round up some of the best premium WordPress calendar plugins for a variety of needs to make your life a little easier.
Note: Each plugin can also be used in German. Possibly only with Loco Translate to be translated. It's quick and easy.
All WordPress Calendar Plugin Overview*
---
The best top premium WordPress calendar plugins for various purposes 📅
---
---
We chose 3 plugins:
The best calendar plugin for the overview and with many extensions
The best plugin for a schedule, booking overview, course overview
The best plugin for a calendar with bookings of flexible appointments or fixed events, events or services
Here is our selection of the best WordPress plugins for an event calendar or booking calendar:
EventON Event Calendar for WordPress is a beautifully designed event calendar that presents events in a minimally uncluttered design. It offers 200+ useful features like highly customizable repeating events, multiple event images, venues and organizers, as well as advanced features like multiple data types and language-matched events, etc. All of this is included in the #1 best-selling event calendar on Codecanyon!
With over 50.000 sales, the plugin is the absolute leader and can do almost anything with the appropriate addons!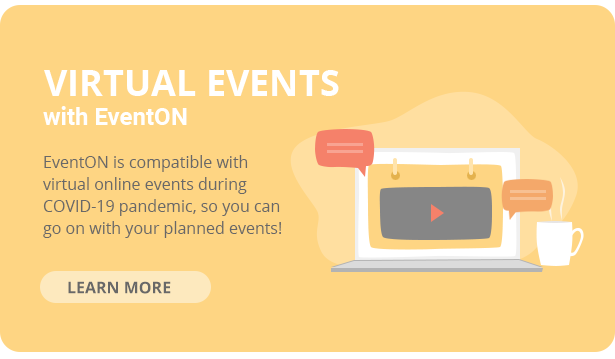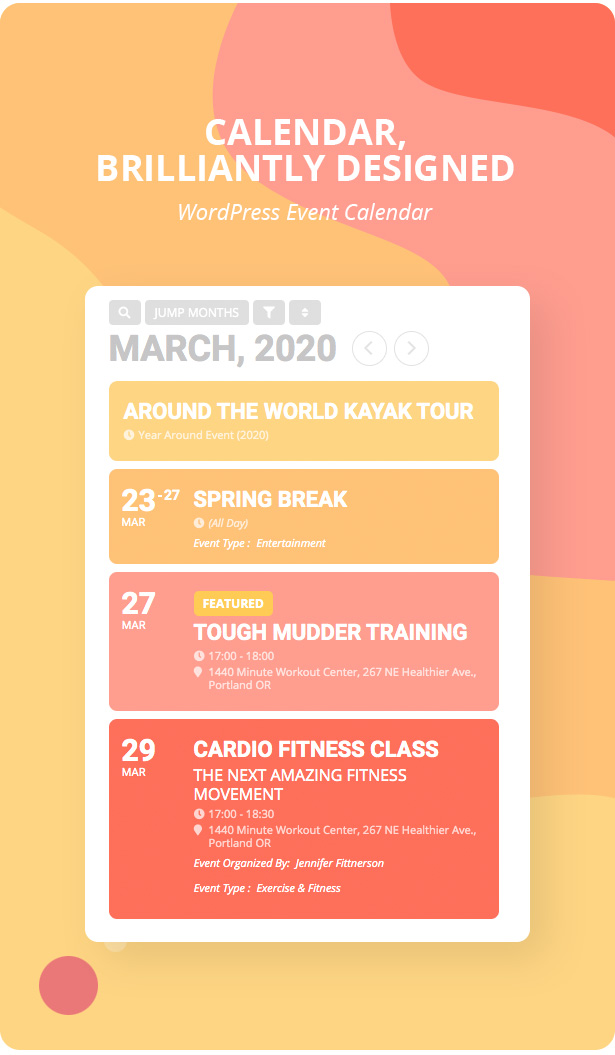 Other calendar features of EventOn:
Supports one and multi-day events
Create one-day events
Create events with no end day or end time
Create all-day events
Duplicate events in wp-admin
Exclude specific events from the calendar
Stretch events to the end times while hiding the end times
Set the image of the event location
Set the location by longitude and latitude
Save locations and reuse them for events
Set the organizer's contact information
Save the organizer for reuse in events
Learn more about event link support
Various options for how a user can interact with an event
Use the universal time and date format across your website
support for schemaSEO-Content for calendar events
Ability to automatically archive past events
Just add custom CSS styles via eventON settings
Customize the format of the calendar month/year
Customize the calendar date and time formats
Ability to easily reset the appearance of the calendar to the default settings
Ability to open eventCards on loading
View a list of upcoming events by month
Preset calendar event order ASC/DESC
Show selected events in the calendar above others
Show calendar with featured events only
Create calendars with selected images in the list
Dynamic "load more" pagination of events in the calendar
Show calendar for specific fixed months
Ability to set the eventCard opening to act as an accordion style
RTL Support - (text from right to left)
View a limited number of events per month on the calendar
Categorized events based on custom taxonomies
Create calendars with only events from specific event categories
Fully customize all dates in event rows in the calendar
Customize Google Maps interactive features like mouse roll, zoom, etc.
AJAX-driven seamless month-to-month navigation
Add a calendar to your theme via shortcode or PHP template tag
Integrated PayPal to accept payments for events
Custom language text support and includes POT file for further customization
Set events to appear in random order
Show events only for logged in users
Individual email to receive payments via Paypal per event
Make certain custom fields only visible to admins or logged-in users
Prioritize months and years of events over others
Add multiple images to an event
EventON diagnostics and environment via settings
Automatically set past events as completed
Virtual Venues – 2.8.7
Miscellaneous Event Statuses - 2.8.7
Presence mode online or physical – 2.8.7
to the EventOn calendar plugin*
---
Timetable is a powerful and easy-to-use timetable plugin for WordPress. It will help you create a schedule view of your events in minutes! It's perfect for your fitness classes, school or daycare, medical departments, nightclubs and pubs, class schedules, meal plans, you name it.
The timetable is equipped with a booking function. You can make online reservations for any event within the available number of free slots. The plugin includes the Event Manager, Event Occurrences Shortcode, Timetable Shortcode Generator and Upcoming Events Widget. There's even an option to create PDF files from your timetable view.
---
---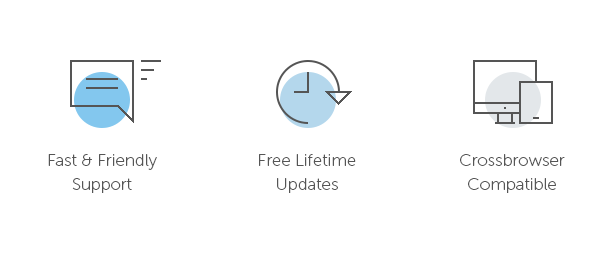 to the scheduler calendar plugin*
From here it gets detailed:
RESPONSIBLE LAYOUT
The schedule is fully responsive and adapts perfectly to any mobile device.
BOOKING
The timetable is equipped with a booking function. You can make online reservations for any event within the available number of free slots.
EXPORT TO PDF
The schedule has an option that allows you to create PDF files from your schedule view.
EVENT MANAGER / EVENT OCCURRENCES
Build your events with easy-to-use custom post types. Use the event event shortcode to display a list of all occurrences of a single event.
UPCOMING EVENTS / FULLY CUSTOMIZABLE
Use the built-in widget to view upcoming events today or all upcoming events in the form of a scrollable list. Customize your entire spreadsheet, widget, or a single event independently.
PLUGIN DEMO DATA INSTALLER
The plugin comes with a dummy content installer in the Settings/Schedule menu in the admin panel. First, this option allows you to import a full set of our demo spreadsheets, as well as widgets and settings, with just one click.
Create your timetable or edit your existing timetables with the timetable shortcode generator. Select events, categories and schedule columns to display, select time format, event block layout, select dropdown menu or tabs to filter, define colors, google fonts, custom css and more...
VISUAL COMPOSER INTEGRATION
The schedule is integrated with the popular Visual Composer for WordPress plugin.
Extended feature list
Create a schedule in minutes!
100% responsive and mobile compatible
With booking functionality – the ability to book selected events
Export to PDF
Unlimited schedules, events and happenings
Grouping of events that occur at the same time intervals
Event tooltips
event filtering
Visual Composer support
Day of the week menu Allows you to translate weekday names into your language
Events

Events in the form of a custom post type with the ability to define title, subtitle and description content
Ability to define custom event colors including hovers
Ability to define a custom URL for an event
Ability to disable event url (creating non-clickable events)
Unlimited Event Events (Event Hours)
Ability to define weekday, start/end hour for each event event (event hours).
Two additional description fields for each event (event hours) with HTML support
Optional tooltip description field for each event event (event hours) with HTML support
Optional category field for each event (event hours)
Ability to easily edit/delete events

Timetable shortcode generator

Possibility to select the events to be displayed in the schedule
Ability to choose hour categories to be displayed in the schedule (e.g. only morning or night events)
Ability to select days of the week to be displayed in the schedule
Choose between dropdown menu and tabs for event filtering menu
Define a custom text label for all events
Custom time formats to choose from including 12/24 hour formatting
Ability to hide columns with hours
Ability to show only the start hour or both the start and end hours in the schedule
3 different Event Viewer layouts
Ability to hide rows with no events in the schedule
Ability to disable event url in schedule (non-clickable events)
Custom text alignment for Event Viewer
Unlimited schedules on one page via IDs
Adjustable row height in pixels
Response mode on / off setting
Live Shortcode Generator – Just copy the generated shortcode and paste it into your post
Ability to edit existing shortcode snippets – Just copy the shortcode from your post and paste it into the shortcode generator under Settings/Schedule

Upcoming events widget

View upcoming events today or all upcoming events in the form of a scrollable list
Possibility to define the number of events to be displayed
Ability to define a custom time format
Server time or database time based
Time zone support
Auto scroll function
Built-in color picker

Built-in color picker

Ability to choose a color for the event background
Ability to choose a color for event description text and hours
Ability to choose a color for background and text hover images
Ability to choose a color for odd/even rows in the timetable
Ability to choose a color for a filterable menu

font configurator

Ability to enter a custom font name
Ability to choose from a Google font library with hundreds of fonts to choose from
Font size configurator

Valid HTML5 code
Cross browser compatible
documentation included
---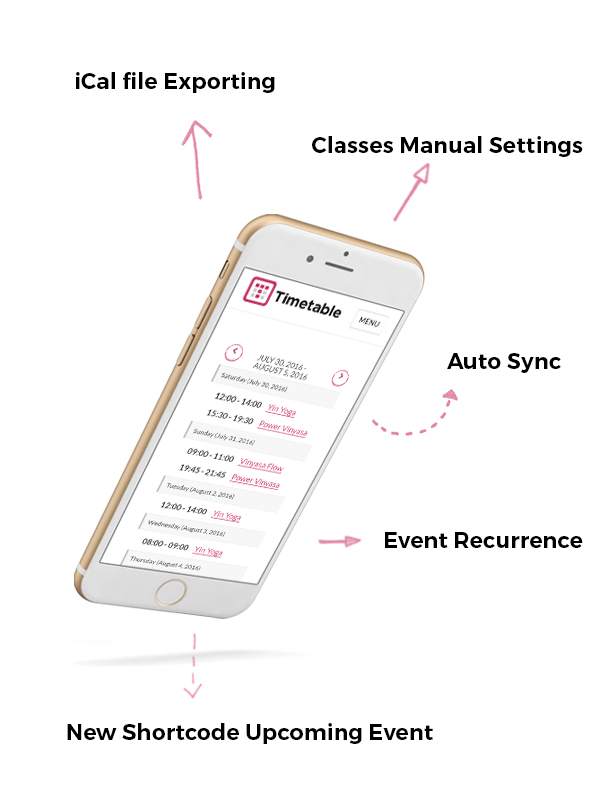 NOO Timetable is a super flexible timetable plugin for WordPress with a fully responsive interface and an intriguing UI. It is absolutely suitable for fitness, yoga, dance class, medical department, any kind of event calendar and so on.
With NOO Timetable, you can easily create a schedule with custom dates in minutes. All classes/events are displayed visually in both weekly and monthly timetable and also filtered by categories. The NOO timetable is packed with tons of wonderful features that make it an ideal choice for your timetable/event schedule. Up-to-date flat styling, fully responsive, super flexible, multiple view options, event filter, event navigation, iCal file export, event popups, 2 preset post types: class & event and many more are included in this plugin.
It has a clean and elegant layout that can be easily customized. It's also a versatile plugin that can be used by many different businesses. Scroll down for more feature details!
Fully responsive and mobile friendly

NOO Timetable is fully responsive and mobile friendly. It will display perfectly on any mobile device.

Current flat styling

This plugin has a modern and flat interface. All colors can be adjusted manually, both calendar and item color.

Super flexible

In particular, classes/events are displayed in a very flexible way: classes/events with the same date and time are still displayed nicely in the schedule.

Automatic synchronization from public resources

The Noo schedule can be automatically synced from various public sources such as Google Calendar and Apple Calendar. Additionally, Import Type section has Save Replay option with synced feature. When you create classes/events in Apple Calendar, after a certain time it will be automatically updated in the website schedule based on the entered link.

Classes Manual settings

This feature allows you to create classes based on specific days. If you check this box, you will no longer be able to use the advanced schedule (the advanced schedule will automatically create classes based on the number of weeks and days of the week).

event recurrence

Noo Timetable allows you to schedule the class/event to repeat weekly, monthly or yearly based on detailed and specific options like last Tuesday of month etc.

Additional shortcode: Upcoming event

It helps you to view upcoming events in the schedule. Upcoming events are listed by current time.

Multiple view options

All classes/events are displayed visually in both daily, weekly and monthly schedules and are also filtered by category

event filter

Our plugin is ready for schedules with many classes, so powerful filters are essential. You can allow different filters, e.g. B. Category, Instructor, Location, Day or Time of Day.

event navigation

With the event navigation feature, the NOO schedule makes it easy to navigate to the next of the previous week in the schedule.

Export and import iCal files

The NOO Timetable plugin allows users to easily export the schedule to an iCalendar file and conveniently import classes and events from Apple Calendar.

Event Popups
A schedule should only contain the important information, but you may have many other useful details for your visitors. Therefore, each class accepts individual text and images that can be displayed in a pop-up window. Additionally, in this plugin, we include 16 popup styles for your own use.
Multi schedule on page

It allows multiple schedules on each page. Create your timetables or event plans in just a few minutes.

2 preset post types: classes and events

Classes and Events are 2 default post types of NOO timetables. Create classes and events in seconds.

Visual Composer compatible

Our plugin is compatible with Visual Composer. If you already have Visual Composer installed, shortcode creation is still supported.

Standard shortcode supported

The plugin also supports standard shortcode. However, shortcode is usually still supported if users have Visual Composer installed.

Unlimited colors

You can choose from multiple colors to customize the color of the schedule (calendar, time slot, etc.).

RLT supported

Noo Timetable supports right-to-left languages ​​and repositions elements as needed.

One click demo

Importing demo data has never been easier. Demo data is imported with just one click.

Automatic update

Stop wasting time manually updating themes and plugins. The plugin can be easily updated automatically with just one click.

Comprehensive document

We included a special document file in the plugin package that will guide you step by step to install and customize the plugin. You can also find the detailed online guide in our support center

.

Regular update

We regularly update the plugin with more addon features and small bugs. Just a one-time payment, you get the lifetime of the update for free.

Free premium support

In addition to the special documentation, you will be supported by the experienced developers of the plugin. We look forward to helping you build your amazing website.
---
Automated online booking and scheduling for WordPress: fully customizable booking form with online payments, notifications and Google calendar sync.
The Bookly Pro add-on enables advanced features of the Bookly online scheduling plugin. Bookly Pro allows you to remove all limitations of the free version of the Bookly WordPress booking plugin.
Bookly Pro standard configuration includes:
Fully customizable booking form that can be used on any device;
Filterable, sortable and searchable booking list that you can print or export to CSV;
Unlimited employees with individual work schedules, prices and the ability to manage their profiles and online booking calendar.
Unlimited services that you can group into categories and set unique colors for easy viewing in book calendar.
Importable and exportable customer base with unlimited customer list showing payment statistics and internal notes about the customer;
Various templates for customizable email and SMS notifications;
2-way synchronization between Bookly Calendar and Google Calendar, automatically reflecting any updates in Bookly in your Google Calendar;
integration with PayPal Express Checkout (note that as of January 1, 2017 this method is deprecated and is no longer provided by PayPal for new customers), the list of completed and pending payments;
Integrated analysis with booking statistics;
WooCommerce Compatibility;
Multi-language support - 12 languages ​​included;
Six months of XNUMX/XNUMX online customer support.
Once you have purchased and installed Bookly Pro, the Bookly plugin and Bookly Pro add-on are activated. You can add advanced features to your standard configuration with various Bookly add-ons to automate your online booking system.
If you are using the legacy version of Paid Bookly, please update to the latest version. Follow the instructions on the migrator page to switch to the new Bookly Pro easily and for free.
to the WordPress Bookly Pro Plugin*
ATTENTION: From here it gets very detailed: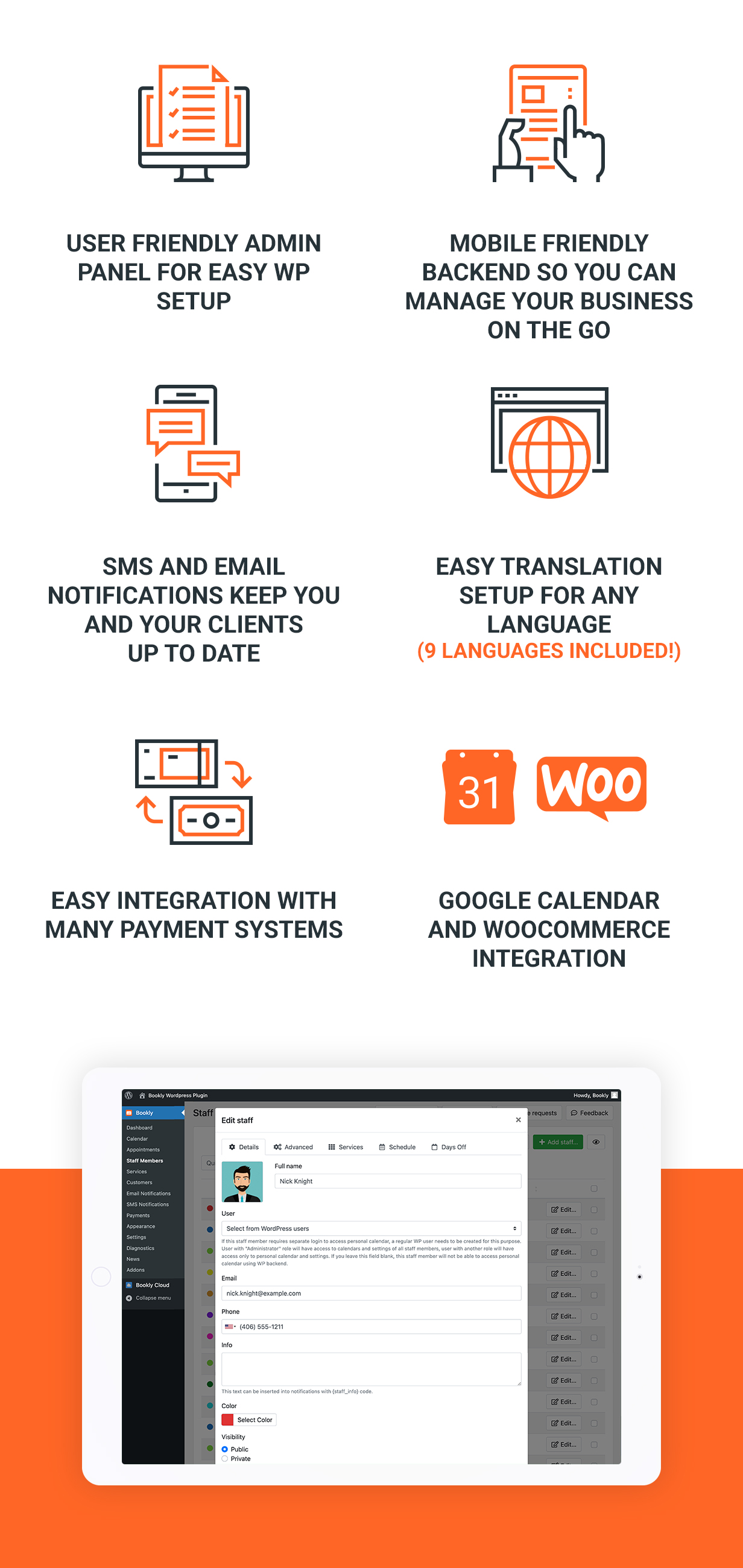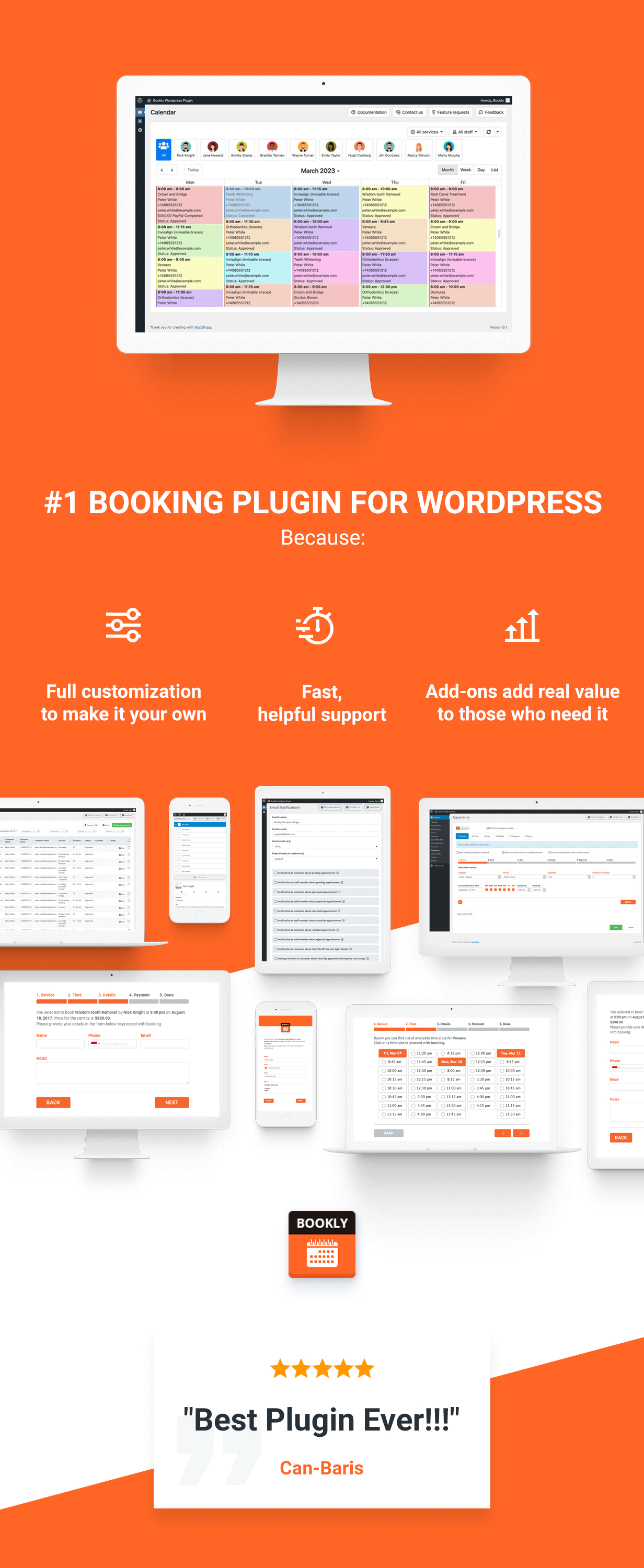 Simplify the appointment scheduling process with Bookly Pro
Bookly Pro is the best booking plugin for WordPress websites (customer words - not ours). The process of booking appointments is fully customizable for your clients. It's 2 to 6 easy steps. Here is a sample user experience in the standard 6-step planning process.
This piece goes into add-ons and focuses more on the standard booking plugin. Check out our add-ons and the deeper customization options they offer.
Step 1: Choose Service
Upon arriving at the booking plugin page, the customer enters the following information:
Desired service
Desired employee
Desired date and time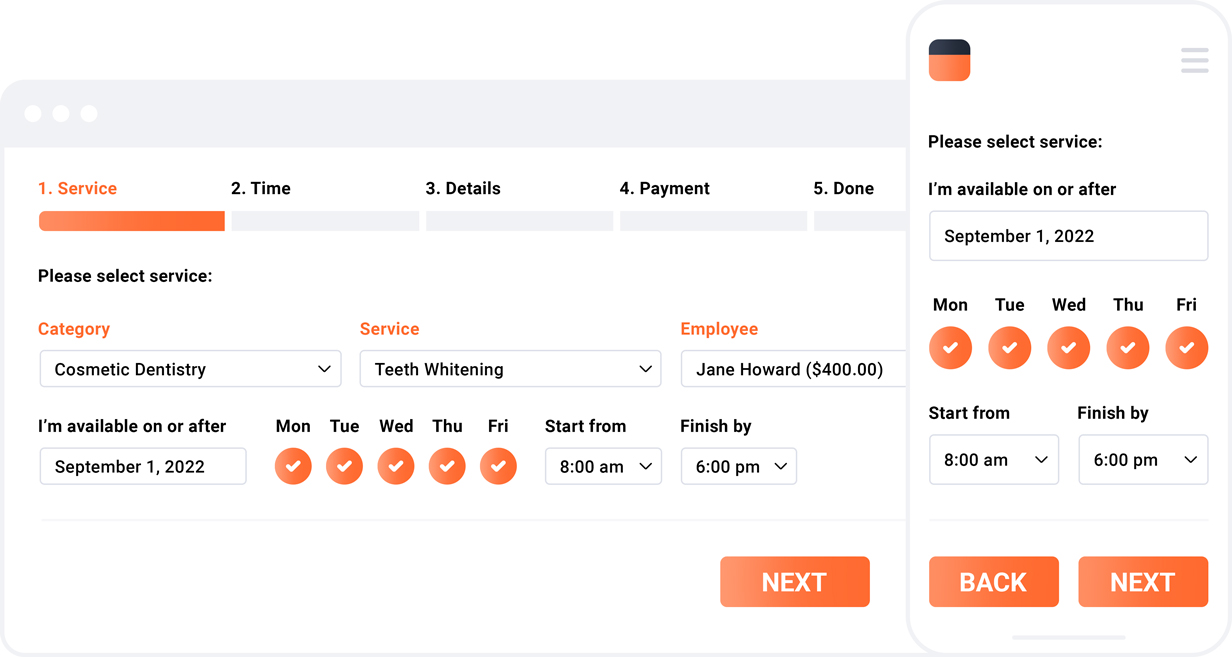 Note: Let customers decide the number of people they want to book. How: Increase a service's capacity in the Services tab with the Group Booking add-on and uncheck the "Number of People" checkbox while integrating the plugin into your pages.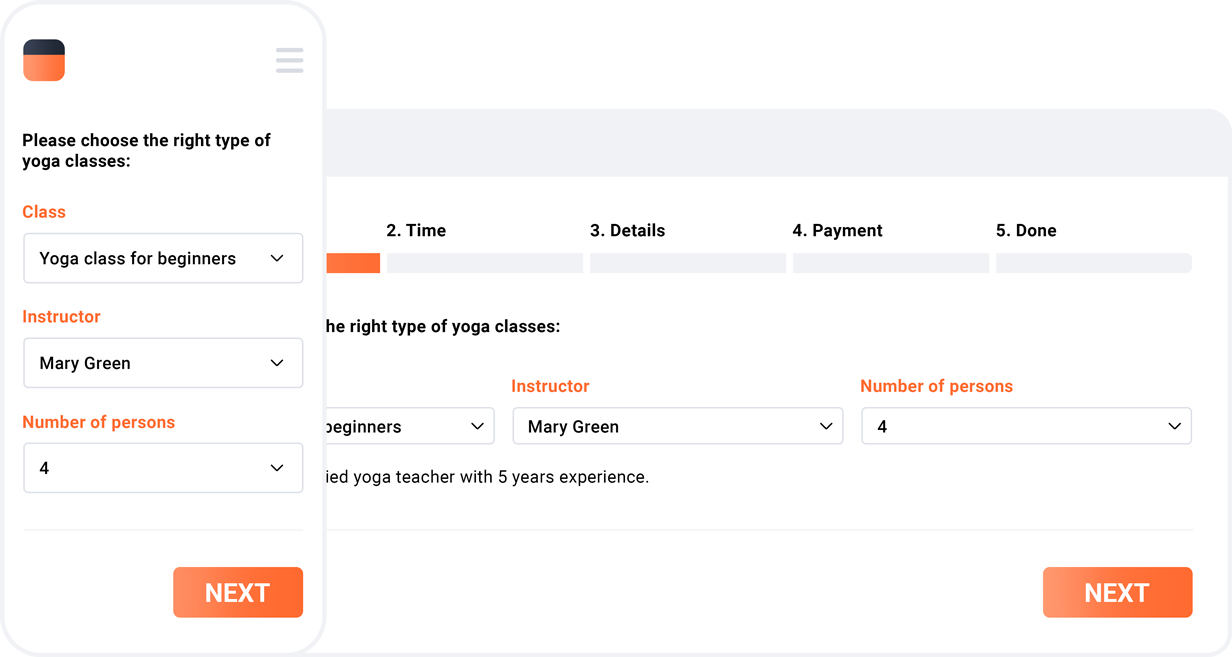 One of our most popular add-ons, Service Extras allows you to add additional products or services to an appointment. Once added, a new step will appear in the booking process (see image below).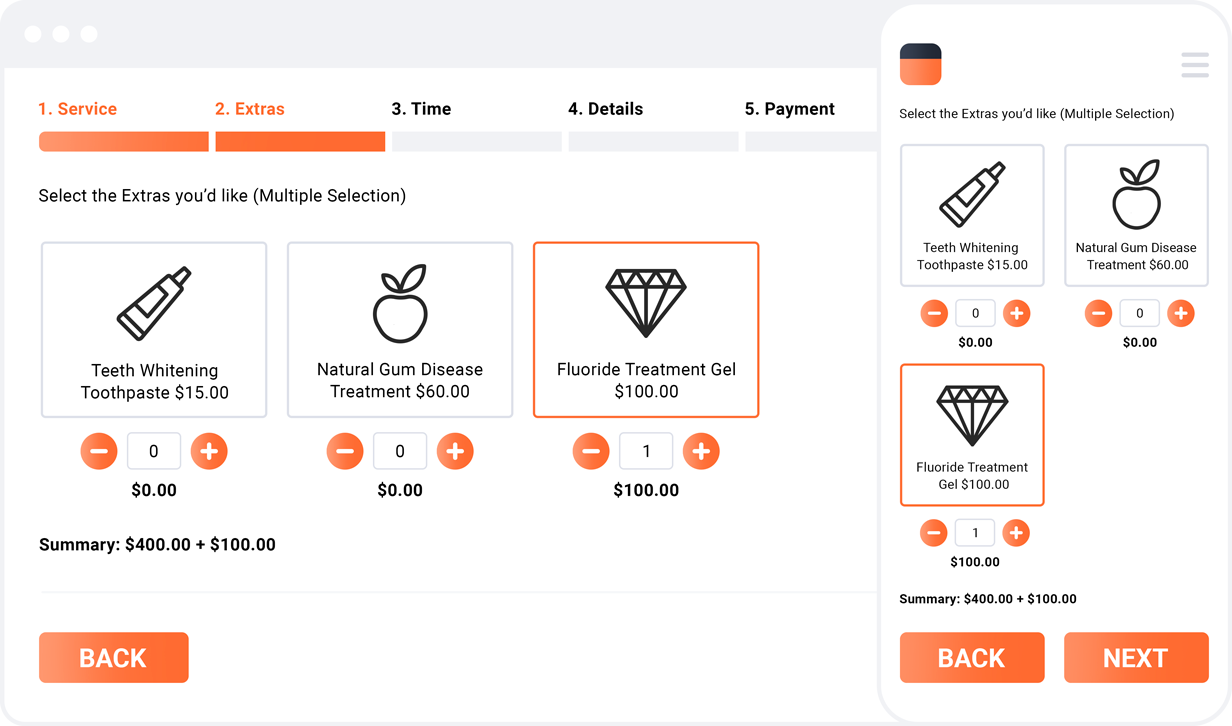 Step 2. Choose a time slot
Based on the preferred date and time, the booking system will provide a list of available time slots. The customer can browse the scheduling list and choose the time that suits them.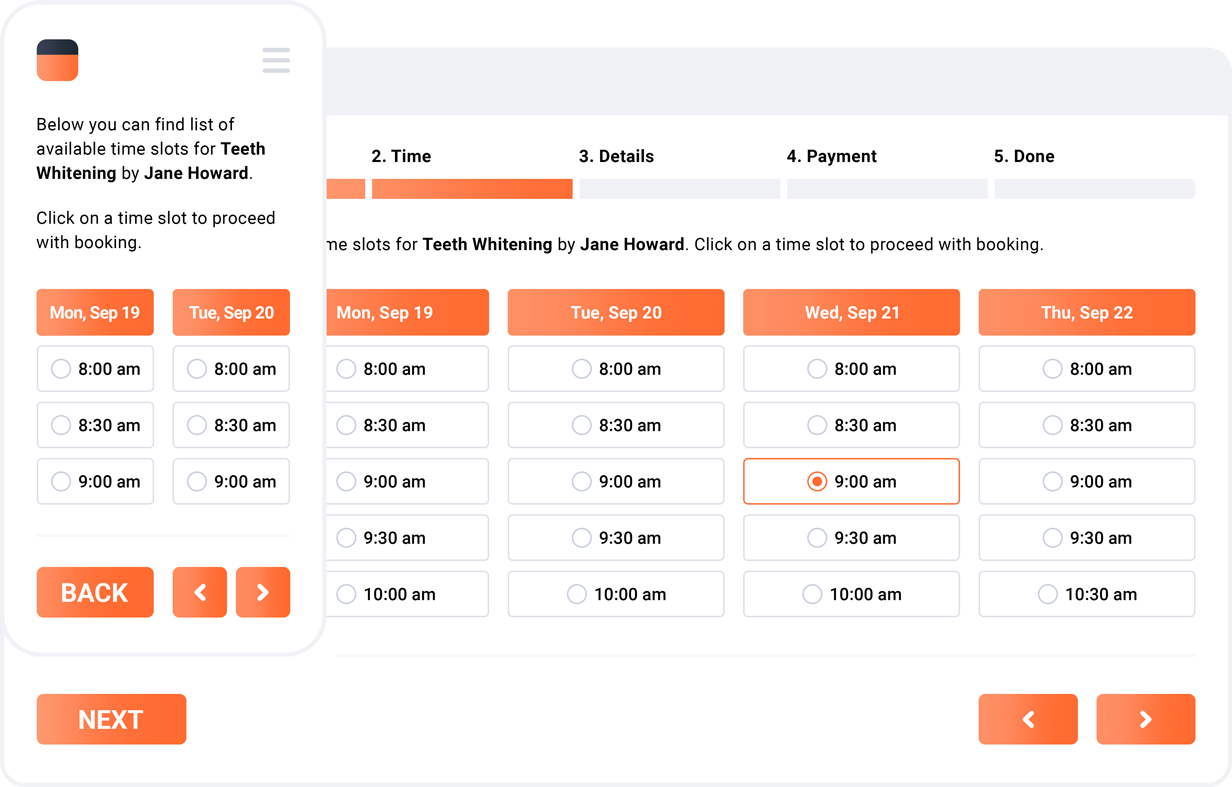 You can customize the available data that is shown to customers. You can also change the appearance, e.g. B. Each day in a separate column. See how here.
Step 3 (optional): Book multiple appointments in one session
With the shopping cart add-on, your customers can book multiple appointments in one booking session. This feature adds an option to "Book more" right after step 2. The "Book more" button takes them back to step 1 while the current booking is saved in their shopping cart ( Set up the shopping cart add-on ).
At this point, two add-ons are worth mentioning. With the "Chain Appointments" add-on, the customer can book various services during one visit. For example in a dental practice: cleaning, bleaching and check-up can be booked one after the other.
With the "Multiply Appointments" add-on, your customer can book identical services one after the other. This is useful for group bookings where customers are assisted individually.
All booked appointments are displayed together with the date, time, employees and prices.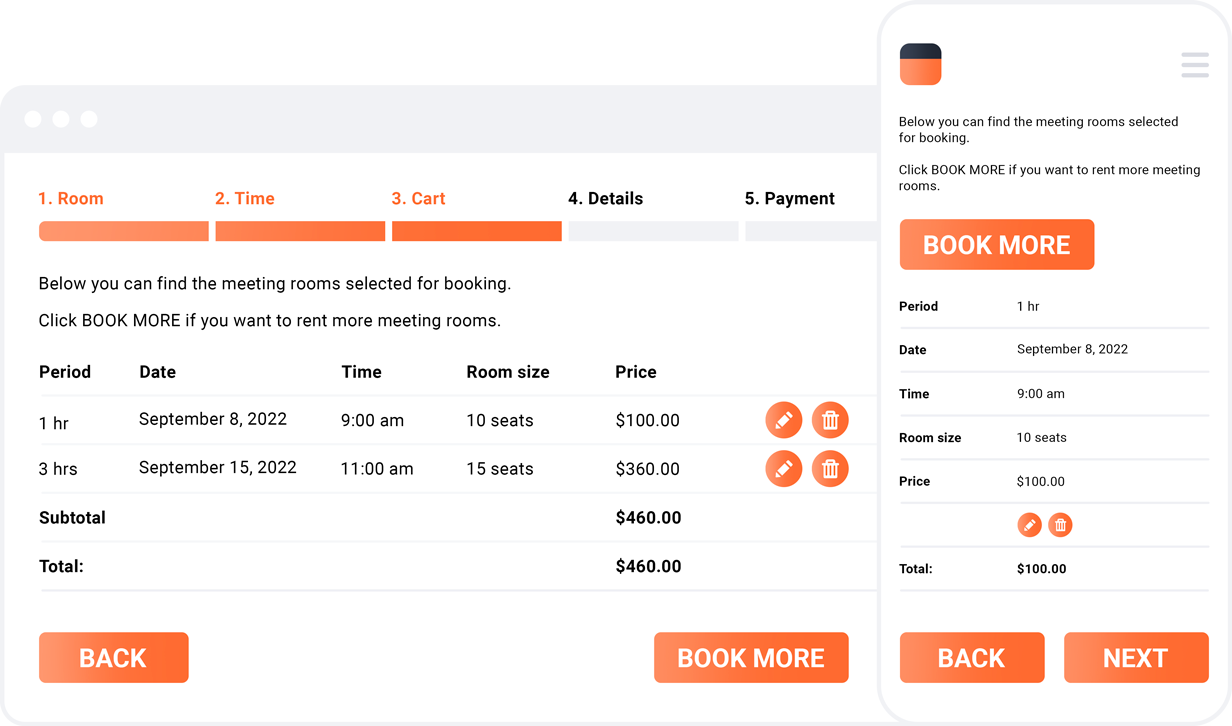 Step 4: User Info
This is where customers insert information for organizational or marketing purposes. The default settings are name, phone number and email. These fields cannot be removed, but the phone number can be replaced with a Skype ID. Additional fields can be added as desired.
Your customers can also leave notes in the booking system here. Like her favorite spa cocktail or a request for a parking space.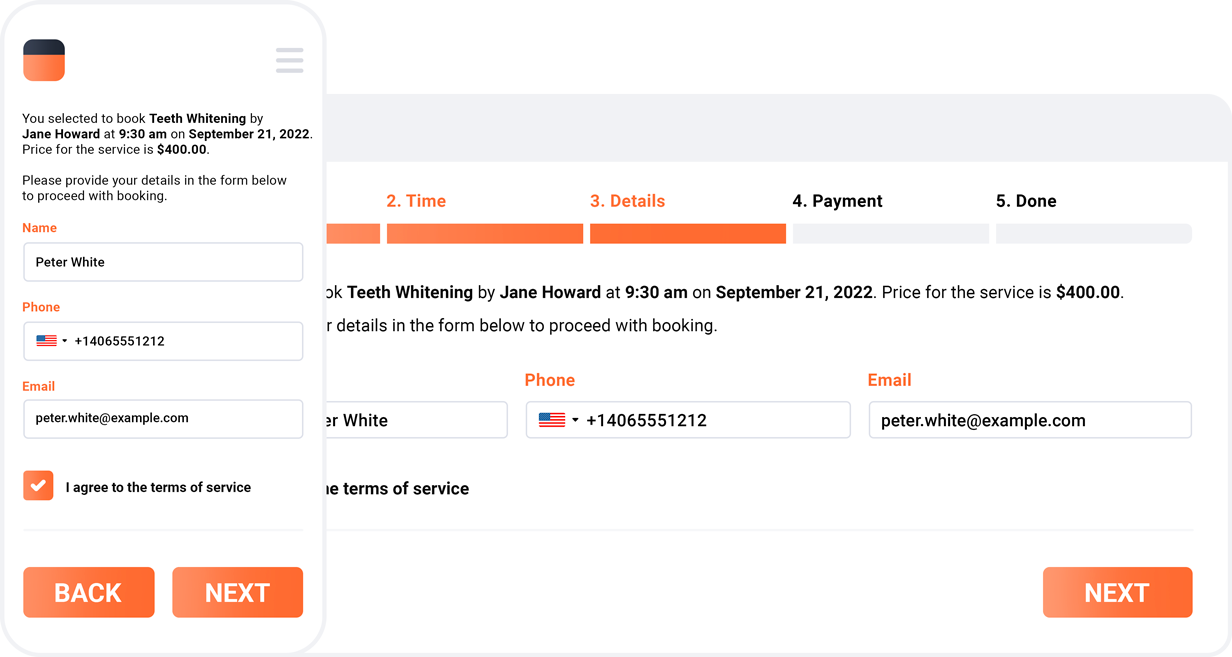 Step 5: Payment
The customer can choose between several payment options, including offline payment (cash payment upon arrival). There are 10+ online payment options to choose from and enable for your plugin. Read more about these options and how to set them up.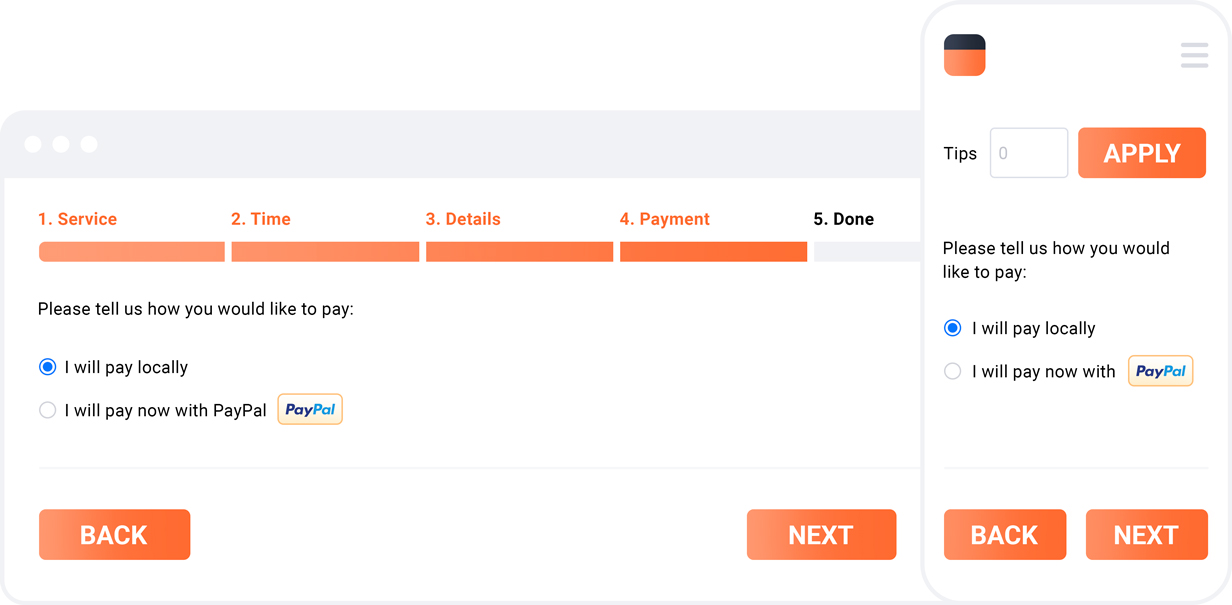 They can integrate and offer coupons, like this one.
If you offer free services (price set to 0), this step will be skipped.
Step 6: Booking Confirmation
Appointment confirmed. If you have set up notifications (strongly recommended), a confirmation email and a text message (SMS) with booking details will be sent to the customer. To learn how to set up notifications, watch this video or this help document.
If you have the pending appointments feature enabled, we recommend that you change the wording of this last step. Confirmation or heads up to confirm contacting you to confirm booking is better.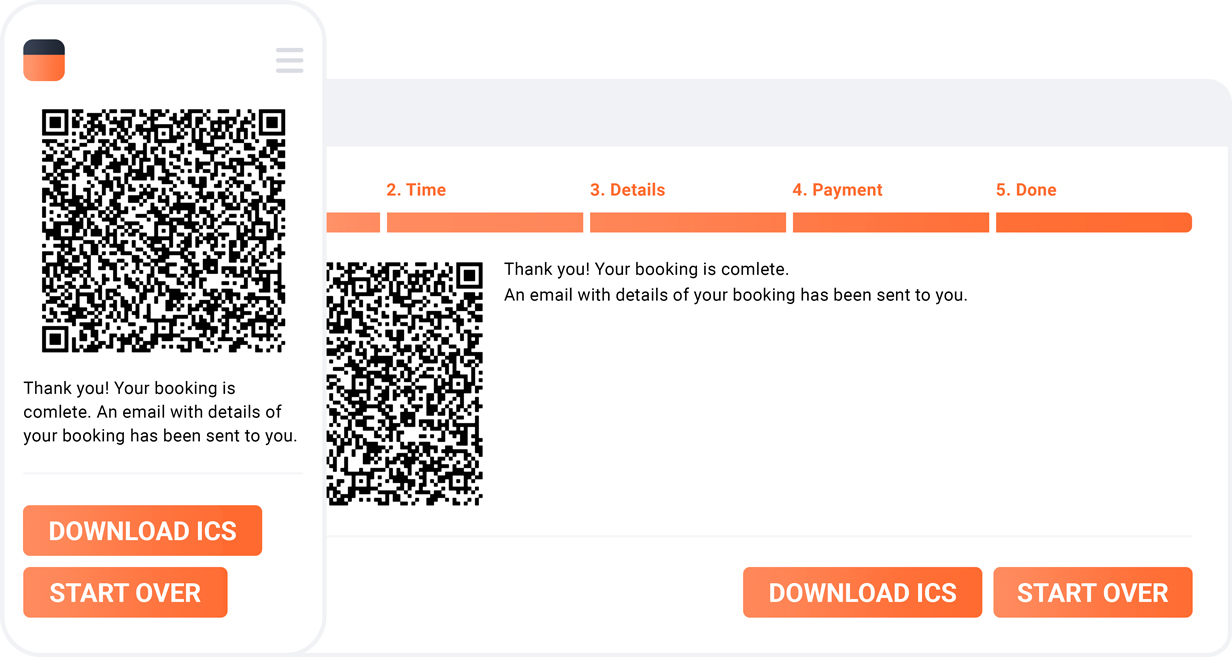 Simple and easy, isn't it?
What sets Bookly apart from other booking plugins is our top-notch support and fantastic customization options. Try the Bookly Pro demo for free.
If you need more information about Bookly Pro, visit our YouTube page and learn more about our epic booking plugin for WordPress.
We recommend getting a good quality booking plugin for WordPress. Customers appreciate a smooth and easy booking process.
Everything you want to know about Bookly Pro as a WordPress plugin
You're halfway there but need more information to ensure Bookly Pro is the perfect booking system for you. Whether you are a developer or a business owner.
To see others we've helped, please check out our reviews section.
Otherwise, read on to wake up.
What is Bookly Pro?
Bookly Pro is an add-on that requires the Bookly plugin for WordPress websites. With Bookly, your customers can make bookings for the service directly on your website. No time-consuming phone calls or face-to-face meetings required.
According to many reviews, Bookly is the best booking plugin for WP. It is a unique booking system that is constantly evolving to keep track. Our programmers never stop working to fulfill your desires and concerns.
So if you're ready to automate booking on your (or your client's) website, Bookly might be the appointment software you're looking for.
What would you need to replicate Bookly - without Bookly?
If you want your website to accept online bookings, you would choose Bookly, right? But what if you don't?
First of all, you need an experienced programmer to set up a booking system on your website. If you don't want to keep this expert on your payroll, you'll need to train one of your current employees to keep everything going. This first step costs time and money.
Next, you would need to train each of your employees to use this software. This can also take a lot of time depending on how complicated the system is.
Then you would need to hire someone in a secretarial role to handle the bookings and assign staff.
It could be a pretty messy business.
That's why Bookly is such a great plugin. All those moving parts are taken out and added into a simple plugin with powerful features.
Let's take a look at some of these features.
What does Bookly Pro have to offer?
* Some features require add-ons, but most do not.
* Bookly is in a constant state of development depending on what the community wants. Thanks to our feature requests page, you decide what we develop.

Intuitive WordPress admin panel

Whether you're a WP pro or a beginner, our clean panel design suits your skills and preferences. Setting up Bookly Pro is almost effortless and you'll have a top-notch booking system all your own in no time. Managing functions and appointments couldn't be easier.

Sleek, simple design

The user interface has been intelligently designed to fit into any website. A booking system wouldn't be very useful if it stuck out like a thumb right now, would it? The booking page is simply designed to be a breeze to use. Your customers will be blowing through the door and knocking on your door in no time. In addition, booking an appointment on your website will impress these customers.

Customize Bookly Pro to suit your needs

The booking form is fully customizable to suit your style and business. With this revolutionary booking plugin you can:

Change the layout of each step in the booking process
Show or hide specific fields
Add new fields to the process
Change the colors to fit perfectly into your scheme
Rearrange the service provider list, category list, and service list
Customize the text in the form.

Whatever your customization needs, Bookly has you covered.

Add unlimited number of booking forms on your website

Bookly Pro allows you to create and publish multiple booking forms on your WordPress website. All appointments booked in these booking forms appear in one place - your book calendar.

Send SMS and email notifications and reminders to team members - avoid missed or late bookings

You and your employees are always involved. Reminders of upcoming and updated appointments made through the booking plugin will ensure this. Never miss a booking again.

Keep your customers up to date too

It won't do much good if your employees are on time but your customers aren't. Your customers will receive notifications about pending, approved and canceled bookings. Again, the notifications are customizable. Remind customers of bookings, thank customers, personalize your messages. You can even send agendas to employees and combined notifications for the next day shopping cart purchases send .

Switch calendar views

Choose between daily, weekly and monthly mode to view your company's workload in different ways.

Let customers book on the go with full mobile integration

The booking form automatically adapts to your mobile website. This way your customers can use the booking plugin anytime, anywhere.
The BACKEND also adapts to your mobile screen so you can manage your bookings on the go. Because it's your job to take care of the customers and ours to take care of you.


Add unlimited services and employees

Whether your business is a one-man business or a mega enterprise, Bookly Pro adapts to your needs.

You can:

Add any number of services and employees
Link employees to the services they provide and to their personal Google calendar
Bind each employee to one or more services.

Everything you would expect from a booking plugin and much more.

Let customers book in their native language with full translation support

Bookly Pro is compatible with WPML and supports multilingual websites. If you wish, you can use the .po and .mo files to translate your Bookly Pro installation yourself. The plugin comes with 12 built-in languages:

English
Russisch
Deutsche
Spanish
French
Italienisch
Dutch
portugiesisch
rumanian
Swedish
Chinesisch
japanisch
Integrate Woocommerce with your Bookly Pro

If you need a booking plugin for your WordPress store page, you've come to the right place. Woocommerce integration allows you to use their payment gateways – for both budding entrepreneurs and established businessmen.

Easily manage your customer base

Don't let your customer base get out of hand. With Bookly Pro you get an unlimited, sortable and searchable customer list. But that's not all. You can also:

See booking and payment statistics for each customer
Save internal notes about a customer
Add a new client directly from the calendar
Create WordPress accounts and assign them to clients
Delete the associated WordPress account when deleting customers
And import and export customer lists

Set different prices for different employees

Do you have different employees with different skills? With Bookly Pro, you can add prices to reflect this, giving your customers choice. Choice creates satisfaction and satisfaction keeps customers happy to return!

Add custom schedules for individual employees

Your team doesn't have to stick to general business hours. Through the Bookly Pro plugin you can discuss and create individual booking times for each employee.

You can also add breaks and annual leave directly from the plugin. Not what you would expect from a standard booking plugin, but that's exactly what we do - exceed expectations.

Sync Bookly Pro with your Google Calendar

With Google Calendar and Bookly Pro, you can manage your employees' workload, hours, and bookings with maximum efficiency.

Most only offer one-way syncing, but as usual, we've taken it a step further. Google Calendar syncs with Bookly Pro and Bookly Pro syncs with Google Calendar for rare two-way syncing!

Time slots booked in Bookly Pro are automatically marked as occupied in your Google Calendar. Busy timeslots in Google Calendar are taken into account when Bookly Pro suggests available timeslots to customers.

Receive secure and flexible payments

Secure online payments and cash on delivery work together to make your service accessible to all your customers. Paypal Express Checkout is included with Bookly Pro, and there is various addons for payment gateways that can be integrated with Bookly Pro to bring more customers straight to your doorstep from the booking plugin.

You can also filter and sort a list of complete and pending payments with payment reports. And hide payment step for free services. Customization is key for a booking plugin (especially for WordPress), and Bookly Pro has tons of it.

Sort services by categories

With Bookly Pro you have a variety of options for each service. Including:

Set the duration of each service separately
Adjust the minimum time slot lengths
Set the visibility for each service to public or private
Set service category

…and more!

Import or export data

You can export almost all data in the plugin. This contains:

Appointment log
Customer Information
customer list

And you can import data like client databases. As the top booking plugin for WordPress, Bookly Pro strives to bring convenience to customers, business owners, and developers - and it does just that.

Confirm your bookings manually

You can have appointments created with the status "pending". They stay that way until you confirm them. Ideal if you are in a period of uncertain availability.

Add days

You can set weekends, holidays, or days off for your entire employee list or for individual employees.

Set different appointment lengths and fill-up times

Not all services are created equal. We understand that and therefore each service may have a different duration. If your appointments need to be prepared (or you need coffee between appointments) there is the option to fill in the time to make sure you don't get overwhelmed.

Let customers view and edit bookings online

Add a booking list (automatically updated) to your website. If your client wants to view their appointments, they can log in using their credentials, which are automatically sent to them by Bookly Pro when you create WordPress accounts for all clients.

They can then view or cancel their appointments. This gives them flexibility and increases customer satisfaction.

Track appointments through color-coding services

You can customize any of your services in the WordPressBACKEND assign unique colors. This way you can keep track of appointments. This supports visual planning and makes your life easier.

Add a handy progress bar

The practical progress bar shows customers how far they are in the booking process. That way they don't get frustrated with a lengthy booking process - they know exactly what to expect.

Set minimum notice periods for cancellations

You can set a minimum notice period (e.g. 24, 48 hours) for cancellations. If the customer cancels in good time, this has no effect on him. However, they are prevented from canceling at short notice.

Let your customers cancel when life catches up to them

Sometimes life happens and we can't make appointments. Bookly Pro's cancellation process makes it easier for customers to cancel - and shows your flexibility. However, the cancellation only works if it is outside the minimum notice period.

Integrated analysis

Get a clear insight into the effectiveness of your business by viewing statistics for bookings, customers and payments coming in directly in the Bookly Pro admin panel.

| | | |
| --- | --- | --- |
| | If the Shopping cart add-on is activated, your customers can return to the first page and make another booking. This way they can order a number of bookings and pay for them all in advance. | |

Create your own form

With the addon for custom fields you can entirely easy Create your own custom fields and add them to your booking form. Bookly Pro is arguably the most customizable booking plugin for WordPress. That's because we care about your needs. This shows on our feature requests page where you decide what we develop for you next.

Do you accept group bookings

Should your appointments for be groups of people , the customer can specify the number of people for whom he wants to book.

Hand out coupons to increase customer loyalty

Customers love special offers and discounts. And we all know the value of time-sensitive offers. With the Coupons add-on you can offer percentage or cash discounts to an influx of customers.

| | | |
| --- | --- | --- |
| | With the service extras add-on (one of our most popular) allows your customers to book extras with their services. You can add different extras to different services. | |

Personal staff cabinet for employees

Let your employees see their bookings, personal details and schedules right after authentication on the frontend with the Employee cabinet add-on view and manage .

Let customers book recurring appointments

With the Recurring Appointments Add-on your customers have the opportunity to repeat their visit at regular intervals and to plan an entire series in one session.

Do you accept deposits

With the addon for Deposit payments can You specify a certain percentage or fixed deposit amount to be paid online by your customers at the time of booking.

Let clients choose locations for their appointments

Does your company work in different locations in the city or in the country? With the Locations add-on You can link agents and services to different locations, allowing your clients to choose where to meet before setting the date and time.

Put your customers on the waiting list

Avoid losing money when cancellations occur. With the Add on waiting list you can immediately fill the canceled appointment with the customer in line.

Add files in a booking form

While you make a reservation, your customers can go directly to your website add multiple appointment-related attachments . These files can then be viewed or updated in the booking details.

Add special days to staff schedules

If you want to set specific working times for your employees that deviate from the standard working times for particularly long or short days in the year, this is possible Special Days Add-on days
Is Bookly Pro the right booking plugin for your business?
You can only ask so much from a booking plugin unless you ask Bookly Pro. Unlimited customization, staff and client management, fully automated – just a few reasons why Bookly Pro is considered the best booking plugin for WordPress.
When you're ready to let clients book appointments right on your website, it's time to choose Bookly Pro.
Make sure you're ready to handle the mass of customers that Bookly Pro is sure to join!
---
Event calendars can be used to plan and organize small or large events such as conferences, parties, family reunions, sporting events and more. You may have a website dedicated solely to events and event booking, or you may be able to add a calendar to an existing website, schedule events, and enable bookings from there.
A great booking system for e.g. hotels can be found here:
WordPress booking system / booking calendar plugins as a reservation system