Woocommerce Birthday Discount Vouchers* is a WordPress plugin and WooCommerce addon that allows you to set up discounts and send the discount coupons to the users on their birthday. Quite simply and fully automatically! All the best & Happy Birthday to all existing customers and buyers of the shop =) ATTENTION: New version from 2023 via link below.
WordPress WooCommerce Birthday Discount Coupons
Whenever a new user registers on your site with their birthday. The plugin automatically generates a coupon code based on the admin settings and emails it to the registered user on their birthday.
The plugin uses the standard Woocommerce coupons internally, which is a huge advantage, so there are many filter and criteria options available when setting up birthday discount coupons.
This plugin is the best solution for automatic birthday vouchers!
New version with updates since 2023: to the Bday Coupon Plugin*
---
---
As always, both plugins are also included Loco Translate translatable to German.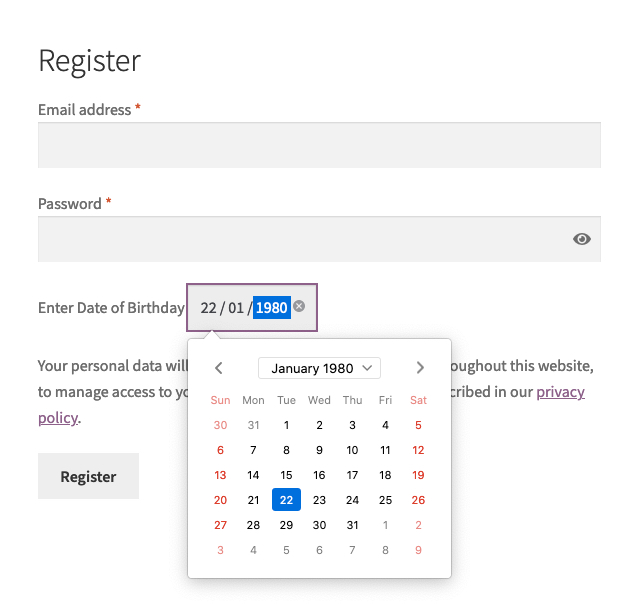 Individual design via simple text editor of the birthday greetings: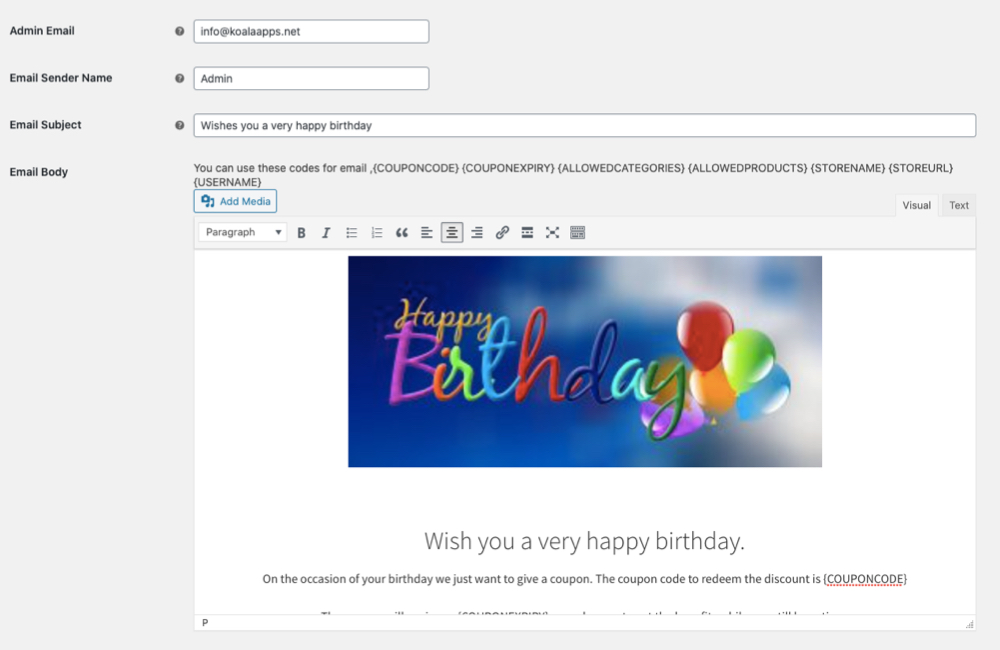 ---
Features of WooCommerce Birthday Coupon Plugin:
Set up easy discount for users.
Automatically generates a different unique coupon each time to email the coupon on her birthday.
Restrict the use of the coupon issued by the coupon to the registered email id only.
Simply select and set up a coupon for specific products or categories.
It's easy to exclude certain products and categories from the discount.
Ability to exclude discounts on sale items.
Uses woocommerce mailer to send pretty emails to the customer for the new registration coupons.
Possibility to define a minimum and maximum purchase limit to be able to use the voucher.
Here you can set the validity of a voucher in days from the date of registration.
Possibility to change the email of name and address.
Allows to customize coupon code email and subject from admin panel.
Allows to use predefined variables input for email body and email subject.
Powerful adminBACKEND to customize the plugin.
Displays the list of the user's birthday in the calendar
Displays different types of date pickers to set the user's birthday
Feature for admin to set user's birthday via user profile
Feature that allows users to set their birthday only once through their account
Functionality for admin to review all outgoing coupons generated using this plugin
Ability for the admin to display the user's birthday in the current calendar year so that the admin does not have to scroll through previous years to check the user's birthday
Feature that allows the admin to set how often the plugin will send a coupon to the user on their birthday year.